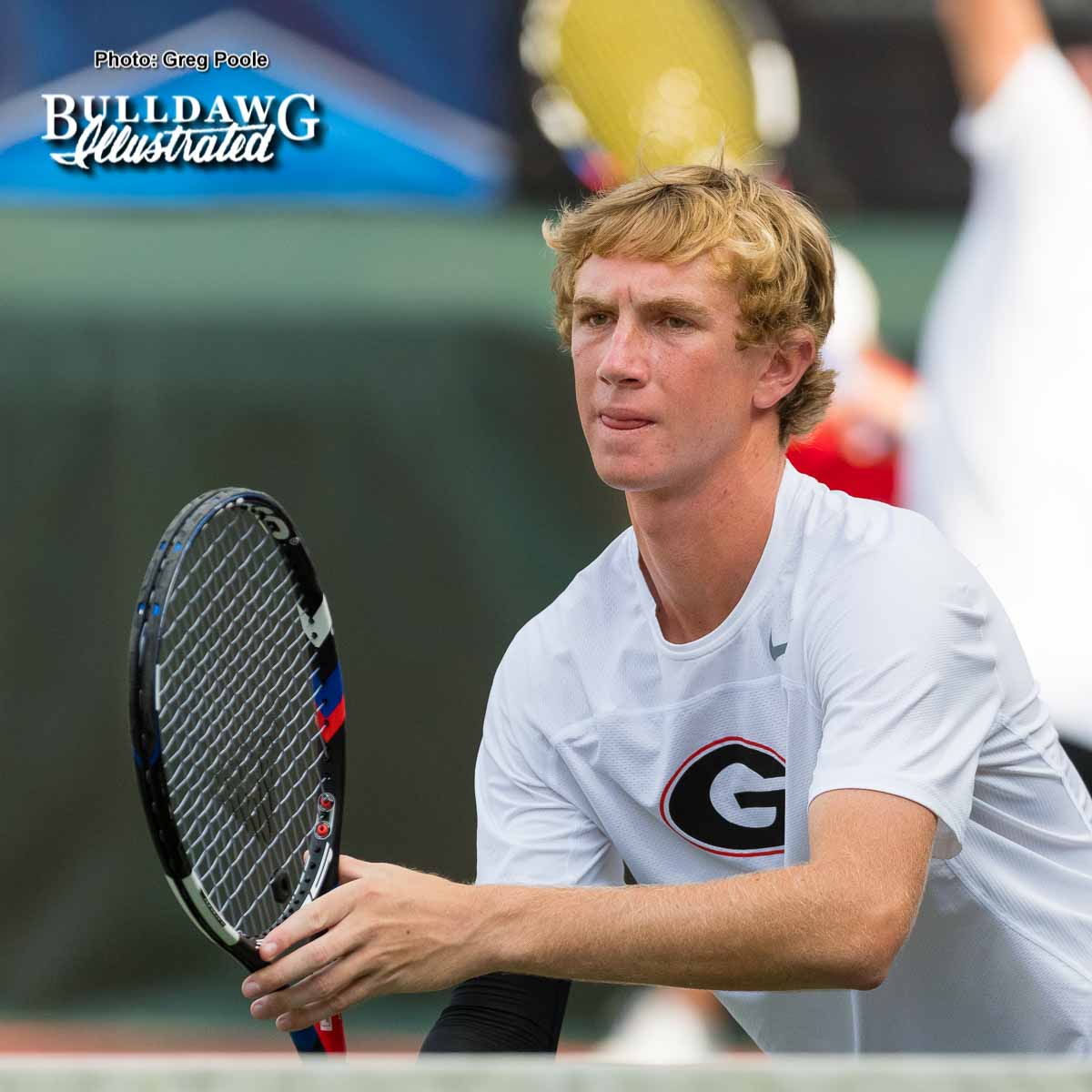 Each of UGA's tennis team beat SEC opponents 4-0 in Friday Action. Here are the details:
Men vs. LSU
BATON ROUGE, La. — Georgia's men's tennis team dominated doubles and then used three consecutive singles wins to down the LSU Tigers, 4-0, Friday evening at the LSU Tennis Complex.
The Bulldogs improve to 9-6 overall and 2-4 in the SEC, while the Tigers fall to 8-9 this season and 1-5 in conference action. 
"This was a much-needed win for our team," head coach Manuel Diaz said. "We really set the tone early in doubles where Alex and Emil won for the first time playing together. That carried over to singles, where Wayne, Jan and Nathan took control. This was the type of match we needed at this point of the season, and I am proud of these guys for how they played today. We have another big one on Sunday, so we need to stay focused and get ready for a good Tennessee team."
Playing together for the first time since March 4 — a string of four matches — the 2017 NCAA runner-up duo of Robert Loeb and Jan Zielinski fell to LSU's Nikola Samardzic and Julian Saborio, 6-3, to give the Tigers their first doubles win.
Wayne Montgomery and Nathan Ponwith quickly answered with a 6-3 win.
Alex Diaz and Emil Reinberg then delivered the point after ousting LSU's team of Shane Monroe and Stewart Block, 6-4. The Georgia duo of Diaz and Reinberg played together for the first time in dual-match play and for just the second occasion since January to improve to 2-0.
Up 1-0,  Montgomery won his third-straight match of the season with a dominating 6-1, 6-2 win at the No. 2 singles court. Zielinski followed right behind in an impressive 6-0, 7-5 triumph at the No. 4 court.
It did not take long for Ponwith to put the match away at the second singles position with a 6-4, 6-2 win, marking his second victory in the last three matches.
The Bulldogs return to the Dan Magill Tennis Complex on Sunday to face the Tennessee Volunteers at 1 p.m. ET.
---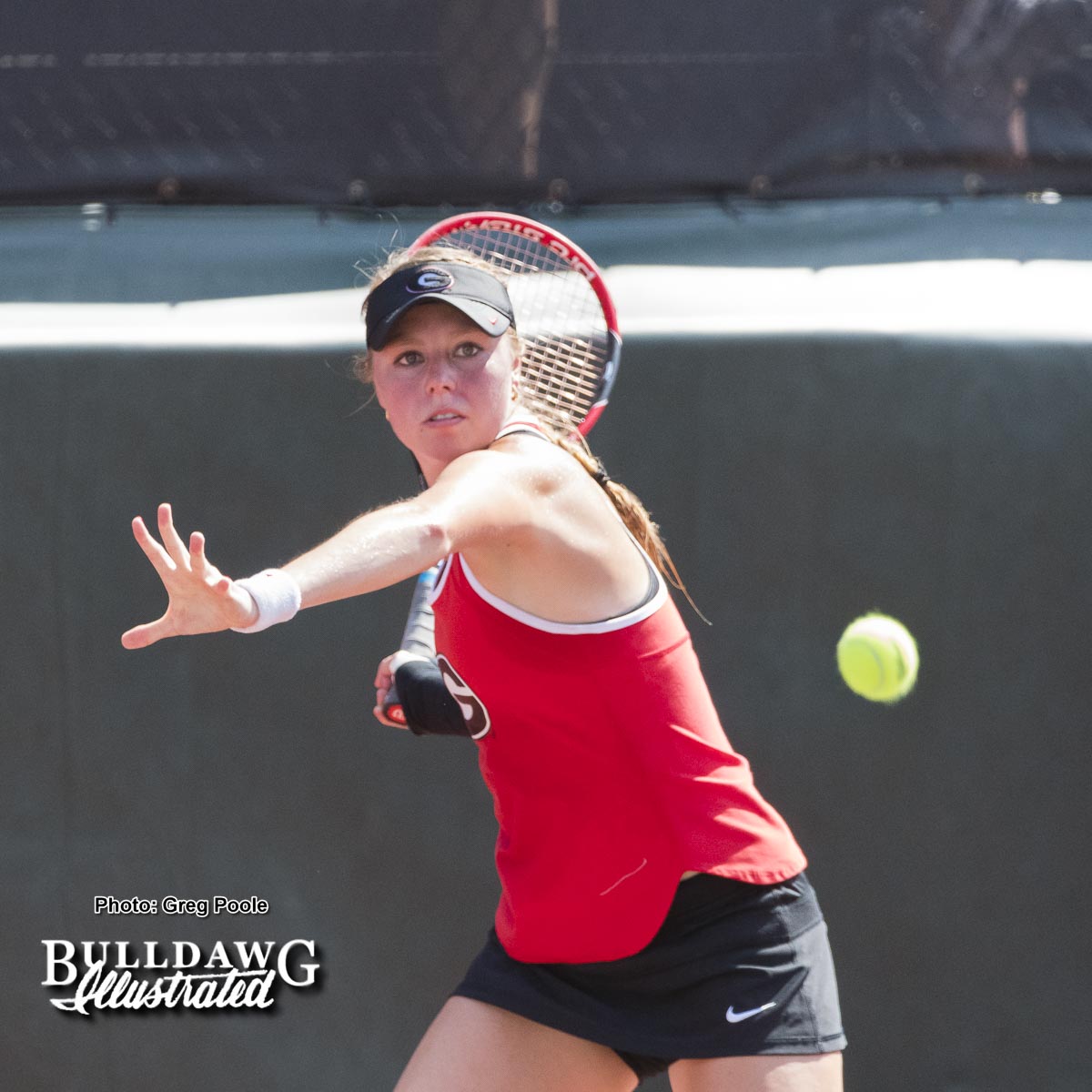 Women vs. UK
LEXINGTON, Ky. – Taking the doubles point and every first set on the singles end, propelled the ninth-ranked Georgia women's tennis team past No. 20 Kentucky, 4-0, Friday evening at the Hilary J. Boone Tennis Complex.
Zooming through doubles, the Bulldogs entered singles play up 1-0 for their sixth-straight match. In all, Georgia has obtained the doubles point in 12 of 13 dual matches this season. Singles wins by senior Mariana Gould and freshmen Annette Goulak and Katarina Jokic sealed the Georgia win against the Wildcats.
The sweep marked Georgia's third within the Southeastern Conference and sixth overall this season. The Bulldogs improve to 10-3 overall and 5-1 in SEC play, while the Wildcats dropped to 11-6 on the season and 3-4 in SEC action.
"We came out and played a great match," Georgia head coach Jeff Wallace said. "At first the match looked like it was going to get played inside, but the weather improved and we were able to go outside. Our players handled that transition well, got in a great warm up, and it translated to a great doubles point."
First to finish doubles was Elena Christofi and Morgan Coppoc, ranked 11th in ITA doubles, on court one against Kentucky's sole ranked squad of #41 Mami Adachi and Emily Fanning, 6-1.
Georgia controlled each of the next two doubles courts, but it was Annette Goulak and Kennedy Shaffer that received the win on court three, dispatching Diana Tkachenko and Brianna Tulloch, 6-1, for the clinch. The Bulldogs' pair improved to 8-2 in dual action, and upping their perfect SEC record to 5-0 – the best in conference record for No. 3 doubles.
"The best part about the first sets in singles was that we got a 7-5 win on one, 6-4 on two, a tiebreaker on three, 6-1 on four, and then two 7-5s on the last two courts," Wallace said. "All the first sets were close, and we handled them well at the end."
The dominant play in doubles transferred to singles hence the Bulldogs not dropping a single first set. Gould raced through her first set and continued to put on the pressure to win 6-1, 6-4 against Tkachenko on court four. The senior, of Boise, Idaho, improved to 15-4 overall with a 7-1 dual record including a 4-1 SEC showing.
Over on court six, Goulak took a contested first set 7-5, before handling the second set 6-2 versus Brianna Tulloch. The Californian product upped her overall record to 16-6 after being out of the lineup for the last three matches.
Clinching the match was the nation's top-ranked freshman, #6 Jokic, dispatching Fanning, Kentucky's senior No. 1 player, 7-5, 6-2. The singles clincher is just the second on the year for Jokic who 27-4 overall record and 8-1 dual mark – both team-bests.
The road trip stiffens for Georgia Sunday with a battle against third-ranked Vanderbilt at 2 p.m. ET at the Brownlee O. Currey Jr. Tennis Center in Nashville, Tenn.