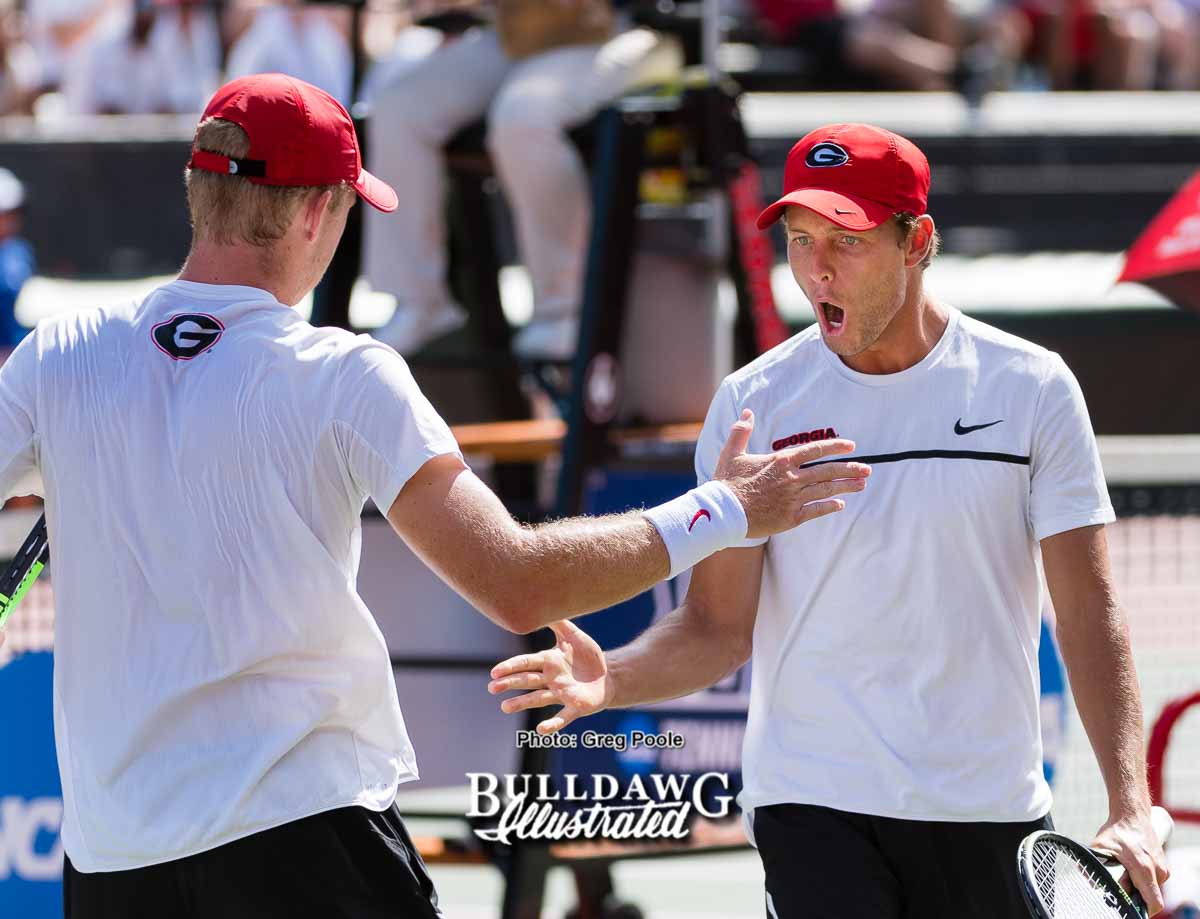 After a Five-hour weather delay, the Georgia's men's tennis team are heading to the final four. No. 13 UGA pulled off the upset over No. 5 UCLA 4-2 in the NCAA men's quarterfinals after the weather forced play to stop. Georgia overcame being the underdogs yet again and proved to be a contender.

The Bulldogs lost the doubles point for the second match in a row putting them down 1-0 going into the delay. Despite losing the doubles point, Robert Loeb and Jan Zielinski tallied another win against a top-five competitor. The duo ranks No. 1 in the nation and has defeated all four of the other top five pairs.


Crowd is ready for play to start again! Nothing like a GEORGIA BULLDOG chant!! Players are warming up here at Dan Magill Tennis complex pic.twitter.com/57D8kJDqA8

— Bulldawg Illustrated (@BD_illustrated) May 21, 2017


Even though Georgia trailed 1-0 at the delay, the Bulldogs held all the momentum. Wayne Montgomery was within two points of winning his match when play stopped, and the teams were forced to evacuate the court. Shortly after play resumed, Montgomery clinched the win on court two. Walker Ducan won a second-set tiebreaker giving Georgia a 2-1 lead less than 15 minutes after play resumed.




Loeb gave Georgia its third point of the match with a 7-6(4), 6-2 win at the number six court. Zielinski clinched the victory at No. 4 after dropping the first set. He went on to win 3-6, 6-3, 6-2 to seal the deal. For the second straight year, the Bulldogs advance to the semifinals, an achievement they last accomplished from 2006-2011. The win also marked the seventh in a row.




"Mighty proud of this bunch," said Georgia head coach Manuel Diaz. "They fought their hearts out and beat a very good team. We didn't play our very best at number two and three doubles, and that got us in trouble, but they came out and asserted themselves. Our number one team played well today; we just have to pick it up a little bit in doubles. The way we are competing in singles, we're playing hard, and that gives us a chance. I am very proud of the way these guys believed in themselves and went out there and executed their game plans."




Georgia plays No. 9 North Carolina in the semifinals Monday at 12 p.m. UNC marks the third team that defeated the Bulldogs earlier in the season. After starting 3-5, Georgia's won 18 of 20 matches since the end of the indoor tournament.



Recent Articles by Savannah Leigh Richardson


[pt_view id="8722077nva"]