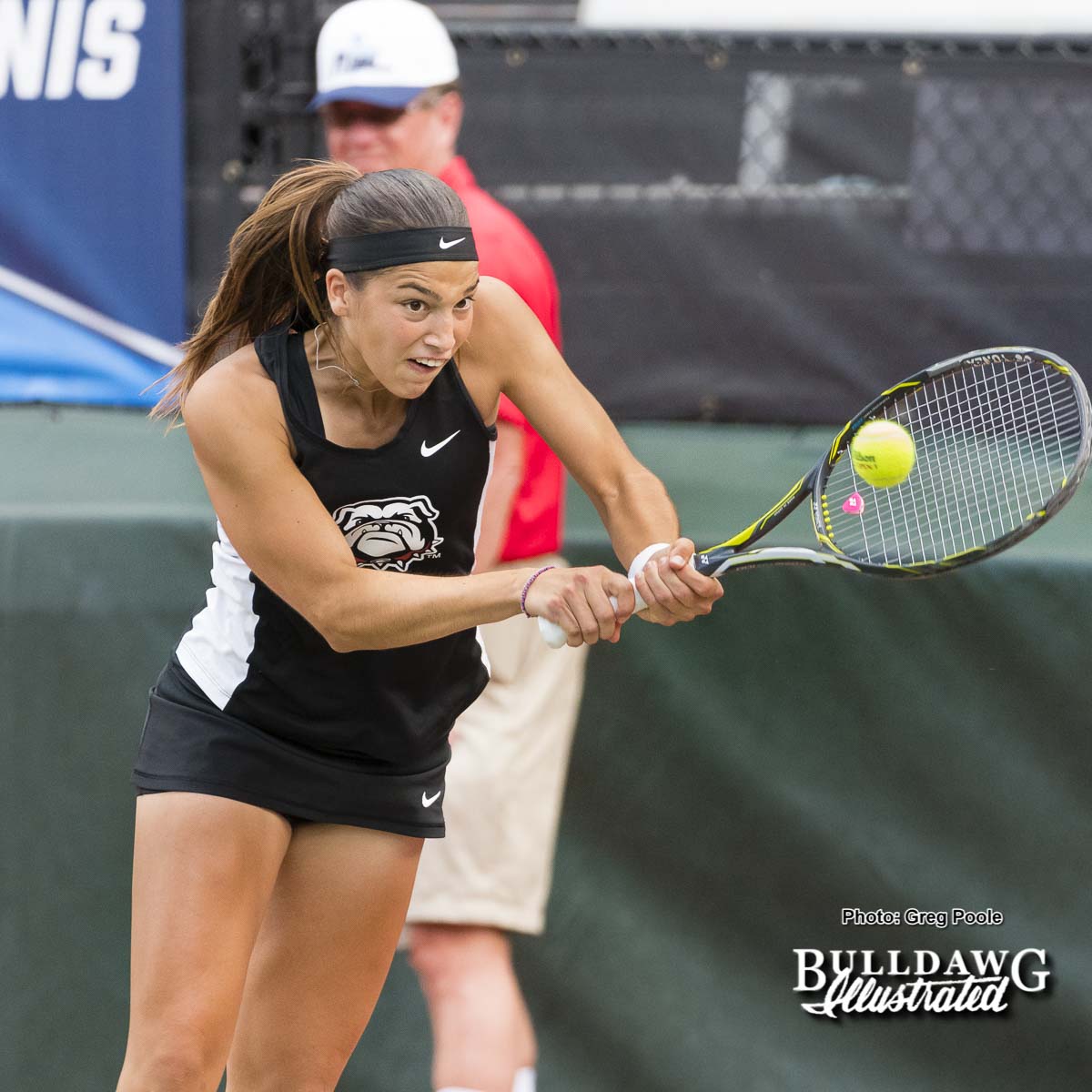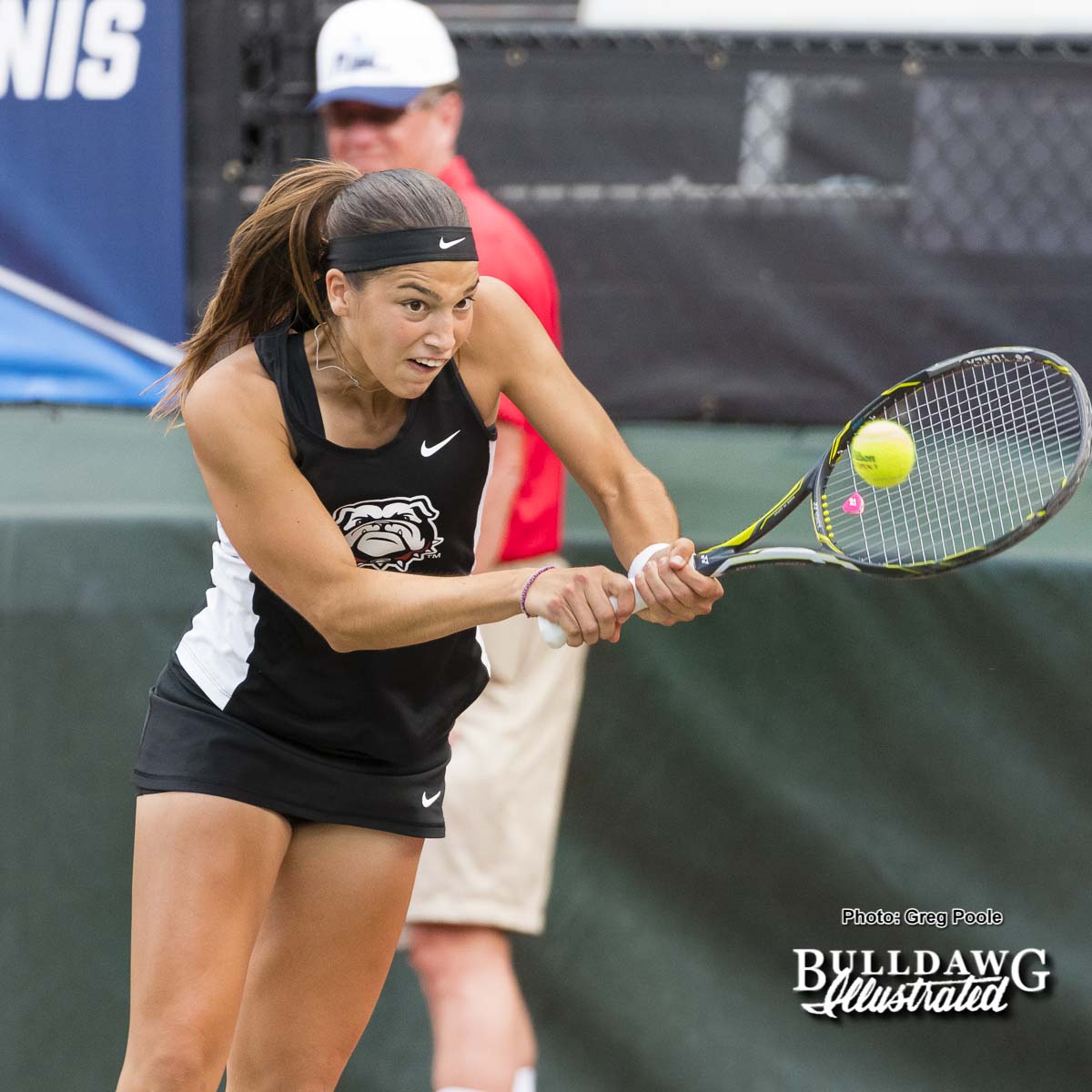 ATHENS, Ga.  — In a dominant effort, the seventh-ranked Georgia women's tennis team blanked the No. 28 Tennessee Volunteers 7-0 in the Bulldogs' Southeastern Conference home opener Saturday afternoon at the Dan Magill Tennis Complex.
Georgia improved to 8-2 and remained undefeated in SEC play (3-0) with the victory. Georgia and Tennessee played through the singles matches, leading to the Bulldogs' first 7-0 win over an SEC opponent since 2015.
"It was a great match," Georgia head coach Jeff Wallace said. " I think both teams came out and really played some high level tennis. I thought every time Tennessee brought it up a notch, our players answered. It took that today to get this win. Doubles we were able to win on 1 and 2. I thought [Christofi and Coppoc] played as good as they have played. At 2, we found a way to win. In singles, I thought all the matches were great. Morgan played great on the last court and so did Mariana (Gould). There was a 6-0 in Mariana's match but every other set played out here was some high level tennis. I think it's great for our players. It's so much fun to play at home and it was great for our players to get challenged today and respond the way they did."
In doubles, Georgia's 10th-ranked duo of sophomore Elena Christofi and freshman Morgan Coppoc jumped out to 3-0 lead on account of two break points, defeating Tennessee's No. 69 pair of Ariadna Riley and Kaitlin Stines swiftly on court one by a score of 6-2.
The matches on court two and court three proved more contentious. The Bulldogs' 12th-ranked team of freshman Katarina Jokic and senior Mariana Gould warded off a comeback by Tennessee's Sadie Hammond and Elizabeth Profit on court two. Jokic held serve in the final game for a 6-4 win, clinching the doubles point. With the win, Jokic and Gould improved to 21-4 on the season and 9-1 in dual play.
Gould then cruised through the first set of her singles match on court four, winning 6-0 for Georgia's first set win. Coppoc added another first set win 6-2 on court six, and quickly downed her opponent, Johanna Silva, 6-2, 6-2 for the first singles win of the day. Gould followed up for the Bulldogs' second singles win, 6-0, 6-4 over Gabby Schuck. The victory marks the senior's seventh-straight win, maintaining her undefeated record (6-0) in dual singles play.
On court two, Christofi battled back from down 5-4 to Profit to win her first set 7-5. Shaffer weathered a comeback by Riley on court three, unleashing a forehand winner followed by backhand winner to secure an 8-6 win in the first set tiebreaker. The two raced to clinch the match for Georgia, and Shaffer earned the third singles victory, 7-6 (6), 6-4 to officially seal the win. Christofi finished off her match with a 10-8 win in a second-set tiebreaker, finalizing a 7-5, 7-6 (8) win.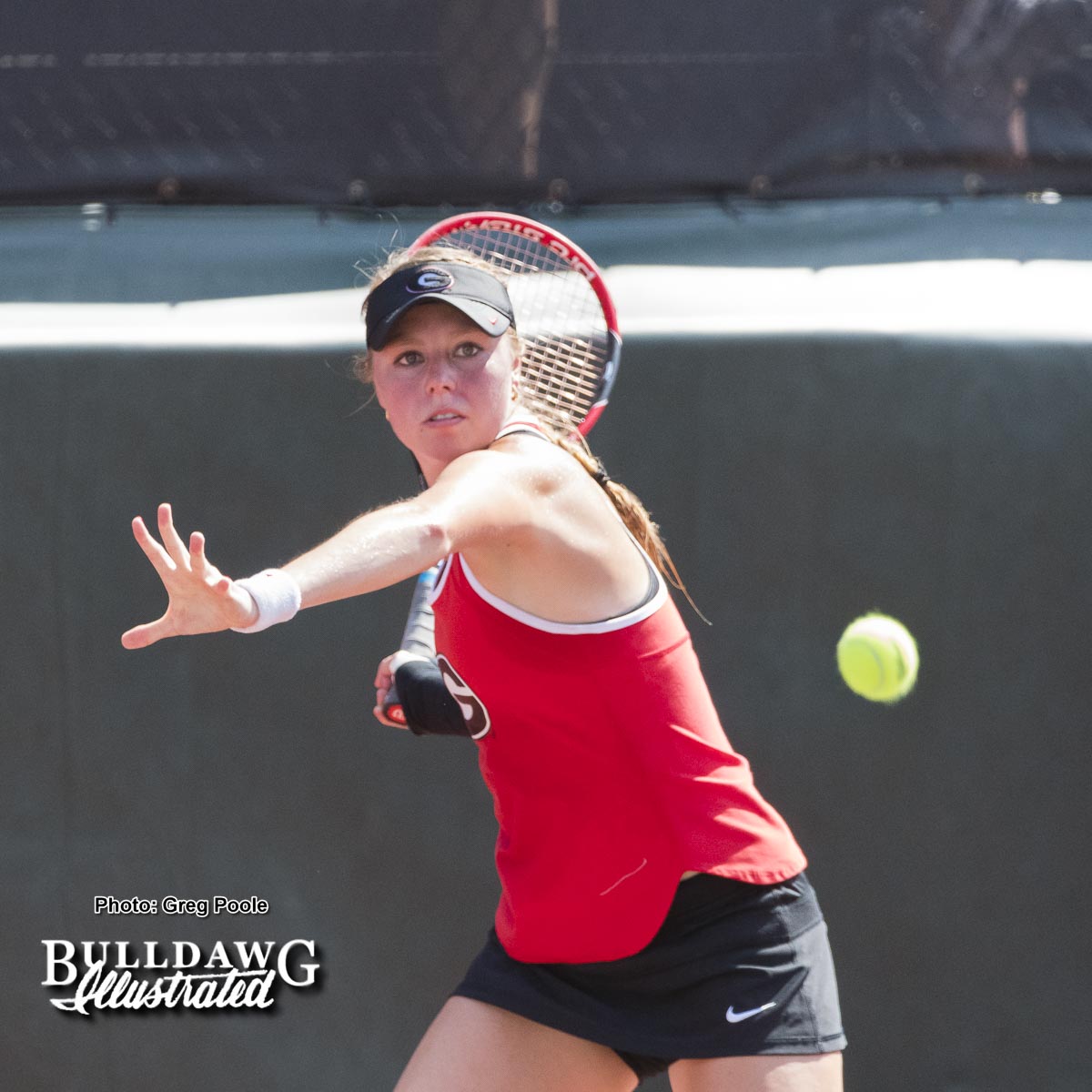 Georgia's freshmen, Vivian Wolff and second-ranked Jokic, each advanced to third sets in their matches. Wolff lost the first set 4-6, won the second set 6-4 and defeated Stines 7-3 in a third-set tiebreak. Jokic also won her match by way of a third-set tiebreak, notching a 4-6, 7-5, 7-6 (2) final.
Before the contest, Wallace was recognized for his 700th career win from back on Feb. 9 against No. 11 Texas at the ITA National Indoor Team Championships by a 4-2 decision. Wallace, who owns the most wins among active coaches in NCAA Division I Women's Tennis, earned win No. 704 against the Volunteers.
Next up, the Bulldogs host No. 22 Florida on Friday, March 16, at 5 p.m. The match will take place at the Dan Magill Tennis Complex and admission is free.
Tennis Match Results
Tennessee vs Georgia
March 10, 2018 at Athens, Ga.
(Dan Magill Tennis Complex)
#7 Georgia 7, #28 Tennessee 0
Singles Results
1. #2 Katarina Jokic (UGA) def. Sadie Hammond (UT) 4-6, 7-5, 7-6 (2)
2. #59 Kennedy Shaffer (UGA) def. Ariadna Riley (UT) 7-6 (6), 6-4
3. Elena Christofi (UGA) def. Elizabeth Profit (UT) 7-5, 7-6 (8)
4. #125 Mariana Gould (UGA) def. Gabby Schuck (UT) 6-0, 6-4
5. Vivian Wolff (UGA) def. Kaitlin Staines (UT) 4-6, 6-4, 7-6 (3)
6. #93 Morgan Coppoc (UGA) def. Johanna Silva (UT) 6-2, 6-2
Doubles Results
1. #10 Elena Christofi/Morgan Coppoc (UGA) def. #69 Ariadna Riley/Kaitlin Staines (UT) 6-2
2. #12 Mariana Gould/Katarina Jokic (UGA) def. Sadie Hammond/Elizabeth Profit (UT) 6-4
3. Annette Goulak/Kennedy Shaffer (UGA) vs. Gabby Schuck/Johanna Silva (UT) 4-5 (uf)
Match Notes:
Tennessee 12-3; National ranking #28
Georgia 8-2; National ranking #7
Order of finish: Doubles (1,2); Singles (6,4,2,5,3,1)
SEC Home Opener for UGA
Official: Karen Badger-Mabry  T-3:33  A-367