UGA women's tennis team doubles pair Kennedy Shaffer and Elena Christofi fell 11-9 to LSU's Ryann Foster and Joana Valle Costa in the Quarterfinals of the NCAA Doubles Championships on Saturday.


LSU's 16th-ranked tandem of R. Foster and J. Valle Costa outlasted Christofi and Shaffer, ranked 38th in ITA doubles, 1-6, 6-2, 11-9 to advance to the Final Four. Christofi/Shaffer conclude their season as Doubles All-Americans with a 17-6 overall record.


"They had a great season," Georgia head coach Jeff Wallace said. "They played an unbelievable first set. In the second set, they had a little bit of bad luck early with some missed returns and had one break which turned the momentum a little bit. I thought after that second set was done; we got into that tiebreaker with a great start. Everything was looking really good, but a couple critical shots at the end and its over, but what a great year they've had to be All-Americans in the doubles out here."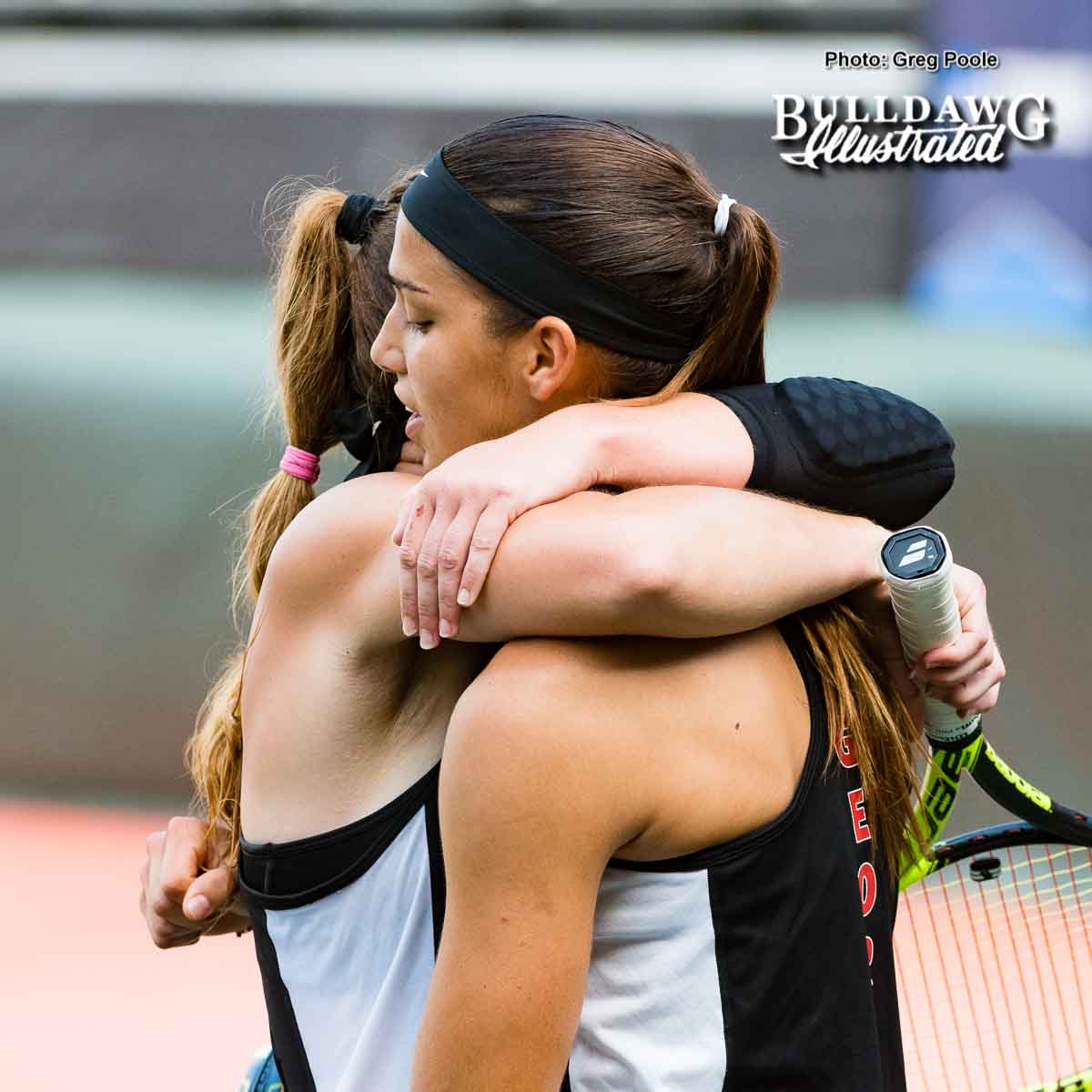 In the tiebreaker, Bulldogs led 4-2 at the first changeover and stretched it to 6-3 shortly after via a Shaffer ace. An LSU shot that tipped the net and went over Shaffer's racket cut the Tigers' deficit to 7-5 at the second changeover. Valle Costa and Foster fought back to get it at 8-all. LSU picked up the next point to put Georgia on its heels, but a flurry of good shots at the net by the Bulldogs evened it at 9-all for the final changeover. After the break, the Tigers moved ahead by one, then in the next point, Georgia's shot finished in the net to end the match.




In the first set, Christofi and Shaffer dominated as they broke LSU's serve three times and did not drop a game after the Tigers held in their opening serve. The Tigers emulated Georgia's stellar play in the second set, taking it 6-2 and forcing the tiebreaker.


"They got to our region final when we first started playing them together," Wallace added. "They've won a ton of dual matches for us and now they are out here in the Elite Eight and just points away from the Final Four. Unfortunate they weren't able to advance, but it was a great effort."


The Bulldogs duo were the last Georgia women's tennis representative left in the NCAA Indiviudals. Junior Ellen Perez lost in the Round of 16 of the NCAA Singles Tournament Friday, but not before collecting Singles All-America honors. Perez and senior Caroline Brinson competed in the Doubles Championships as well and collected Doubles All-America accolades due to seeding.


For the Doubles brackets, CLICK HERE.