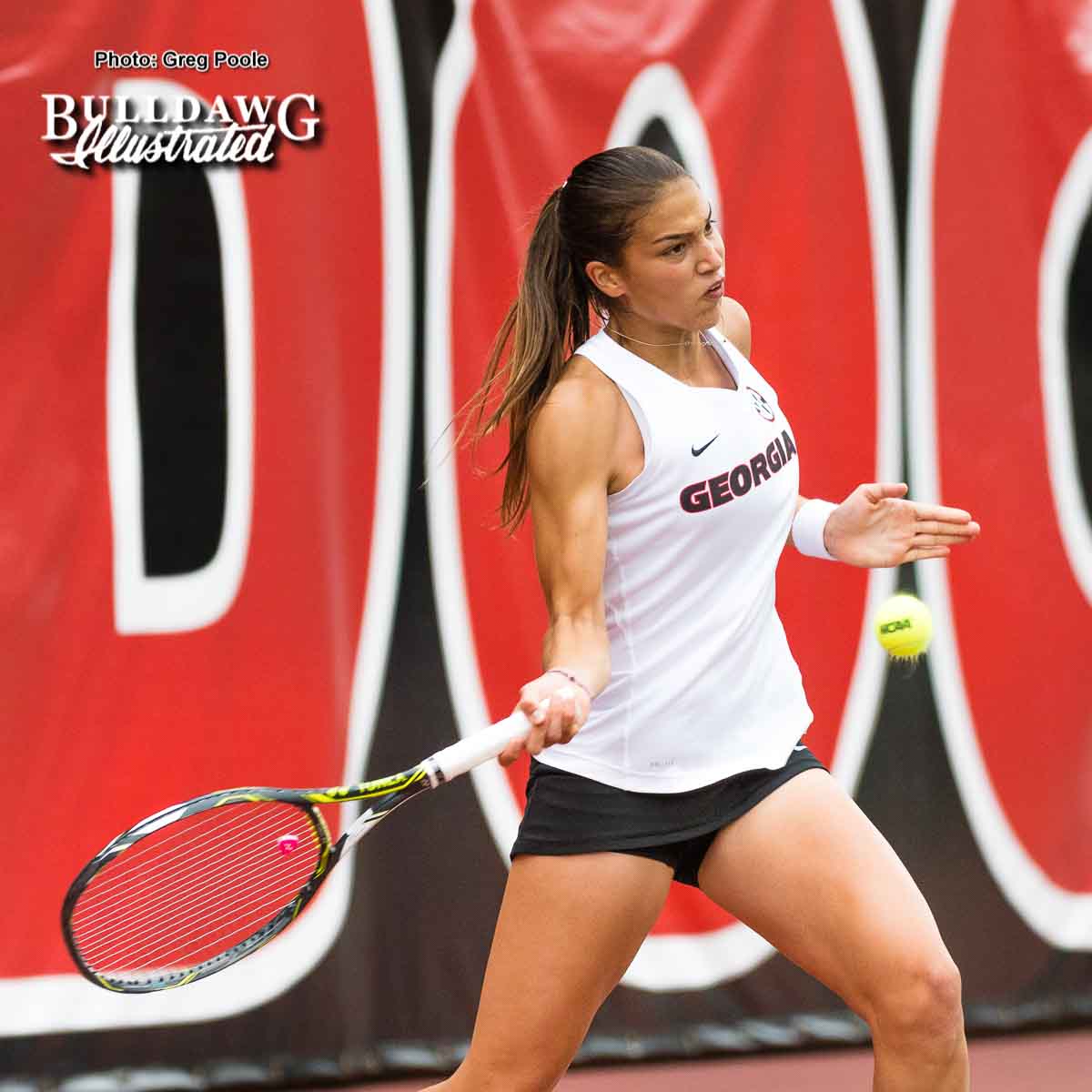 ATHENS, Ga. – Hitting the road to open Southeastern Conference play is the 10th-ranked Georgia women's tennis team this weekend with a Friday 4 p.m. match against LSU in Baton Rouge, Louisiana, and a Sunday noon meeting with Texas A&M in College Station, Texas.
Georgia (5-2) expects to build on experience earned after completing four straight matches against top-15 ranked opponents in which the Bulldogs split. The two losses occurred to two teams now ranked No. 2 and No. 3 in Duke and Georgia Tech, respectively. The wins came from now-ranked No. 8 Texas Tech and No. 18 Texas.
"We are a young team and we are growing and learning," Georgia head coach Jeff Wallace said. "That is what is important at this time in the year. You always want to be one of those teams that get better each week and each month and peaks at the end of the season. Certainly that is one of our focuses. The team seems to be maturing and I think that is going to help us as time goes on."
The preseason coaches' poll nabbed Georgia as its 2018 SEC favorite to win the conference title, a feat last obtained in 2013. The Bulldogs finished tied for second last season and have yet to finish below that mark since 2006.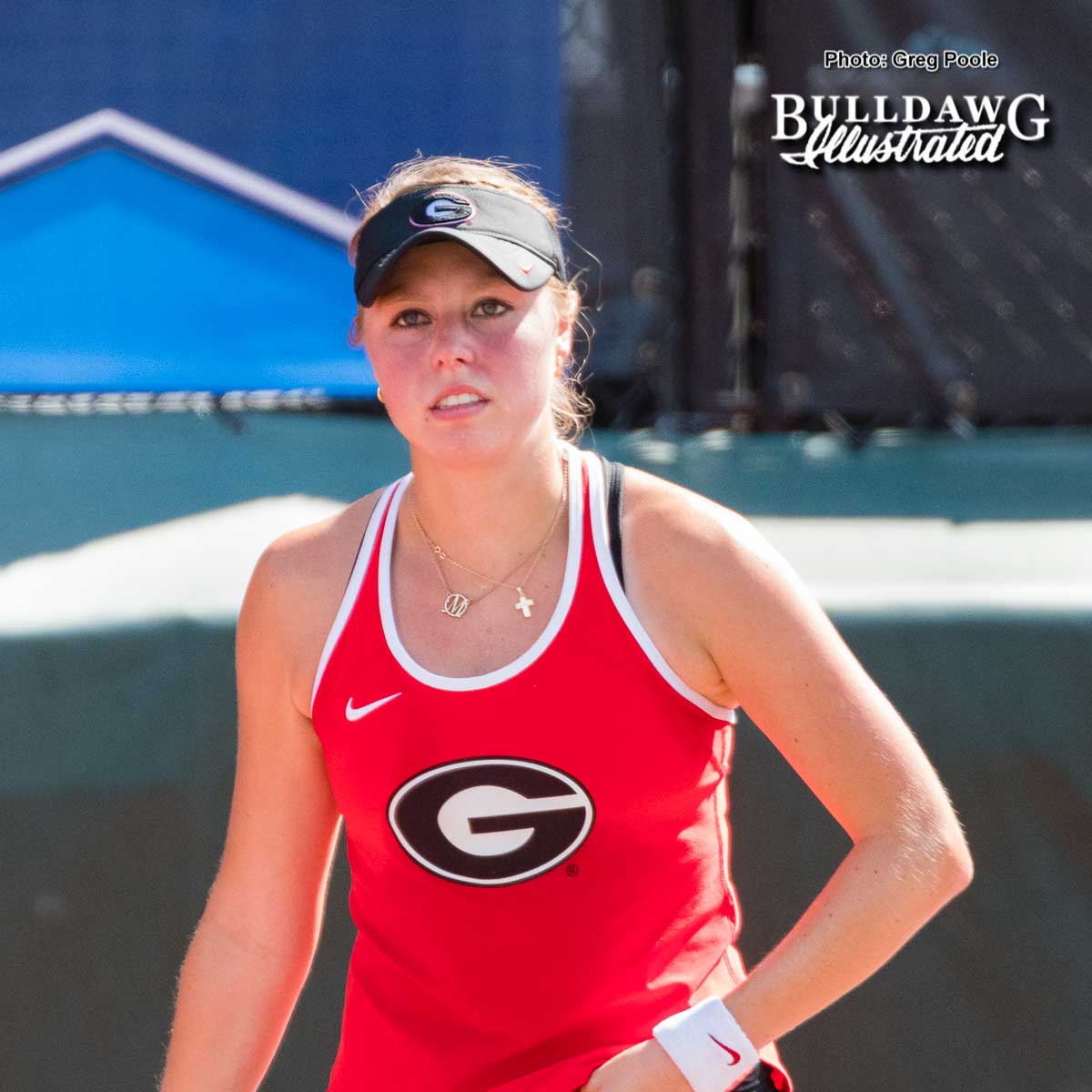 Entering this weekend's action, No. 43 LSU and Texas A&M each stand at 9-1. Friday's matchup marks the Tigers' first contest against a top-25 ranked opponent this season. Also competing in their first ranked match is the Aggies on Friday against No. 17 Tennessee, prior to the Sunday matchup with the Bulldogs.
"The conference slate is super important," Wallace added. "This (trip) is starting that so we want to get off to a great start. The SEC is loaded this year like it is every year so you know you are going to play somebody that is going to bring it every single time. We just have to be ready to play and I think our players will see coming out of the gate that everybody is after us, the same we are after them. That is what makes it exciting."
For the latest on Georgia women's tennis, follow the team on Twitter (@UGAWomensTennis), Instagram (@ugawomenstennis) and on Facebook (UGA Women's Tennis).
LSU live scoring: here
LSU live video: here
TAMU live stats: here
TAMU live video: here
LSU Series
Overall | Georgia leads, 42-4
First Meeting | 1975
Last LSU win | 1985
Streak | UGA 36 wins in a row
Shutouts | UGA (14), LSU (1)
Last Year | Marta Gonzalez clinched Georgia's 5-2 win
TAMU Series
Overall | Georgia leads, 12-1
First Meeting | 1986
Last TAMU win | 2017
Streak | TAMU 1 win
Shutouts | UGA (3), TAMU (0)
Last Year | Down 1-2, Aggies won three-straight singles
»Nearly Perfect Doubles«
Georgia has dropped one doubles point among its seven matches in the dual season. The Bulldogs have only lost three doubles matches in that span (11-3, 5 unf.). Eighth-ranked Jokic and Gould have won each of their matches.
»Tiger Scout«
The Tigers' lone loss was a close one (4-3) to Washington in the Duke Regional of the ITA Kick-Off Weekend. The sole senior Ryann Foster plays No. 1 in singles and doubles. The No. 1 singles matchup with Georgia's Katarina Jokic will represent two of the conference's top four No. 1 players as each have a 5-0 dual record – good for third in the SEC.
»Aggie Scout«
Texas A&M's single loss on the season came from Rice. The Aggie lineup is an even split between seniors and freshmen. Leading the squad at No. 1 singles is senior Domenica Gonzalez who sports an SEC-best 10-0 dual record.
»Familiar Foes Start Off SEC Play«
Georgia opens the 2018 Southeastern Conference schedule against LSU and Texas A&M, the two opponents that the Bulldogs ended with for the 2017 campaign. Last season, the Tigers busted Georgia's doubles-point streak of 10 matches in a row, but the Bulldogs won five of the six singles matches. In the regular-season finale, the No. 21 Aggies upset the second-ranked Bulldogs to deny Georgia a share of the SEC regular-season title.