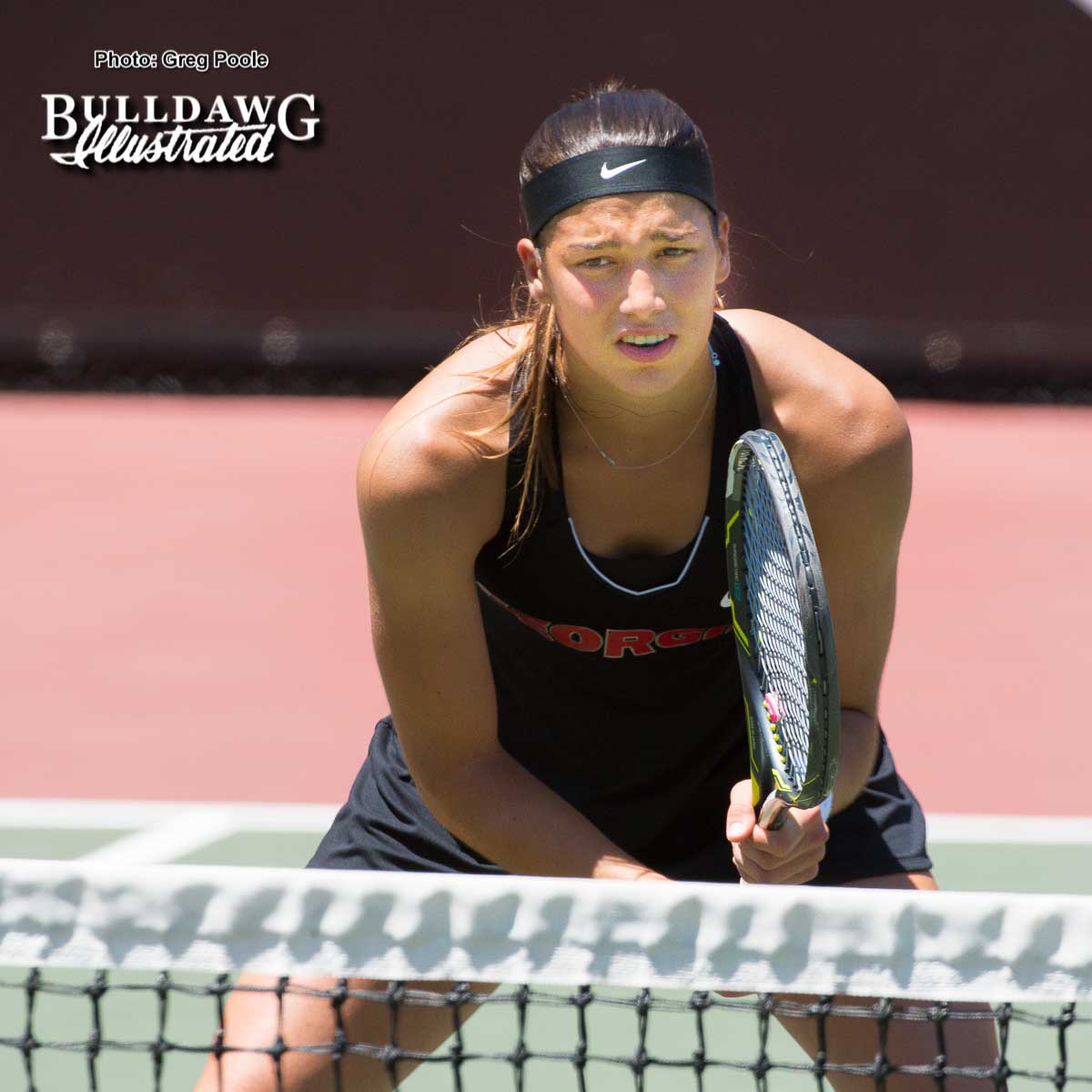 ATHENS, Ga. — The Georgia women's tennis team secured a 4-0 victory Thursday evening over the Arkansas Razorbacks in the first installment of its final home stand for the 2018 season.
"I thought doubles was exciting and we found ways to get the 'W' there and get that one-point lead, and then a lot of close sets in singles " Georgia head coach Jeff Wallace said. "I think our players battled and found ways to lift their games up in key moments of the match. I thought that was impressive."
The No. 8 Bulldogs improved to 14-5 overall and 9-3 in Southeastern Conference play with the No. 4 standing currently. The team aims to lock up one of four double-byes in the SEC Conference Tournament in its season finalé on Saturday.
Georgia prevailed through tightly-contested doubles matches on all three courts. On court one, the No. 17-ranked pair of freshman Katarina Jokic and senior Mariana Gould earned an early break point and raced out to a 3-0 lead on court two, but were soon matched at 4-4 by Arkansas' No. 50-ranked duo of Jackie Carr and Tatum Rice. On break, deuce and match point, Gould held serve for a 7-5 victory.
On court three, senior Kennedy Shaffer and freshman Annette Goulak surged back from down 4-1 to tie the match at four, but dropped two games thereafter for a 6-4 victory by the Razorbacks' Agne Cepelyte and Natsuho Arakawa.
That put the doubles point in the hands of Georgia's 7th-ranked tandem of sophomore Elena Christofi and freshman Morgan Coppoc, who thrived under pressure. Down 0-40 and facing a tiebreaker, the Bulldogs stormed back with four straight points to secure a 7-5 victory and clinch their 16th doubles point in 19 dual matches this season.
The matches in singles play proved to be equally contentious. To begin, however, Coppoc won swiftly on court five with a 7-5, 6-0 decision, followed by a 6-1, 6-4 victory by Gould on court five to extend the Georgia lead to 3-0. Both Coppoc and Gould extended their win streaks in singles play to seven with their respective victories.
Jokic and sophomore Marta Gonzalez extended their matches on courts one and three, respectively, to third sets with a pair of second set victories. Shaffer and Christofi battled in tight second sets, with Shaffer clinching a 4-0 Georgia victory with a powerful forehand winner to solidify a 6-4, 6-4 win.
Next up, the Bulldogs close out regular reason play against the Missouri Tigers on Saturday, April 14, at the Dan Magill Tennis Complex. Georgia recognizes its three seniors for Senior Day: Mariana Gould, Laura Patterson and Kennedy Shaffer. The ceremony begins at 10:45 a.m. with the match beginning at 11:00.
Tennis Match Results
Arkansas vs Georgia
April 12, 2018 at Athens, Ga.
(Dan Magill Tennis Complex)
#8 Georgia 4, Arkansas 0
Singles Results
1. #9 Katarina Jokic (UGA) vs. Giulia Pairone (ARK) 3-6, 6-3, 1-3 (uf)
2. #60 Kennedy Shaffer (UGA) def. Mia Jurasic (ARK) 6-4, 6-4
3. #82 Marta Gonzalez (UGA) vs. Natsuho Arakawa (ARK) 3-6, 6-1, 3-3 (uf)
4. Elena Christofi (UGA) vs. Tatum Rice (ARK) 7-5, 5-6 (uf)
5. #99 Mariana Gould (UGA) def. Agne Cepelyte (ARK) 6-1, 6-4
6. #103 Morgan Coppoc (UGA) def. Jackie Carr (ARK) 7-5, 6-0
Doubles Results
1. #7 Elena Christofi/Morgan Coppoc (UGA) def. Giulia Pairone/Mia Jurasic (ARK) 7-5
2. #17 Mariana Gould/Katarina Jokic (UGA) def. #50 Jackie Carr/Tatum Rice (ARK) 7-5
3. Agne Cepelyte/Natsuho Arakawa (ARK) def. Annette Goulak/Kennedy Shaffer (UGA) 4-6
Match Notes:
Arkansas 6-15, 2-10; National ranking #49
Georgia 14-5, 9-3; National ranking #8
Order of finish: Doubles (2,3,1); Singles (6,5,2)