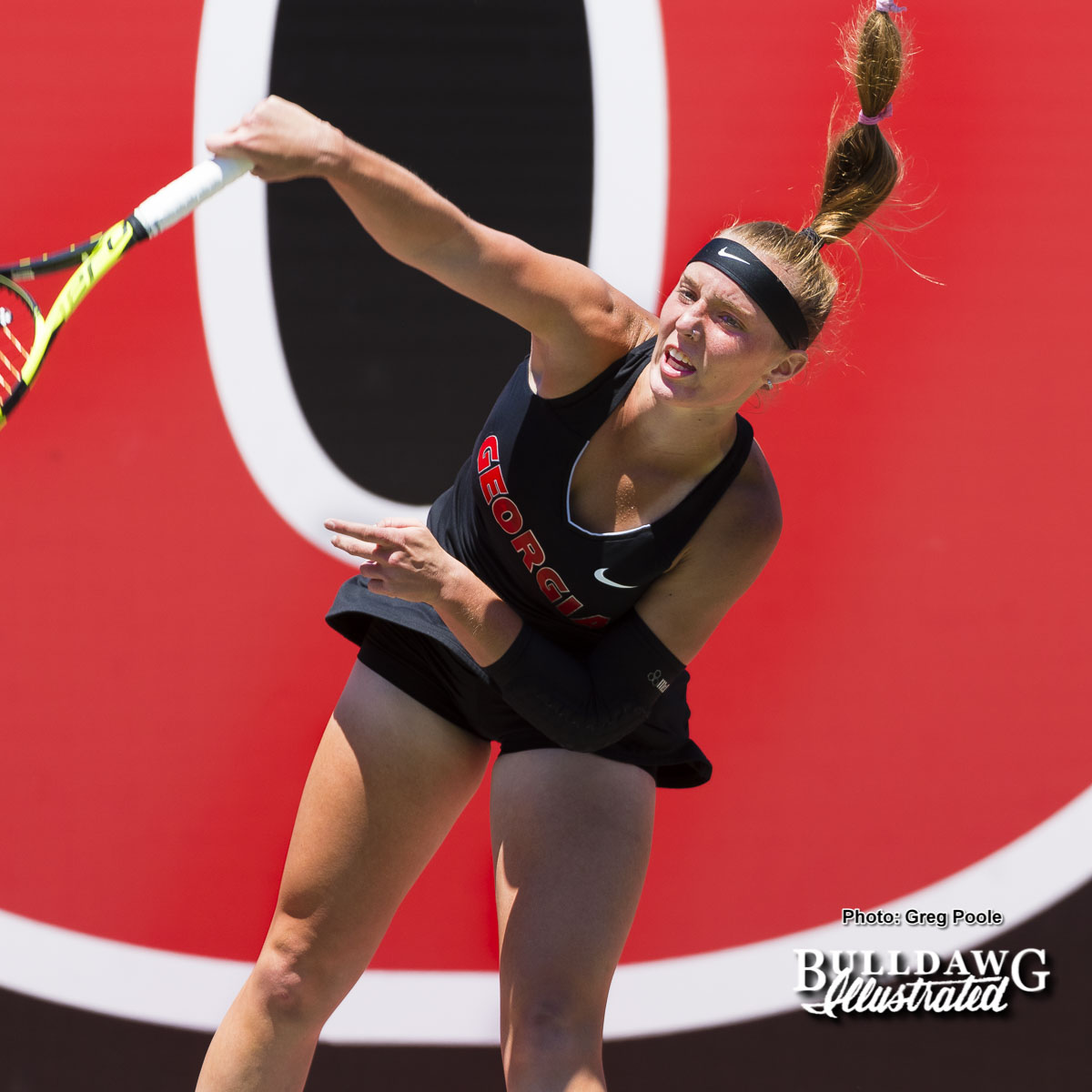 STARKVILLE, Miss. – After rain pushed Saturday's matchup at the A.J. Pitts Tennis Centre to Monday morning, the No. 7 Georgia Bulldogs tennis team blanked the No. 32 Mississippi State Bulldogs, 4-0.
"We came out with a lot of energy and played a great match today," Georgia head coach Jeff Wallace said. "It was a long wait to play this one, and we're excited to get a win and now move forward with the rest of our season. I'd like to add that our athletic trainer Deanna (Doheny) did an awesome job of keeping everybody healthy and getting everybody ready to play Monday. We're fortunate to have her, and she's made a huge difference for the team since she's been with the program."
The Bulldogs dominated doubles play, surrendering only one game apiece on each court. The Georgia tandem of freshman Anette Goulak and senior Kennedy Shaffer topped Sara Lizariturry and Anastasia Rentouli, 6-1, before the No. 18 freshman-senior duo of Katarina Jokic and Mariana Gould secured the doubles point with a similar 6-1 victory on the third court against Magda Adaloglou and Janina Braun.
On the first court, No. 8 Morgan Coppoc and Elena Christofi completed play at 5-1, one point away from a victory at 40-15.
Georgia opened singles play with a win on every court in the first frame. The Bulldog leader in singles dual action, Gould, improved to 9-1 with a 6-1, 6-2 showing against Sara Lizariturry on the fifth court, handing Georgia the 2-0 margin.
Coppoc followed closely behind on the sixth court, surging to a 6-3, 6-3 victory against Khrystyna Vozniak for the third Georgia point. Then, No. 8 Jokic clinched the match on the first court, 6-3, 6-3, against Madison Harrison, sealing the Bulldogs' 4-0 shutout.
The Bulldogs led on every remaining court, with No. 57 Shaffer at 6-1, 5-1 against Janina Bruan on the second court, No. 86 Marta Gonzalez at 6-3, 4-0 on the third and Christofi at 6-0, 4-4 on the fourth.
Georgia improves to 13-5 on the year and 8-3 in the conference, while the Bulldogs from Starkville move to 15-8 and 6-6.
Up next, the Bulldogs cap regular season play at the Dan Magill Tennis Complex, playing host to Arkansas and Missouri on Thursday and Saturday at 6 p.m. and 11 a.m., respectively. Saturday's match will honor three Georgia seniors, Mariana Gould, Laura Patterson and Kennedy Shaffer.
No. 7 Georgia 4, No. 32 Mississippi State 0
A.J. Pitts Tennis Centre
Starkville, Miss. 
April 9, 2018
Doubles
No. 8 Elena Christofi/Morgan Coppoc (UGA) vs. No. 87 Madison Harrison/Khrystyna Vozniak (MSU) 5-1 (susp.)
No. 18 Mariana Gould/Katarina Jokic (UGA) def. Magda Adaloglou/Janina Braun (MSU) 6-1
Annette Goulak/Kennedy Shaffer (UGA) def. Sara Lizariturry/Anastasia Rentouli (MSU) 6-1
Order of finish: 3, 2
Singles
No. 8 Katarina Jokic (UGA) def. Madison Harrison (MSU) 6-3, 6-3
No. 57 Kennedy Shaffer (UGA) vs. Janina Braun (MSU) 6-1, 5-1 (susp.)
No. 86 Marta Gonzalez (UGA) vs. Magda Adaloglou (MSU) 6-3, 4-0 (susp.)
Elena Christofi (UGA) vs. Anastasia Rentouli (MSU) 6-0, 4-4 (susp.)
Mariana Gould (UGA) def. Sara Lizariturry (MSU) 6-1, 6-2
Morgan Coppoc (UGA) def. Khrystyna Vozniak (MSU) 6-3, 6-3
Order of finish: 5, 6, 1