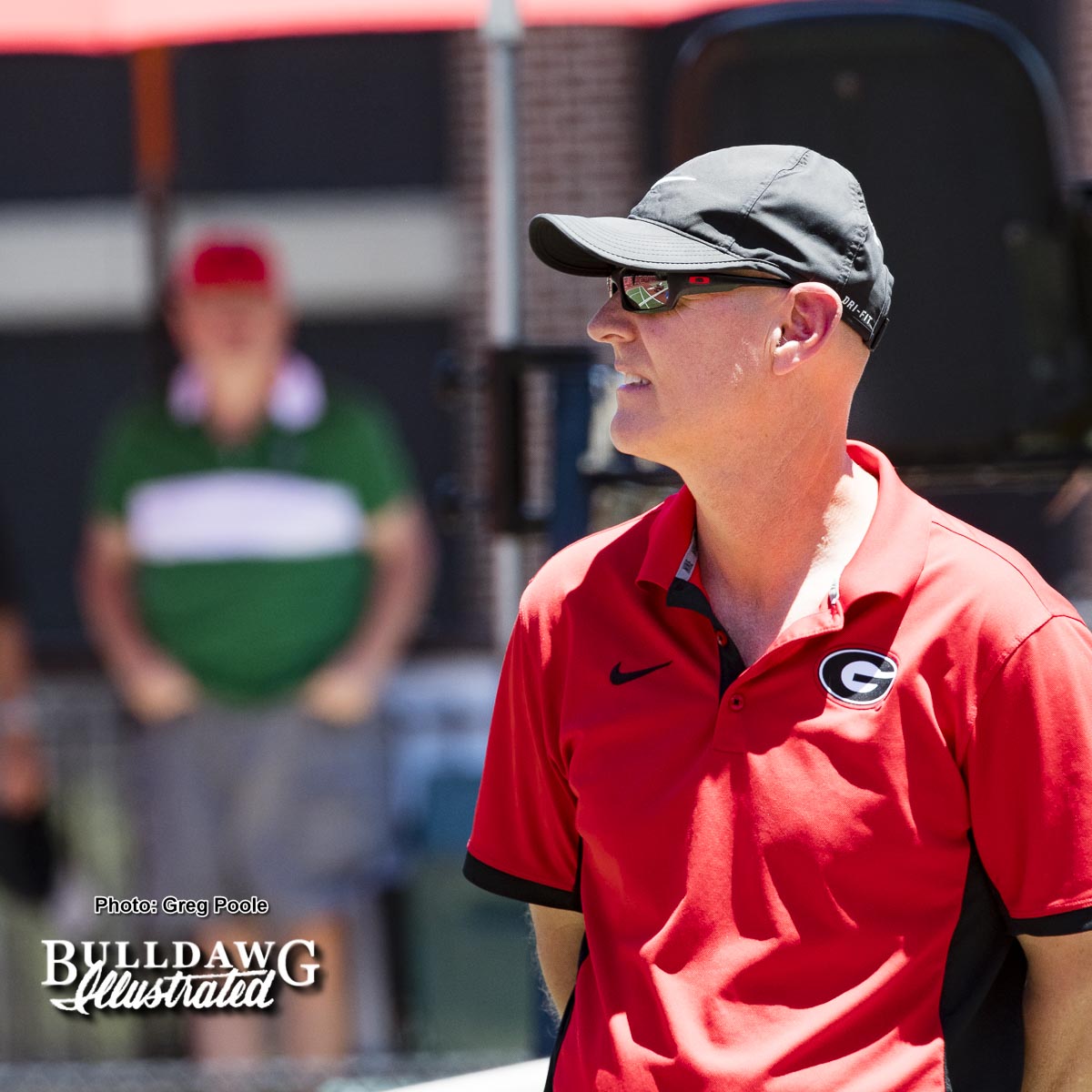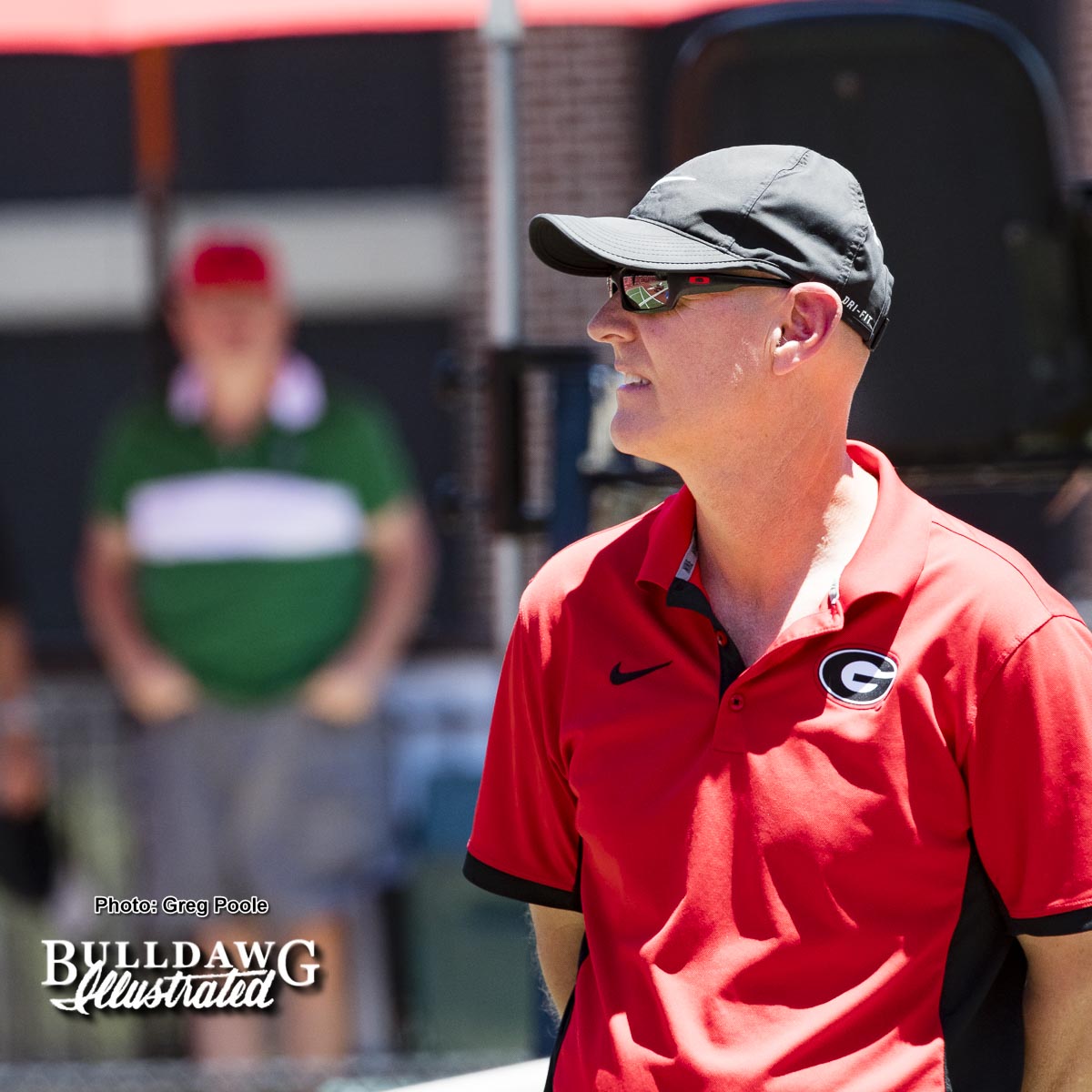 ATHENS, Ga.  —  Overwhelmed. That's how Georgia head women's tennis coach Jeff Wallace described his feelings towards his 707th career win, a 4-0 decision over the Alabama Crimson Tide on Thursday. Wallace passed Dan Magill, his legendary former head coach who notched 706 wins all-time, at the complex that bares Magill's name.
"Dan Magill is just the greatest Bulldog that's ever lived and ever will," Wallace said. "It's an honor for me to be able to stay here and coach this long at the University of Georgia. It's such a great place, such a special place. We've got so many wonderful student-athletes that have come through this program that have been a huge part of that, so thank you."
The No. 8 Bulldogs improved to 11-4 overall and 6-2 in Southeastern Conference play in the first installment of two home league matches this weekend. Georgia's two freshman-senior doubles combinations helped the team clinch its 13th doubles point in 15 duals matches this season.
On court three, the pair of freshman Annette Goulak and senior Kennedy Shaffer, ranked 11th, earned a swift 6-2 victory over Kylie Moulin and Jacqueline Pelletier on court three. The two won the match on deuce point with Goulak holding serve for the win.
The 9th-ranked duo of freshman Katarina Jokic and senior Mariana Gould earned a 6-4 decision over Alabama's Alba Cortina-Pou and Ann Selim on court three, improving to 24-5 overall this season while earning their 12th win and sixth clinch in the last 14 completed dual matches. Jokic crushed a backhand return winner on break point to seal the victory.
Early singles play proved stingy, however the Bulldogs turned it on to take five first sets.
From there, freshman Morgan Coppoc downed Kylie Moulin for a 6-1, 6-3 win to notch the first singles win of the day. On court five, Gould cruised to a 6-3, 6-0 victory over Alba Cortina-Pou, winning nine of her last 10 games in the match. She improves to 9-1 in dual matches, the team's best singles record in dual play this season.
Jokic, ranked No. 6 nationally, earned the clinching singles victory of the evening, downing Andie Daniell on court one by way of a 6-2, 6-3 final. The Bosnian native improves to 28-5 overall this season.
Next up, the Bulldogs host No. 15 Auburn on Saturday, March 31, at noon. The match will take place at the Dan Magill Tennis Complex and admission is free.
Tennis Match Results
Alabama vs Georgia
March 29, 2018 at Athens, Ga.
(Dan Magill Tennis Complex)
#8 Georgia 4, Alabama 0
Singles Results
1. #6 Katarina Jokic (UGA) def. Andie Daniell (UA) 6-2, 6-3
2. Smith Hinton (UA) vs. #45 Kennedy Shaffer (UGA) 7-6 (5), 2-1 (uf)
3. #81 Marta Gonzalez (UGA) vs. Jacqueline Pelletier (UA) 6-3, 4-2 (uf)
4. Elena Christofi (UGA) vs. Ann Selim (UA) 6-2, 4-4 (uf)
5. #125 Mariana Gould (UGA) def. Alba Cortina-Pou (UA) 6-3, 6-0
6. #110 Morgan Coppoc (UGA) def. Kylie Moulin (UA) 6-1, 6-3
Doubles Results
1. #11 Elena Christofi/Morgan Coppoc (UGA) vs. Andie Daniell/Smith Hinton (UA) 4-4 (uf)
2. #9 Mariana Gould/Katarina Jokic (UGA) def. Alba Cortina-Pou/Ann Selim (UA) 6-4
3. Annette Goulak/Kennedy Shaffer (UGA) def. Kylie Moulin/Jacqueline Pelletier (UA) 6-2
Match Notes:
Tennessee 13-11, 0-8
Georgia 11-4, 6-2; National ranking #8
Order of finish: Doubles (3,2); Singles (6,5,1)
Official: Karen Badger-Mabry  T-2:10  A-411