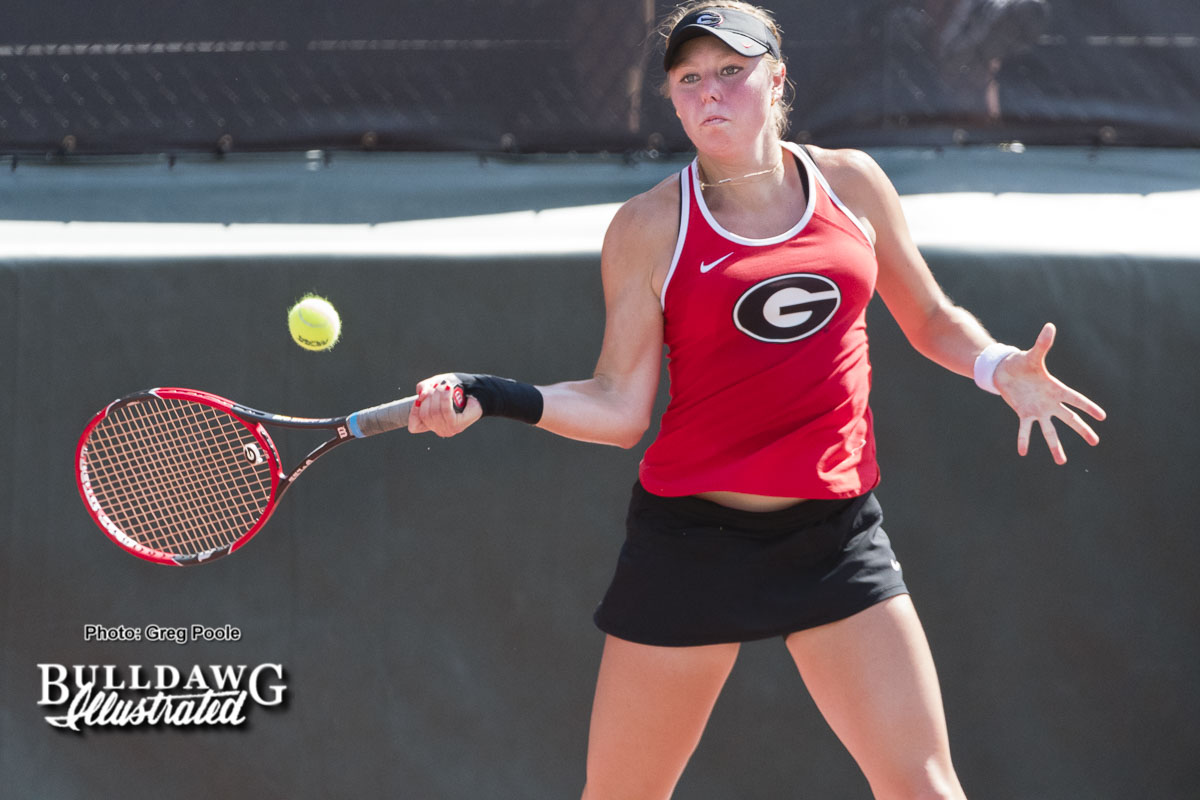 ATHENS, Ga.  —  The Georgia women's tennis team captured a 4-0 victory Friday afternoon over the Georgia State Panthers in the first round of the 2018 NCAA Division I Women's Tennis Championships at the Dan Magill Tennis Complex.
The Bulldogs, slated as the No. 7 overall seed, took down the Panthers, who were the No. 4 seed at the Athens NCAA Regional. With the win, the team extends a 33-0 streak in first and second round matches held in Athens dating back to 1999.
"It was an interesting match," Georgia head coach Jeff Wallace said. "When you're playing a team that doesn't have a full lineup and we don't play a No. 3 doubles match and we don't play No. 5 and No. 6 singles matches, you win one doubles and you win one singles and the match is over. It kind of makes for an interesting day … I thought our players did a good job and got it done. Now we're on to the round of 32."
Georgia improves to 16-6 overall and will face No. 29 Wake Forest, which enters as the No. 2 seed in the regional, in the NCAA Second Round tomorrow at 3 p.m. The Demon Deacons defeated No. 37 Arizona State, the regional's No. 3 seed, by a final of 4-2 in the first match of the day.
The Panthers, who won the Sun Belt Conference Tournament championship with four players, only competed on two doubles lines and four singles lines in the match. With one of three doubles matchups already forfeited, the Bulldogs' No. 10-ranked pair of sophomore Elena Christofi and freshman Morgan Coppoc earned a 6-2 win on court one to secure the doubles point. The Georgia duo improved to 20-7 overall and 11-2 in duals.
Georgia began singles play with a 3-0 lead on account of two forfeits on courts five and six. Freshman Katarina Jokic, senior Kennedy Shaffer, senior Mariana Gould and Christofi competed on courts one, two, three and four, respectively.
Shaffer, Gould and Christofi each earned first set wins and raced towards the deciding point. With her second set tied at five, Gould earned a critical break point and held serve to seal a 6-2, 7-5 decision towards the 4-0 Georgia win. Jokic, Shaffer and Christofi were each leading their respective second sets upon the match's conclusion.
The win by Gould marks her ninth win in a row amongst matches that reached an outcome. In all, Gould moved to 23-4 on the season and 15-1 in duals.
Tickets for Saturday's contest at 3 p.m. are $5 for adults and $3 for children, students, and seniors and can be purchased at the Dan Magill Tennis Complex beginning one hour before the match.
For all the latest on Georgia women's tennis, follow the team on Twitter (@UGAWomensTennis), Instagram (@ugawomenstennis) and on Facebook (Georgia Women's Tennis), and keep checking in togeorgiadogs.com.
Tennis Match Results
Georgia State vs Georgia
May 11, 2018 at Athens, Ga.
(Dan Magill Tennis Complex)
#7 Georgia 4, Georgia State 0
Singles Results
1. #12 Katarina Jokic (UGA) vs. Kristin Rehse (GSU) 4-6, 5-2 (uf)
2. #75 Kennedy Shaffer (UGA) vs. Daniela Ramirez (GSU) 6-3, 4-3 (uf)
3. Mariana Gould (UGA) def. Damira Muminovic (GSU) 6-2, 7-5
4. Elena Christofi (UGA) vs. Lara Vovk (GSU) 7-5, 3-2 (uf)
5. Morgan Coppoc (UGA) def. forfeit (GSU), wf
6. Vivian Wolff (UGA) def. forfeit (GSU), wf
Doubles Results
1. #10 Elena Christofi/Morgan Coppoc (UGA) def. Kristin Rehse/Lara Vovk (GSU) 6-2
2. #26 Mariana Gould/Katarina Jokic (UGA) vs. Damira Muminovic/Daniela Ramirez (GSU) 4-4 (uf)
3. Kennedy Shaffer/Annette Goulak (UGA) def. forfeit (GSU), wf
Match Notes:
Georgia State 12-14
Georgia 16-6, 10-3; National ranking #7
Order of finish: Doubles (3,1) Singles (5,6,3)
NCAA Tournament First Round