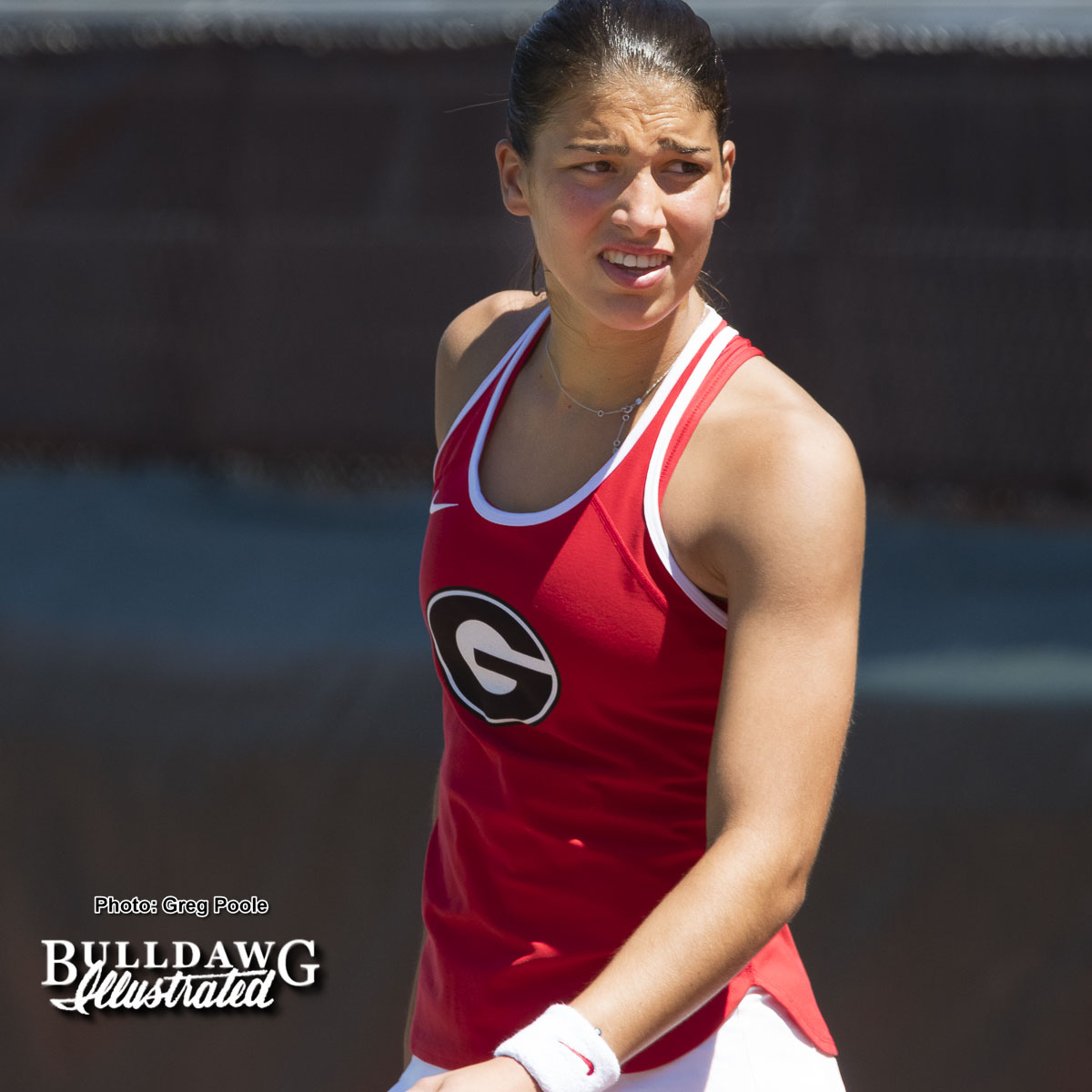 To start off the weekend slate, the No. 2-ranked Georgia women's tennis team cruised past No. 34 Florida, 4-1, Friday evening at the Alfred A. Ring Tennis Complex.
The Bulldog victory increased their record in the Southeastern Conference to 4-0 and to 12-0 overall on the season, which is the best start in the program since 2007. Florida fell to 6-6 overall and 3-2 in conference play. In the series, Georgia has now won three in a row with two wins occurring at Florida.
Georgia obtained the 1-0 lead by extending its streak of doubles points to five matches, and in doing so halted Florida's doubles-point streak at five. In singles, the Bulldogs scored points from junior Elena Christofi, and freshman Lourdes Carle, before sophomore Vivian Wolff ended the contest with a clinch.
"It was a great doubles point," Georgia head coach Jeff Wallace said. "I thought all the players on the court for both teams were really playing well. It was high-level tennis. We did a great job of closing out on the No. 3 court and finishing it out on the No. 2 court. The No. 2 doubles [Christofi/Wolff] have gotten really tough. Even the No. 1 court got down, but came back and were playing good tennis too, so doubles was a big point and it helped us a lot going into singles."
After the first games in doubles, Florida led at court one and Georgia had the 1-0 lead on the other two courts, which is how the courts played out. Georgia is now 8-of-11 this season in earning the doubles point.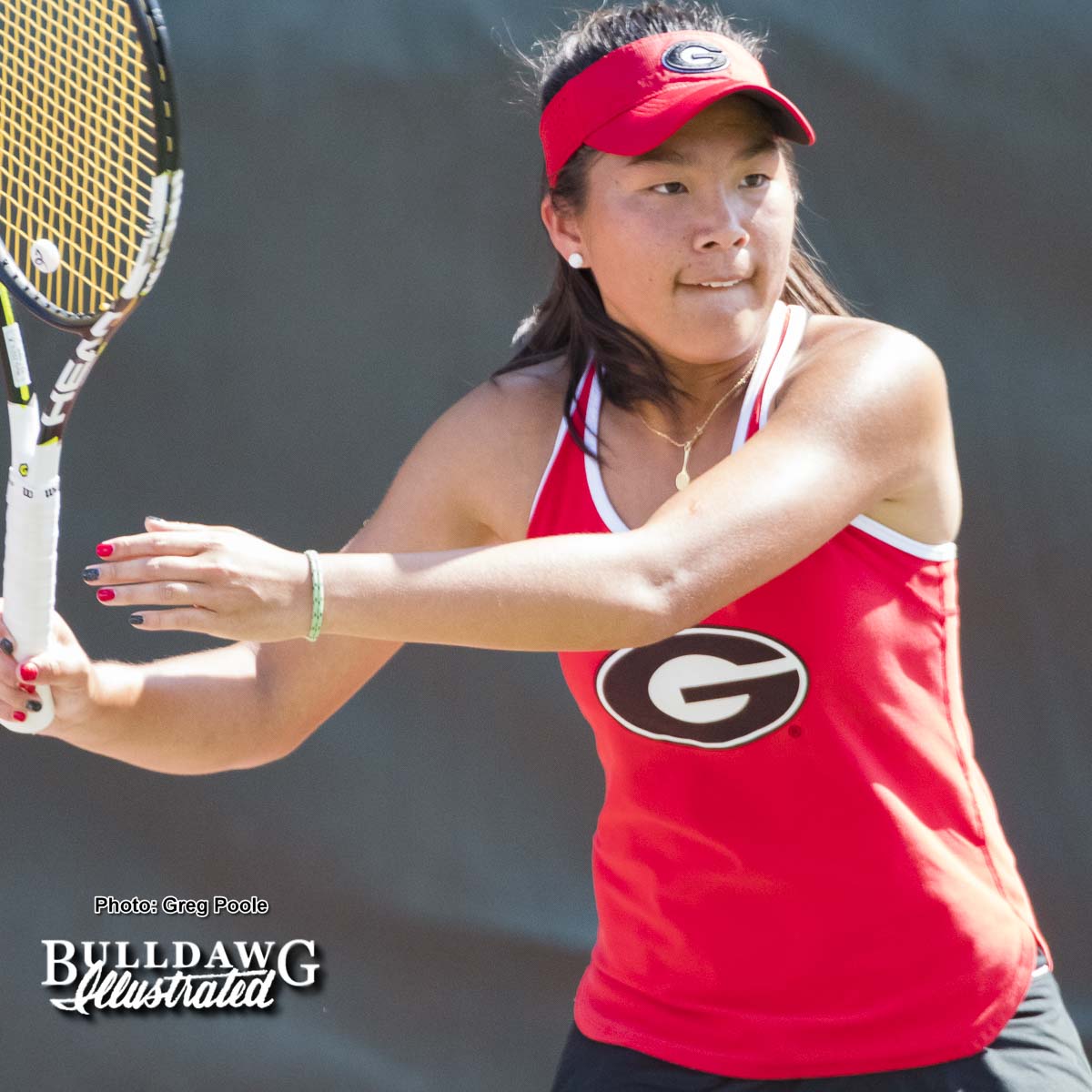 First, junior Marta Gonzalez and freshman Meg Kowalski defeated UF's freshmen team of Anastasia Kharitonova and Marlee Zein, 6-3, on court three. The Georgia duo got the decisive break of Florida's serve to go up 3-1, and then serves held out, notching the fourth win in a row for the Bulldog tandem.
After the Gators evened it with a win on court one, all eyes shifted to court two's battle between Georgia's Christofi and Wolff versus Florida's Tsveta Dimitrova and Ida Jarlskog – both junior-sophomore duos, respectively. Up 5-4 and at 40-all on Florida's serve, Wolff sneaked a return shot past an outstretched Gator, clinching the Georgia doubles point. Christofi and Wolff improved to 5-0 overall, which includes four clinchers.
The first sets in singles were split between the two schools. The first set to finish was also the first court to wrap up as Christofi cruised past Dimitrova, 6-0, 6-1, to put the Bulldogs up 2-0. Back in October, Dimitrova won in straight sets over Christofi at the ITA Southeast Regional Championships.
"[Elena] Christofi just played unbelievable, beating a player she had lost to in the fall," Wallace said. "She rolled over her quick to put two [points] on the board."
The Gators got the scoreboard with a win at court two where McCartney Kessler, ranked 44th in ITA singles, defeated No. 16 Gonzalez, 6-4, 6-2.
Next door on court three, Carle, ranked 92nd in ITA singles, defeated UF's No. 52 Victoria Emma, 6-4, 6-3. In the first set it was knotted at 4-all, before Carle shut the door. On match point, Carle forced the Gator sophomore into one corner and then placed Emma's return shot in the opposite corner to seal the win. Carle improved to 13-5 overall and 3-0 against SEC opponents.
"Lourdes [Carle] put together two solid sets," Wallace said. "She showed as much discipline as I've seen yet. She stuck to some nice strategies at the end to finish it out. Lastly, Vivian [Wolff] who loses the first set just comes back and rolls."
Wolff, out of Frankfurt, Germany, notched her second match clincher of the season on court four. Ranked No. 35, Wolff responded strongly from a dropped first set to down Zein, 5-7, 6-2, 6-0. The victory marks Wolff's sixth in a row, and ups her record to 18-3 overall and 10-1 in dual play.
Going unfinished were courts one and six. Georgia's Katarina Jokic, ranked No.1, was ahead 5-4 in the second set after dropping the first set to No. 12 Jarlskog. Kowalski, ranked No. 95, also was leading 4-3, but in the third set.
"It was a great match and we are super excited, but now we have another huge one in Columbia that we have to get ready for," Wallace added.
Georgia continues its weekend road trip to Columbia, S.C. where the Bulldogs will play the No. 7 Gamecocks at 1 p.m. Sunday.