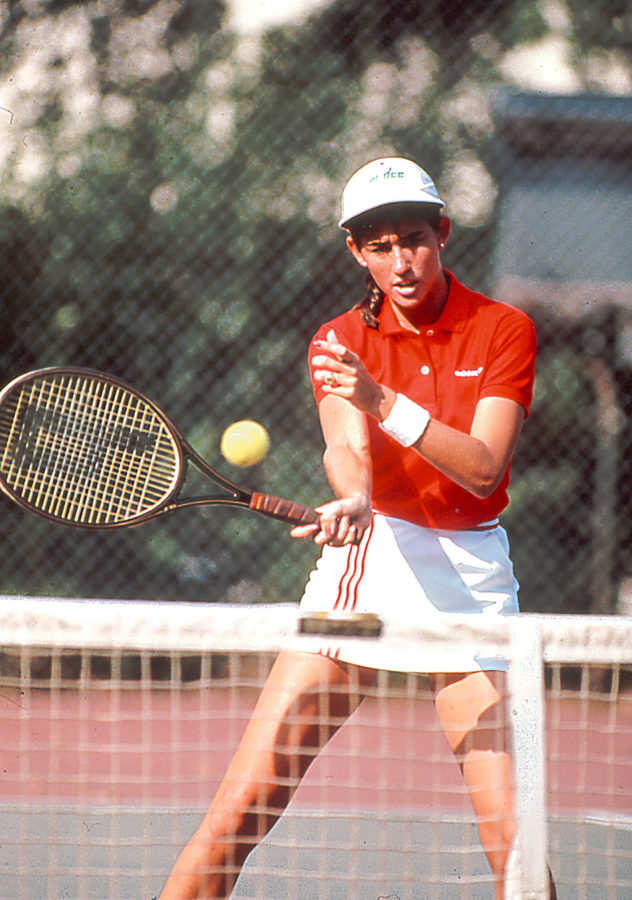 Former Georgia women's tennis player Lisa Spain, now Spain Short, will be inducted into the 2021 ITA Women's Collegiate Tennis Hall of Fame. The induction ceremony for the class of 2021 is scheduled to be Sept. 18, 2021 in Williamsburg, Va.
Spain Short competed in Athens from 1981-84, where she etched her name into the record books as one of the most dominant collegiate tennis players in Bulldog history. The Moultrie, Ga. native racked up a career singes record of 123-21 and a doubles record of 73-31 and was UGA's first scholarship student-athlete for women's tennis. She currently sits tied for eighth in all-time singles victories with former Bulldogs Marissa Catlin and Stacy Sheppard and holds the best singles winning percentage with a .854. Spain Short would go on to be the program's first All-American, an honor she would earn four times throughout her career, and was a four-time All-SEC honoree.
Spain Short collected numerous honors and titles including winning the 1983 ITCA Riviera All-American Singles Championship and in her final year at Georgia would capture the 1984 NCAA Singles Championship along with the Honda Broderick Award, given to the best collegiate women's tennis player in the country. She is one of three Bulldogs to be awarded that honor. After graduation, Spain Short would go on to play professionally where she reached a career high WTA singles ranking of No. 63.
""It's absolutely fantastic, and it's so well deserved," Head Coach Jeff Wallace said. "She had an outstanding career and was an amazing player here at Georgia. I remember her as an extremely hard worker, very conscientious on the court, a real determined competitor — smooth backhand, great forehand, good serve, just a good all-around game. Her net skills were outstanding and she was just fun to watch play."
Spain Short will be joined by Diane Donnelly Stone, AnnaMarie Fernandez-Ruffels and Lin Loring. Past inductees include Billie Jean King, Althea Gibson and Helen Willis Moody, to name only a few. The ITA Women's Collegiate Hall of Fame is located in the McCormack-Nagelsen Tennis Center at the College of William and Mary in Williamsburg, Virginia. The ITA Hall of Fame Committee selects inductees from the following categories: (1) outstanding collegiate players; (2) players who attended college and later had a significant impact on women's tennis; (3) outstanding collegiate coaches; and (4) individuals or corporations that played a major role in the development of women's intercollegiate tennis.