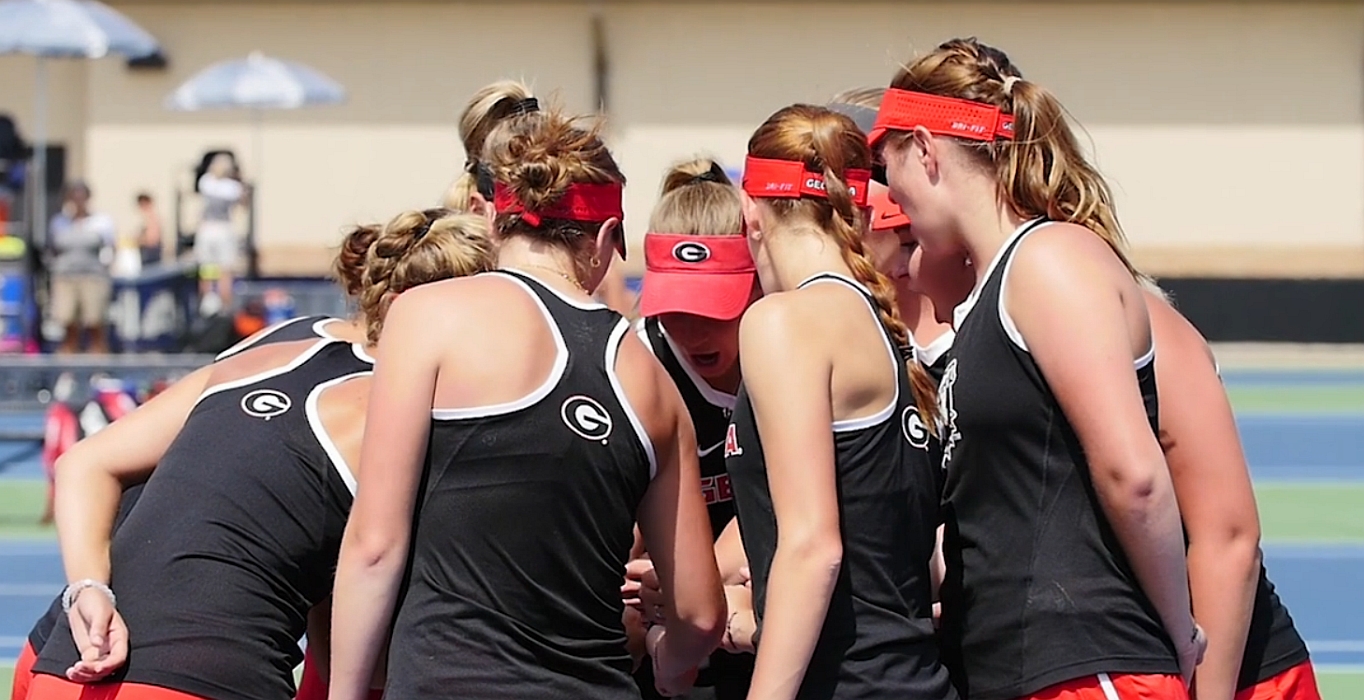 ATHENS, Ga.  —  The seventh-ranked Georgia women's tennis team advanced to the 2018 NCAA Division I Women's Tennis Championships Round of 16 on Saturday afternoon with a 4-0 win over Wake Forest at the Dan Magill Tennis Complex.
The Bulldogs (17-6) notched their eighth straight trip to the Sweet 16 with the victory and remain a perfect 34-0 all-time in NCAA Regionals hosted in Athens. The team will face No. 10 South Carolina in its first match at the NCAA Championships held in Winston-Salem, North Carolina, on May 17th at 12 p.m.
"I thought it took a great match by our team," Georgia head coach Jeff Wallace said. "First of all, I want to say Wake Forest played great … I think that we just really competed well. We had the swagger that we needed out there, and I'm excited about what we're about to experience in Winston-Salem."
The Bulldogs surged past the Demon Deacons (20-14) in a marathonic doubles point. Georgia's two ranked doubles pairs earned wins over both of Wake Forest's ranked squads, marking the first time the Bulldogs have achieved that feat this season.
On court two, Georgia's No. 26-ranked duo of freshman Katarina Jokic and senior Mariana Gould cruised to a 6-2 victory over the No. 77 pair of Eliza Omirou and Mary Caroline Meredith.
Soon thereafter, Wake Forest's Alexis Franco and Anna Ulyashchenko defeated senior Kennedy Shaffer and freshman Annette Goulak 6-4 to even doubles play and send the deciding point to court one.
Freshman Morgan Coppoc and sophomore Elena Christofi gritted out an exceptional match against No. 15 Emma Davis and Chandler Carter in a top-15 showdown. The No. 10 tandem of Coppoc and Christofi rallied back from down 3-1 to take a 5-4 lead. The Demon Deacons won two straight games though to make it 6-5.
Facing match point at 40-40, Coppoc fired off a crosscourt shot at Carter to force the tiebreaker. From there, the Bulldogs cruised, earning a 7-1 win in the tiebreak to clinch a 7-6 final. The pair snapped Wake Forest's seven-match streak of doubles point victories, and improved to 21-7 overall and a 11-4 record against nationally-ranked opponents.
"That doubles point was super exciting for everybody," Wallace said. "We found a way after getting broke there at five-all. There were serving for it at 6-5, and we played a great game and a great tiebreaker. That helped us with some momentum going into singles, but all the singles matches were really good."
In singles, No. 90 sophomore Marta Gonzalez started fresh in singles and earned a 6-3, 6-3 victory over Carter on court three. Gonzalez moves to 21-8 overall on the year and 5-3 in dual play.
Coppoc brought her spirited play from doubles into her singles match on court five, earning a win by a 6-2, 3-6, 6-1 final decision against Wake Forest's Mary Caroline Meredith. Coppoc now boasts 10 straight wins, a 23-7 overall record and a 12-3 record in dual matches.
Gould also earned her 10th win in a row with a 6-4, 7-5 decision on court four to secure the 4-0 victory. Gould clinched both matches of the NCAA first and second rounds at the 2018 Athens NCAA Regional, and improves to a team-leading 16-1 in dual play. The match concluded her collegiate play in Athens.
"It's definitely been a great four years," Gould said. "It's definitely sad to not be able to compete at [Dan Magill Tennis Complex] anymore, but overall it's been a great run and everything comes to an end. Definitely good to end on a high note."
The Bulldogs face South Carolina in the Round of 16 matchup on Thursday, May 17, at noon. The match will be held at the Wake Forest Tennis Complex in Winston-Salem, North Carolina. For more information on the tournament, visit NCAA.com.
Tennis Match Results
Wake Forest vs Georgia
May 12, 2018 at Athens, Ga.
(Dan Magill Tennis Complex)
#7 Georgia 4, #29 Wake Forest 0
Singles Results
1. #12 Katarina Jokic (UGA) vs. #25 Emma Davis (WF) 6-3, 4-6, 0-2
2. #75 Kennedy Shaffer (UGA) vs. Eliza Omirou (WF) 4-6, 6-3, 1-2
3. #90 Marta Gonzalez (UGA) def. Chandler Carter (WF) 6-3, 6-3
4. Mariana Gould (UGA) def. Anna Ulyashchenko (WF) 6-4, 7-5
5. #103 Morgan Coppoc (UGA) def. Mary Caroline Meredith (WF) 6-2, 3-6, 6-1
6. Vivian Wolff (UGA) vs. Alexis Franco (WF) 3-6, 6-2, 3-2
Doubles Results
1. #10 Elena Christofi/Morgan Coppoc (UGA) def. #15 Emma Davis/Chandler Carter (WF) 7-6 (1)
2. #26 Mariana Gould/Katarina Jokic (UGA) def. #77 Eliza Omirou/Mary Caroline Meredith (WF) 6-2
3. Alexis Franco/Anna Ulyashchenko (WF) def. Kennedy Shaffer/Annette Goulak (UGA) 6-4
Match Notes:
Wake Forest 20-14, 5-9; National ranking #29
Georgia 17-6, 10-3; National ranking #7
Order of finish: Doubles (2,3,1) Singles (3,5,4)
NCAA Tournament Second Round