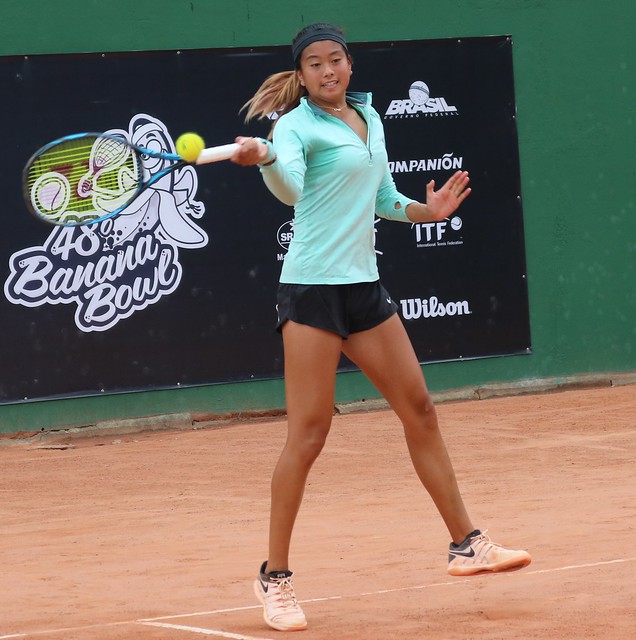 The Georgia women's tennis team announced Monday the signing of the nation's No. 3 recruit, Lea Ma, to a national letter of intent to compete for the Bulldogs next season.
A native of Dix Hills, N.Y., Ma trains at the IMG Academy in Bradenton, Fla. She is ranked as the No. 3 junior in the nation per Tennis Recruiting Network, thus a blue chip recruit. The daughter of Karen and Peter is ranked No. 29 worldwide in International Tennis Federation Juniors, but has been as high as No. 19 just last year.
"We are excited for her to join the Bulldogs," Georgia head coach Jeff Wallace added. "She has had an outstanding junior career and we are all looking forward to getting her on campus. She is going to be a huge addition. She brings international experience, and is well traveled and well trained. She has been one of the top Americans for the past six years."
Most recently, Ma competed in both the singles and doubles at the Roland Garros Junior Championships, making it to the quarterfinals in the latter. Playing at the French Open Juniors was not a first for Ma, but second. She also has competed in the U.S. Open twice in addition to playing at the other two majors, Wimbledon and the Australian Open. In the 2018 Wimbledon Juniors, Ma reached the round of 16 after beating the now-ranked No. 1 junior in the world. Two months later, she reached the round of 16 at the U.S. Open as well. After playing at the USTA Billie Jean King Tennis Center, she competed for USA at the Youth Olympic Games in Buenos Aires, Argentina.
Prior to playing in this year's French Open Juniors, Ma preformed well in the prestigious Adidas Easter Bowl in Indian Wells, Calif. She reached the semifinals in the singles draw and was a doubles finalist.
Her last singles tournament win came in June of 2018 at 26th Internat. Nürnberger Versicherungs in Offenbach, Germany – a Grade 1 event, which is the highest in the junior scale. In the same event, she reached the doubles final.
"We are thrilled to get Lea here in the red and black," Georgia associate head coach Drake Bernstein said. "She has steadily improved over the past few years and we feel like her best tennis is still in front of her. She is excited about the team aspect of college tennis and we feel like our team-first culture is one that she can continue to thrive in."