The 2017 NCAA Indoor Track & Field Championships are in the books in College Station, Texas, and the Georgia men took 4th-place while the women finished 2nd overall. The combined finish by the Georgia men's and women's track and field teams was the best in school history. In the process, the dynamic track & field brother and sister duo of Devon and Kendell Williams turned in historic, record-breaking performances.



The Lady Bulldogs scored a program-record 51 points to match their 1996 second-place finish, which had 34 points. Oregon won the team title with 84 points. The Georgia men scored 35.5 points, passing their 24 points scored for sixth in 1995. Texas A&M (46) edged Florida (45.5) for the team championship on the men's side.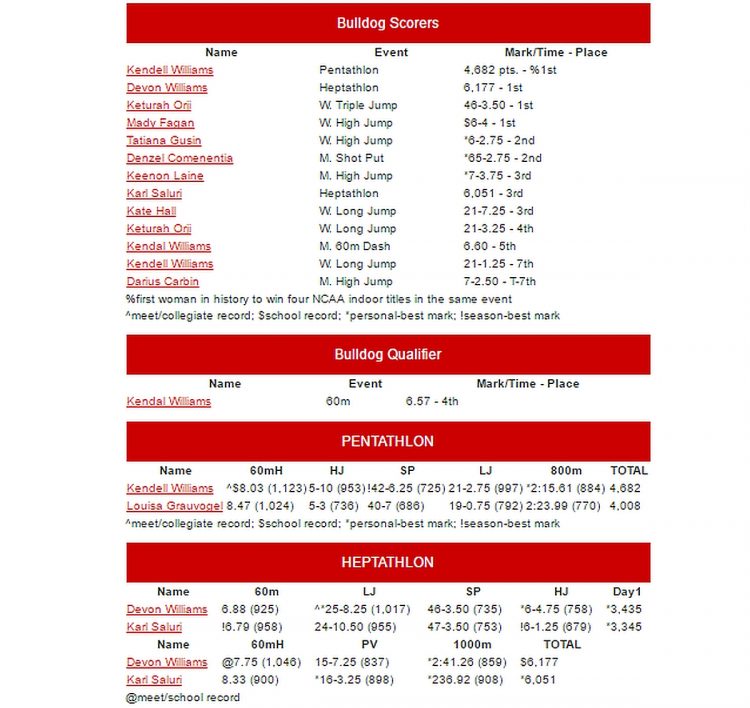 Highlighting the women's historic finish were junior Keturah Orji leaving the Texas A&M campus with her fourth career NCAA triple jump title (second indoors) on Saturday and senior Kendell Williams becoming the first woman in history to win four national indoor championships in one event (pentathlon) on Friday.


On the men's side, senior Devon Williams became the fourth-best heptathlon performer in collegiate history with the fifth-best performance in NCAA history after scoring a school record 6,177 points. His score became the third best in meet history and gave the Bulldog men their first NCAA indoor championship since the late great Torrin Lawrence registered the 2010 400-meter dash crown.


Junior Karl Saluri complemented Williams' win, which represented the fourth NCAA indoor title in team history, with the highest-scoring third-place finish in meet history at 6,051 to rocket to third on the school's all-time top-10 list. The Bulldogs have now scored the more points (55) in the heptathlon than any school in history, passing Texas (54).


Orji is now 20-1 in collegiate triple jump competitions after winning her second straight indoor championship. Already placing fourth in the long jump on Friday, Orji opened with a mark of 46 feet, 3 ½ inches, followed with a 46-2.50 and then passed on her final four attempts. She topped Florida sophomore Yanis David (45-1.75) for the title. Orji is now one of seven women all-time to win at least two NCAA indoor triple jump titles.


Williams jumpstarted his second day of the heptathlon by setting his second meet record with the sixth-best heptathlon 60m hurdles time in collegiate history. He matched Trey Hardee's time of 7.75 to score 1,046 points and topped his own school record of 7.77 that he shared with Esteban Guzman. This pulled him within 70 points of the leader, Kentucky's Tim Duckworth.


In the heptathlon's sixth event, Williams avoided fouling out at 15-3.50 with a third attempt clearance. He then reached the second-best height of his career at 15-7.25 on his opening try to add 837 points to his total. Williams trailed by 224 points and was in second place before the 1000m.


Carrying a 2:43.10 personal best in the 1000m coming into Saturday, Williams was strapped with the task of leaving Duckworth behind to clinch his first career NCAA title. The Kell High School graduate went out and ran the fastest time of his career (2:41.26) to score 859 points and pass Duckworth, who ran a 3:04.24 for 623 points, by 12 points.


Williams' comeback in the 1000m represents the largest deficit erased in the final event for a win since Duke's Curtis Beach jumped from fourth place and erased a 236-point margin to Wisconsin's Jay Cato thanks to a world record time of 2:23.68 in 2014.


This win completes the sibling sweep of the multi-events for the first time in history after Kendell Williams captured her record-setting fourth consecutive NCAA pentathlon crown on Friday.


Saluri had his own historic run during his seven events to give Kyprianou yet another 6,000-point scorer. He fired out of the blocks in the 60m hurdles and clocked an 8.33. This finish earned the Estonian native 900 points and placed him in sixth place going into the sixth event.


Saluri's first personal record of the two-day competition came in the pole vault. He passed on the first five bars and then started with a pair of first attempt clearances. Saluri responded to two fouls at 15-11.25 with a clearance and then pushed himself over the bar at a career-best mark of 16-3.25 on his second try. This earned him 898 points and slid him into fifth place overall.


Known for his sprints speed in the multi-events, Saluri also had to race for a personal record in the 1000m to move up in the overall standings. Having run a 2:39.77 in 2016 and 2:42.29 this year, Saluri completed the first two laps in fourth place before switching places with Williams into third place on the third lap and then surging to second in the final stretch. He finished in 2:36.92 for 908 points, a total that propelled him past two competitors into third place by 55 points.


A duo of underclassmen high jumpers was responsible for tallying 7.5 points during the men's record-breaking finish. Sophomore Keenon Laine, who was second at the SEC meet, took third with a career-best effort, while true freshman Darius Carbin, who won the 2017 SEC crown, tied for seventh.


Laine picked up three first-attempt clearances before coming away with a career-best effort of 7-3.75 on his second try. This bettered his No. 2 spot in the school record books with the top jump for Georgia since 1986 and allowed him to edge USC's Randall Cunningham Jr., who went over at the same bar on his third try.


Carbin, who cleared seven feet all five times he jumped for top-three finishes, started the event by reaching 6-10.75 on his second attempt. Following a first-try clearance at 7-0.50, Carbin then skied over 7-2.50 on his second attempt to split seventh place with Arizona freshman Justice Summerset.


Sophomore Kendal Williams, a Jacksonville, Fla., native, took off in the 60m finals and finished fifth with a 6.60 to add four points to Georgia's total. This was a four-spot improvement for Williams after he took ninth in 2015 while competing for Florida State. He transferred after that season and redshirted for the Bulldogs last year.


Before the distance switched from 55m to 60m, Bode Osagiobare was an All-American for the Bulldogs in 1995 with an eighth-place finish and he is the last competitor for the Georgia men to score in the short sprints. UGA had never had a scoring All-American in the 60m before Williams.


The Bulldog weight throwers, seniors who were both competing at their first NCAA indoor meets, left the Gilliam Indoor Stadium with expected Second Team All-America honors. After opening with a foul, Alex Poursanidis lifted a throw of 68-10.50 on his second attempt to move into the ninth and final qualifying spot. However, his third throw measured a shorter 67-2.75 and he was bumped to 11th as two competitors passed him by.


On the women's side, Shelby Ashe sandwiched a toss of 65-2 between two fouls and completed the competition in 14th place. This completes the collegiate career for the Stone Mountain, Ga., native who started her career at Cal-Berkeley.


There will be a tape delay special of the NCAA Championships on Sunday at 7:00 p.m. ET on ESPN2. The broadcast talent includes Dwight Stones (play-by-play), Larry Rawson (analyst) and Larra Overton and John Anderson (field reporters).


For the final results from the 2017 NCAA Indoor Track & Field Championships
Final Results, CLICK HERE.