After 11 events on Friday, the Georgia women's track & field team sits in first-place at the 2017 NCAA Indoor Track & Field Championships with a score of 41 points.



Georgia won a pair of individual titles and had seven scorers to highlight the opening day of the two-day NCAA Indoor Track & Field Championships in College Station, Texas, on Friday. Through 11 total events scored during the meet's first day, the Lady Bulldogs lead with 41 points and Alabama (16) and Arkansas (12) make up the rest of the top three. The Georgia men scored eight points and are three-way tie for ninth with Arkansas and Tulsa while Oregon (17) has taken the early lead.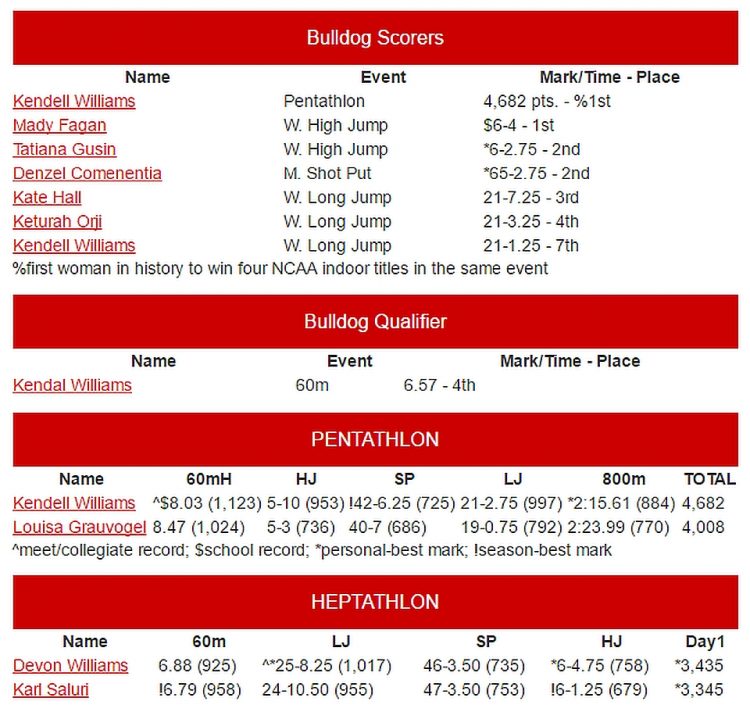 Senior Kendell Williams, a native of Marietta, Ga., registered two personal bests in her five pentathlon events, including a collegiate pentathlon individual event record in the 60-meter hurdles (8.03). She tallied a facility record 4,682 points to pick up a 102-point victory with the third-best score in collegiate history. Williams now owns the first through fourth and sixth through eighth-best all-time scores in NCAA history.


Junior Mady Fagan captured her first national championship in the high jump after finishing second at the 2016 NCAA Outdoor Championships. A native of Los Gatos, Calif., Fagan equaled Leontia Kallenou's school record of 6 feet, 4 inches on her third attempt as Fagan's teammate, junior Tatiana Gusin, was the runner-up with a height of 6-2.75.


On the men's side, sophomore Denzel Comenentia came into the meet with the nation's ninth-longest mark in the shot put and finished second with a career-long toss of 65-2.75 on his sixth and final attempt to pace the Bulldogs' scoring.


"We knew our first day had to be a big one and everyone answered the call," said Bulldog head coach Petros Kyprianou. "I am proud of Kendell setting the record by winning her fourth consecutive NCAA title and the high jumpers going 1-2 was huge for our team. All three of our girls who competed in the long jump scored and now we are looking for points on Saturday in the triple and weight. For the men, Denzel felt comfortable his entire series and came up big for us so now are looking an important second day for both teams."


Georgia was also 1-for-1 in qualifiers on Friday as sophomore Kendal Williams sped to his second fastest 60m time in his UGA career to advance to Saturday's finals.


In addition, senior Devon Williams and junior Karl Saluri both registered day one personal-best heptathlon scores and sit in third and fifth, respectively, going into the final three events. Williams highlighted his competition by setting his own collegiate heptathlon individual event record in the long jump thanks to a mark that passed greats Trey Hardee and Ashton Eaton.


In the pentathlon, Kendell Williams fired out of the starting blocks in the 60m hurdles and finished with a collegiate pentathlon individual event record for the fourth time in her career in this event. Setting the previous mark of 8.04 during her win at the Southeastern Conference meet this year, Williams crossed the line in 8.03 in her first event of the day to take an immediate lead with 1,123 points.


In her second event, Williams matched her performance from the SEC meet in 2016 with a 5-10 clearance in the high jump. She slipped to third place overall by 53 points after tallying 953 points in the second of five events.


Williams hit a mark of 42-6.25 on her first try in the shot put and fouled the next two attempts. Her effort was enough to win the event and score 725 points to stay near the top of the standings.


The six-time NCAA champion built up to a third long jump of 21-2.75 to tally 997 points and take a nine-point edge going into the 800m.


Having to stay less than a second from Arkansas' Taliyah Brooks in the pentathlon's final event, Williams shot to the lead in the 800m from the gun and left Brooks behind by the second lap. Williams finished third in the race with a personal-best time of 2:15.61 while Brooks crossed the line in 2:22.39 for 10th place. This clinched a 102-point win for Williams, which gave the Lady Bulldogs 19 all-time NCAA indoor crowns.


True freshman Louisa Grauvogel took 14th at her first NCAA meet after scoring 4,008 points. She began in eighth place with an 8.47 for 1,024 points. This was her second-fastest time as a Lady Bulldog after registering an 8.41 during her fifth-place run at SECs.


Grauvogel went over the bar at 5-3 on her second try to score 736 points in the high jump. She was in 11th place after the second event. Similar to Williams, Grauvogel reached 40-7 on her first try and then fouled on her next two attempts to score 686 points.


Grauvogel hit 19 feet for the second time of her career in the long jump to add 792 points to her total. She traveled 19-0.75 on her second attempt to take eighth in the event. The German native rounded out her five events with a 2:23.99 in the 800m for 770 points.


Fagan's high jump title marked Georgia's second of the day and she was complemented by Gusin's second-place finish. Bolstered by three first attempt clearances, including one at 6-1.50, Fagan reached 6-2.75 on her last try to tie her personal best. Then, she came through with a third attempt clearance at 6-4, which matched the school record set at the 2015 NCAA Championships to win.


Gusin, who was also second at the 2016 meet, also posted two first attempt clearances before reaching 6-1.50 on her third attempt. She held off Mississippi State's Logan Boss by soaring over the bar at 6-2.75 on her second try while Boss cleared the height on her third attempt. The Lady Bulldogs' 1-2 finish was the same from SECs two weeks ago.


The Georgia women made a late push near the end of day one with 13 points in the long jump. Junior Keturah Orji broke the 21-foot barrier on her fifth attempt to take third place with a mark of 21-7.25. Continuing the theme of Bulldog success in the fifth round, sophomore Kate Hall traveled 21-3.25 for fourth place and her first First Team All-America certificate.


Kendell Williams, who had already scored 10 points for Georgia in the pentathlon, added two more points in the long jump. She went 21-1.25 on her fifth try.


The sole scorer on the men's side was Comenentia in the shot put. Establishing a personal record in his run to an SEC title two weeks ago, Comenentia kept his momentum going by posting back-to-back personal bests on her fifth and sixth attempts to take second. He reached 65-2.75 to improve his No. 4 spot in the school record books and give the Bulldogs their first eight points.


During the heptathlon, Devon Williams scored 3,435 points in the 60m, long jump, shot put and high jump to put himself in third place and trailing the leader by 159. Saluri also posted his highest day one score with 3,345 to be in fifth place.


Williams started his day by running the 60m in 6.88 for 925 points for third place. His showing on Friday was his first since clocking a meet record time of 6.80 at the conference meet.


Opening with a foul in the long jump, Williams established his own collegiate heptathlon individual event record on his third and final attempt. Following a second try of 25-2.50, he concluded his series with a massive mark of 25-8.25 for 1,017 points.


Williams' effort in the long jump passed the former No. 1 collegiate mark of 25-4.50 (set by both Ashton Eaton and Trey Hardee) and matched the No. 2 all-time performance by a Bulldog jumper (Darryl Simmons, 1982) with the best mark since Champ Bailey set a school record of 25-10.75 at the 1998 SEC meet.


Williams took over the lead in the shot put with a second mark measuring 46-3.50. His 735 points in the event gave him an 11-point edge over Saluri through three events.


Wrapping up his first four events in style, Williams managed a third-attempt clearance at 6-4.75, which represented his second career best of the day. This effort earned him 758 points in the fourth and final event of the first day.


Saluri had a season-best time of 6.79 to finish second in the 60m for his first 958 points. This was his best finish in the event since his 6.78 for runner-up honors at the 2016 NCAA meet.


During the long jump, Saluri built up to a third effort of 24-10.50 for 955 points. This gives him his second-best mark as a Bulldog and kept him near the top of the overall standings going into the shot put.


Saluri lifted his second shot put attempt a season-best distance of 47-3.50 for second place in the event. This scored him Kuimetsa, Estonia, native 753 points and surged him into second place overall.


Saluri completed his day by hitting a season-best high jump mark of 6-1.25 to score 679 points. This comfortably situated Saluri in fifth place going into day two.


Georgia's sole runner on the track was Kendal Williams in the 60m semifinals. The Jacksonville, Fla., native won his heat with the second-best time of his UGA career (6.57) and will run in the 60m finals at 5:30 p.m. ET on Saturday. Before the distance switched from 55m to 60m, Bode Osagiobare was an All-American for the Bulldogs with an eighth-place finish and he is the last competitor for the Georgia men to score in the short sprints.


Devon Williams and Saluri start the fourth of their seven heptathlon events (60m hurdles) at 1 p.m. on Saturday and will complete the pole vault and 1000m later that day.


Senior Alex Poursanidis opens day two in the open events during the men's weight throw at 3 p.m.


The NCAA Championships will air live on ESPN3 on Saturday. There will also be a tape delay special on Sunday on ESPN2. The broadcast talent includes Dwight Stones (play-by-play), Larry Rawson (analyst) and Larra Overton and John Anderson (field reporters).


ESPN's NCAA Championships Coverage:
The NCAA Championships will air live on ESPN3 today. There will also be a tape delay special on Sunday on ESPN2. The broadcast talent includes Dwight Stones (play-by-play), Larry Rawson (analyst) and Larra Overton and John Anderson (field reporters).
ESPN3 Live Coverage:
Saturday, March 11 (5 p.m.)
ESPN2 Tape Delay Special:
Sunday, March 12 (7 p.m.)


DAY ONE RESULTS


MEN'S DAY 1 RESULTS, CLICK HERE


WOMEN'S DAY 1 RESULTS, CLICK HERE


HEPTATHLON RESULTS, CLICK HERE


PENTATHLON RESULTS, CLICK HERE