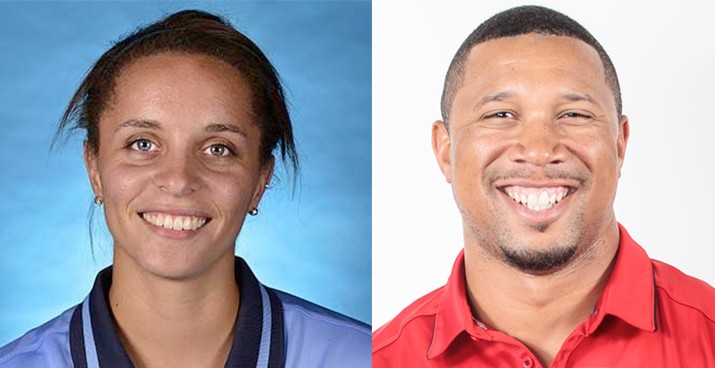 [su_spacer size="20″] July 10, 2015 – ATHENS, GA – Bulldog track and field and cross country head coach
Petros Kyprianou
has added
Devin West
and
Tatijana Jacobso
n as assistant coaches.
[su_spacer size="20″]
Devin West
, who comes after coaching for a season at Texas Tech, and
Tatijana (Ta-tee-AH-nuh) Jacobso
n, who arrives after working as a volunteer assistant for North Carolina for two years, join associate head coach
Ken Harnden
as three new additions to
Kyprianou's
staff. Harnden and West coached together at Florida State from two years during the 2012-13 seasons.
[su_spacer size="40″] Associate head coach
Don Babbitt
(throws) and assistant
Patrick Cunnif
f (distance) remained with Kyprianou from the former staff.
[su_spacer size="40″] "This job at Georgia is truly a dream come true," said
West
, a native of Berkeley, Calif., who graduated from Kennesaw State University in 2010. "The state of Georgia is like a second home to me, a special place. And I wasted no time jumping on the opportunity to come back and join the staff of the state's most prestigious school. I look forward to promoting the University of Georgia, the town of Athens and the state and to representing in the best way possible. Petros' vision is to win and win the right away and I am excited to continue Georgia's recent tradition of being at the top and staying up there all the time.
[su_spacer size="40″] "I also want to thank Wes Kittley (Texas Tech head coach) for the opportunity he gave me. The competition in the Big 12 was extreme and I learned a great deal from working with Coach Kittley and on his staff."
[su_spacer size="40″] West also welcomes the reconnection with Harnden.
[su_spacer size="20″] "Without Coach Harnden, I would never have been in this situation,"
West
said. "It'll be an honor to continue to coach with him. I look forward to growing together professionally and I believe the best is yet to come."
[su_spacer size="40″] Kyprianou feels "fortunate" to have assembled this staff.
[su_spacer size="20″] "Devin is in my opinion one of the hardest working and efficient recruiters in this country,"
Kyprianou
said. "He complements his sprints and hurdles background with his tireless recruiting and coaching skills. Devin recruits for every event area and that is a key component to our teams' goals. He is hungry for more success and knows the U.S. recruiting trails as much as anyone. The coaching staff and I are extremely fortunate to have him on board and are ready for him to help us move towards our championship goals."
[su_spacer size="40″] Jacobson is also excited to don the red and black in years to come.
[su_spacer size="20″] "I am excited to become a part of this extremely talented staff," said
Jacobson
, a native of Woodville, Ohio. "Petros has done a great job in finding passionate and competitive coaches to push the program forward. This is an incredible opportunity for not only me, but also the staff, the student-athletes, the administration and the entire University of Georgia. I'm thankful to Petros and the UGA Athletic Association administration to be given this opportunity.
[su_spacer size="40″] "I would also like to thank Coach (Harlis) Meaders and Coach (Josh) Langley for the opportunity to work with them at UNC. As my mentors, they have helped me grow as a coach and a person and have pushed me these past few years. I plan to keep growing in this sport and am happy to do so at UGA. "
[su_spacer size="40″] Kyprianou has now completed his staff of five assistants and is pleased to add Jacobson to the mix.
[su_spacer size="20″] "Tatijana is a great up and coming young coach who is hungry for success and eager to advance herself in every way,"
Kyprianou
said. "Her responsibilities will include mainly assisting me directly with implementing my jumps training as well as other duties that will better utilize her talents in helping our teams succeed. Tatijana has an amazing work ethic and comes highly recommended, as she was instrumental in assisting with Coach Langley's student-athletes at UNC the past year. We warmly welcome her to our Bulldog family!"
[su_spacer size="40″] During the 2015 season, West worked under Kittley for a year as the program's assistant coach for women's sprints and hurdles. West arrived at Texas Tech following a season at the University of Miami where he coached the men's sprints, including the Hurricane 4×100-meter relay that qualified for the NCAA East Preliminary meet for the first time in four years.
[su_spacer size="40″] West joined the Hurricane program after spending the previous season coaching sprints, hurdles and relays with Harnden at Florida State. West previously spent a season on the coaching staff at Air Force and three years at Kennesaw State.
[su_spacer size="40″] West has found success in each of his coaching stops as he helped Artie Burns to an ACC title in the 60 hurdles in 2014 at FSU as well as Second Team All-American honors during the indoor season.
[su_spacer size="40″] During his stay at Florida State, West was responsible for guiding sprinters Dentarius Locke and James Harris and the Seminoles' 4×100 relay team to All-American status. West oversaw sprints, hurdles and relays while with the Seminoles.
[su_spacer size="40″] Prior to arriving in Florida, West helped Air Force's 4×400 relay capture the program's first Mountain West Conference Championship during the indoor season. He also was responsible for Bryce Bergman, who became the first Falcon to claim the conference championship in the 400 hurdles as well as a spot in the first round of the NCAA Championships and an appearance in the 2011 USATF National Championships.
[su_spacer size="40″] West was hired to his first collegiate position at Kennesaw State where he was instrumental in helping lead the Owls to four Atlantic Sun Conference titles. A USA Track and Field Level I certified coach, West earned his degree in interdisciplinary studies from Kennesaw State in 2010. He also coached as an assistant at Norcross High School during his time in Georgia where he directed nine state meet finalists and 13 state meet qualifiers.
[su_spacer size="40″] In addition to his work at the collegiate level, West has also found success at the national level, coaching a 2010 IAAF World Junior Championship qualifier in the men's 100 hurdles and a 2009 USATF Junior National qualifier in the 100.
[su_spacer size="40″] West played football and ran track at Saint Mary's College before transferring to Morehouse College in Atlanta and competing on its track and football teams.
[su_spacer size="40″] After graduating from Woodmore High School (Ohio), Jacobson competed for her first two years at Bowling Green and then transferred to Eastern Michigan. She shot to No. 2 in the Eagle record books with a 6-foot clearance in the indoor high jump during her career at the school, while also holding down the No. 2 spot in the outdoor record books.
[su_spacer size="40″] Jacobson, who was a co-captain, also earned All-MAC Second Team honors during both the indoor and outdoor season at Eastern Michigan and competed at the 2013 USATF Championships as a senior. She graduated from Eastern Michigan with a degree in Communications in May 2013 after being named to the Academic All-MAC team.
[su_spacer size="40″] Full results and recaps from all Bulldog meets are located at
georgiadogs.com
. Updates on Georgia's track and field and cross country teams can be found throughout the season on Twitter/Instagram at
@UGA_XCTF
.
[su_spacer size="40″]
UGA Track & Field (@UGA_XCTF) | Twitter