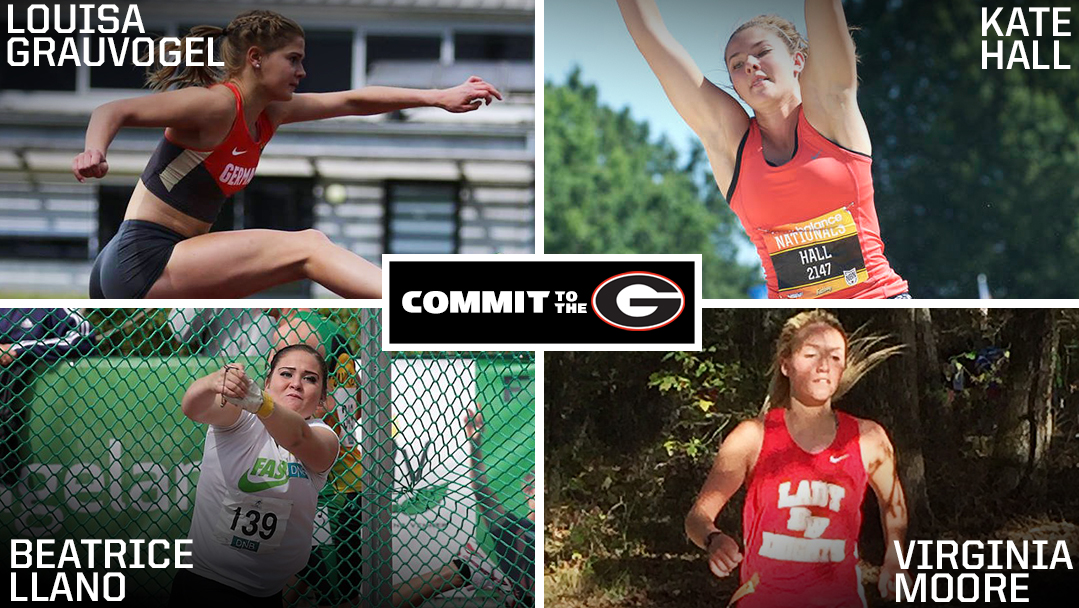 The UGA women's track and field teams has added four elite spring signees, according to an announcement from Georgia head coach Petros Kyprianou.


Highlighted by the Monday signing of long jumper Kate Hall, Kyprianou and his coaching staff also inked Norwegian thrower Beatrice Llano, German heptathlete Louisa Grauvogel and distance runner Virginia Moore, who is an Albany, Ga., native.


"This is a great day to be a Georgia Bulldog and I am a proud head coach to announce these ladies signing to our team," Kyprianou said. "The quality of their athletic ability, performances and character is second to none.


"Kate Hall is, in my opinion, the best available American long jumper with an Olympic standard already under her belt. Louisa represents the great German tradition of outstanding heptathletes with a score that would be an American Junior record, if she were from the States. Beatrice brings Olympic caliber hammer throwing to Athens. Every time you add a 68-meter (223-foot) hammer thrower on your team as a 17-year-old, a 22-foot long jumper and a 5,740-point heptathlete, you know your program is headed in the right direction. Virginia Moore is our lone signee on the track and represents the great state of Georgia. Virginia has dominated the GISA level and we look forward to her latching on to our training and improving each year at Georgia. She will immediately add depth and quality to our cross country teams. There will be more of these to come in the near future."


Hall, a Maine native who was homeschooled and competed for Lake Region High School, is transferring to Georgia after spending her first year at Iowa State (she is redshirting the outdoor season). Hall set the U.S. high school long jump record, topping a 39-year-old mark, as well as the American Junior record with a mark of 22-5 to win the 2015 New Balance Nationals in Greensboro, N.C. This soared past the 2016 Olympic automatic qualifying mark of 21-11 and was a foot and a half longer than her winning jump at last year's high school indoor national championship.


Hall completed her prep career with six New England titles, four New England records and two national meet records. In 2016, Hall finished 12th in the long jump (20-1) at the NCAA Indoor Championships for Second Team All-America honors and also qualified for Nationals in the 60-meter dash for the Cyclones (chose to focus on long jump).


Llano, a native of Bergen, Norway, has a personal-best hammer throw (4kg) of 220-8. In 2015, Llano earned Silver medal honors at the European Juniors in Eskilstuna, Sweden. She also set the Norwegian Junior national record in 2014 and then won the 2015 European Cup (U-23) Winter Championships. In addition, Llano has placed in the top five at both the World Junior Championships and the World Youth Championships.


Grauvogel, a native of Saarbrucken/Saarland, Germany, has scored 5,741 points in the heptathlon during her career and 3,860 in the pentathlon. She has won Bronze medals at both the European Junior Championships and the World Youth Championships and has been a finalist at the World Junior Championships.


Moore, a student at Deerfield-Windsor in Albany, is the defending GISA cross country individual champion and helped lead Deerfield to the team title. She won the 2015 3200m (12:00.34) state track crown by 16 seconds and was second to her future Lady Bulldog teammate Ruthie Powell in the 1600m as well as the 800m. In fact, Moore has 11 top-five finishes at the state cross and track meets combined in her career. Moore has won region titles in the 800m, 1600m and 3200m every year of high school. She has posted personal-best times of 59 seconds (400m), 2:20 (800m), 5:16 (1600m) and 19:17 (5k).


The current Bulldogs will travel to Charlottesville, Va., this weekend for the Virginia Challenge.


Updates from Georgia's track and field and cross country program can always be found on Twitter/Instagram (@UGATrack).


---