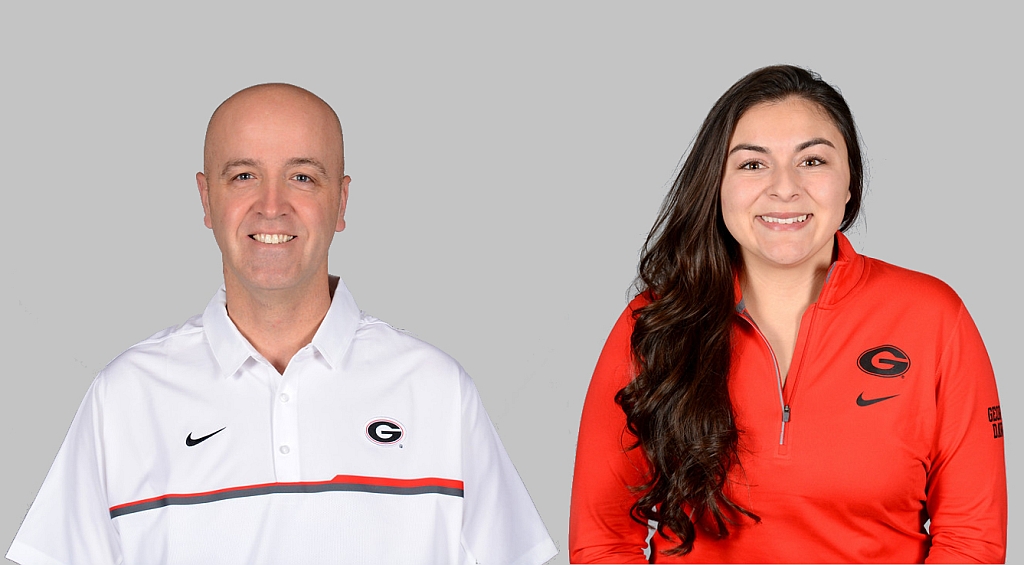 Georgia's new volleyball head coach, Tom Black, has added two new assistants to his staff, Aaron Benning and Felicia Arriola.

Tom Black was named University of Georgia's new head coach for the volleyball program back in December, and he has added two new assistant coaches on his staff this past week.


Benning and Arriola come to Athens after each spending the last three seasons with Black at Loyola Marymount where the trio led the Lions to two NCAA appearances, including a trip to the Sweet 16 after upsetting nationally-ranked Colorado State and Stanford in Palo Alto.


"I am honored to have Aaron Benning and Felicia Arriola on staff with me and thrilled for Georgia volleyball as well," Black said. "These two are excellent coaches and even better people. They will work tirelessly for our program, and push themselves every day to get better, just like we ask of our players."


In addition to LMU's NCAA showings, Benning and Arriola assisted in notching a pair of 20-win seasons. The 24 wins LMU recorded in 2015 were the most for the program since collecting 26 in 2003. In 2015 LMU also finished third in the West Coast Conference, another best for the team since 2003. Under Benning and Arriola's guidance, LMU had four AVCA All-America selections, six AVCA All-Region picks, an AVCA Region Freshman of the Year and 11 All-Conference honorees along with the Defensive Player of the Year last season.


Prior to LMU, Benning served as the Director of Sports for City Beach Volleyball Club since 2004, and spent a total of seven years, including three as head women's volleyball coach, at Ohlone College.


"Aaron is one of the nation's best recruiters," Black said, as Benning will act as the Bulldogs' recruiting coordinator. "He believes in what we are trying to do, and he believes in the young ladies we will end up offering to. He also has a very high business acumen, which often can't be observed by fans or players, but the benefits for the program will be clear. He is passionate about coaching, learning and developing our student-athletes to be the best they can be. It means a ton to me Aaron would take this exciting next chapter with me to UGA and we are lucky to have him."


Benning helped City Beach win nine Junior National Medals and over 180 Regional and National Tournaments. Consistently one of the top-25 volleyball clubs in the nation, Benning guided over 155 of his City Beach players into collegiate volleyball programs since 2006. In addition to coaching, Benning was responsible for many of the management and executive functions.
At the high school level, Benning coached numerous successful Bay Area programs. Working as a high school and juniors coach, he maintained a .710 winning percentage over nine seasons. Benning also served as a Lead Camp Coach and a member of the Coaching Clinic Staff for Gold Medal Squared since May 2007. Prior, Benning was the head coach of Ohlone College from 1998-2005.
Benning, a graduate of Yerba Buena High School in San Jose, California, earned a Bachelor of Science Degree in Recreational Management from Cal State East Bay in 2014.
Arriola stepped into coaching after completing a successful collegiate career at LMU and has quickly proven herself as one of the top young coaches, as she was named to the 2016 AVCA Thirty Under 30 Awards list.


"Felicia has been with me for a while, as a collegiate player and coach, and watching her growth and development over the past seven years has been a wonder," Black said. "She can grind with the best of them, and the initiative she takes to constantly improve her craft is an incredible example for our players. She is an excellent coach with a sharp eye and a passion to dive into the details of our craft that others might get bored or frustrated with. Watching her evolution has been a great learning process for me. As grateful as I am to have her here, I'm even more excited for all she will give to our student-athletes."


Arriola has learned from some of the best coaches in the nation, spending her summers as an intern with the USA Women's National Team alongside Black who was an assistant with Team USA. In addition, she also served as an instructor at a pair of Gold Medal Squared volleyball camps during the summer of 2014.


Over five years as a Lion player, including a 2011 season in which she missed the entire year due to offseason surgery but was still a captain and leader from the sidelines, Arriola amassed 752 kills to rank 22nd in LMU history. Completing her playing career in 2013 before graduating in 2014 with a degree in pre-physical/occupational therapy, Arriola also posted 882 digs at a rate of 2.34 per set.


The Laguna Niguel, California, native was an integral player in building the LMU sand volleyball program, earning a spot in the 2013 AVCA Collegiate Sand Volleyball National Championships pairs bracket. Arriola also coached the sand volleyball team, as the squad entered the 2015 season ranked No. 5 in the nation.