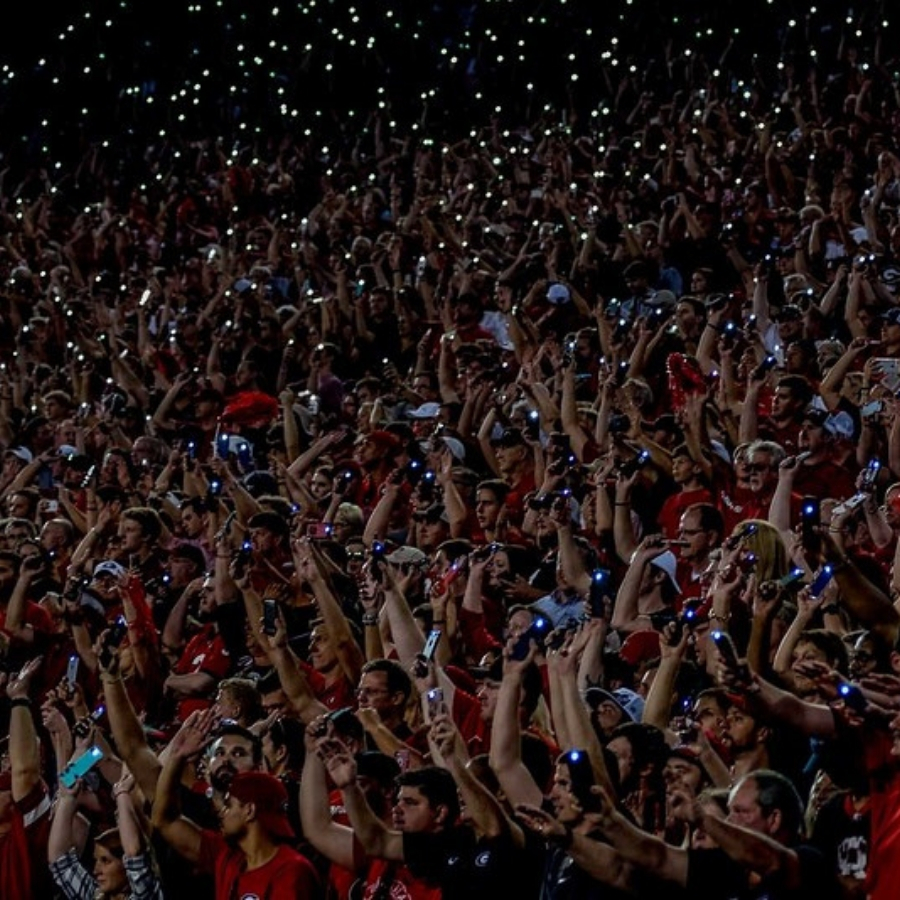 Finally, the college football season has arrived and it could not have come soon enough. In 2020, college athletics (and the world) were rocked by a global pandemic. Miraculously, we were fortunate to complete a season, albeit incredibly abnormal. The mantra of taking things one day at a time took on an entirely new meaning. Each day star players opted out for the season, COVID outbreaks caused cancellations and empty stadiums became the new normal. The world was further turned upside down with the tragic and senseless murder of George Floyd sparking outrage across the country. Universities, athletic departments and coaches across the nation had to listen, learn and give their black players the freedom and the platform to advocate for real change. With a majority of Power 5 conference rosters composed of 50-80% black players and a world becoming increasingly disconnected by COVID forced Zoom meetings and FaceTime calls it made connection and unity more difficult to find.
The disruption of traditional college athletics continued with the introduction of Name, Image and Likeness [NIL]. Make no mistake, NIL is absolutely the right thing to do. The amount of money being made by a majority of Power 5 university football programs is incredible. 50+ universities are paying their head coaches over $3 million and many assistant coaches are making over $1 million. Additionally, in recent years Florida spent $85 million, Georgia $143 million and Michigan $168 million on football facility upgrades. Meanwhile, players were banned from profiting on their own name, image and likeness by the NCAA's outdated concept of amateurism. The NCAA's complete ineptitude, lack of foresight and absence of leadership created a monstrous power vacuum. Oklahoma, Texas and the SEC stepped into the power vacuum creating the first super-conference in college football, positioning themselves for the future when players will inevitably be paid. These moves cemented the fact that money is king in college football.
The landscape of college football has forever changed but it cannot afford to lose the foundation that made it the multi-billion dollar industry it is today.
Loyalty is the first pillar upon which college football is built. College football fandom is not something that it is chosen, it is passed from generation-to-generation. In the hospital, newborns are swaddled in blankets and taken home in a onesie of their parents university. Is their anything cuter than a video of a toddler yelling "Go Dawgs" or "Roll Tide"? Kids know the names Herschel Walker, Bo Jackson and Tim Tebow before they know the name of the 1st President of the United States. We can debate whether or not that is a good thing. Love of a college football program is ingrained from birth and regardless of where you go to school it will always hold a special place in you heart and you will pass that loyalty onto the next generation.
Rivalries are the second pillar. Whether you have any allegiance to a particular program their are certain games that are must see TV and often on your bucket list to attend in person. Army v. Navy, Alabama v. Auburn, Michigan v. Ohio State, Oklahama v. Texas, Georgia v. Florida make college football special. Loyalty is a powerful draw for college football but hatred for a rival can be even more powerful. Is their any better feeling than beating a rival and derailing their hopes at a conference or national championship? Flying the Georgia Bulldog flag all off-season after beating Florida when you next door neighbor is a diehard Gator? Somehow, rivalries still manage to unite us more than they drive us apart.
Tradition and history are the final pillar. On Friday, when "Enter Sandman" blared in Lane Stadium and entire crow jumped up and down in unity I had goosebumps sitting on a couch in Charlotte, North Carolina. When the Dawg fans lit up Bank of America stadium with flashlights on Saturday night to start the 4th Quarter adrenaline was coursing through their veins. When the Seminoles marching band spelled "Bobby" and played Amazing Grace to celebrate the life of the legendary Bobby Bowden their was not a dry eye in the house. Everyone in the state of Alabama knows the "Kick 6" and everyone in the country knows the quote, "The band is on the field! The band is on the field!". Tradition and history make college football different.
None of the pillars of college football involve power or money. If the powers that be in college football are not careful the pillars will crumble like the Roman Coliseum. Players won't sign memorabilia for fans because they will have exclusive autograph deals with marketing agencies. Instead of thanking the fans in postgame press conferences they will be thanking Milo's Sweet Tea or say they had so much more energy and focus for the game tonight because they were jacked up on Mountain Dew. The connection between fans, alumni and the players and programs they love will become transient as it is in the NFL. Stadiums will have more and more empty seats.
The future of college football is hanging in the balance and without powerful leadership it could soon be forever lost.