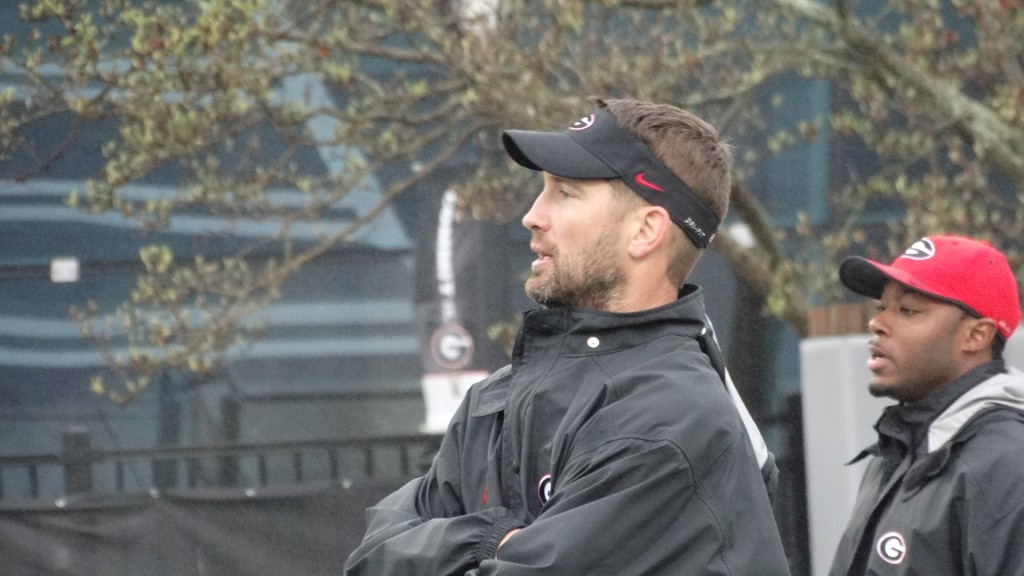 [su_spacer size="40″] Two days after opening spring practice under ideal conditions with sunny skies and temperatures in the 70s, the Georgia Bulldogs returned to action on Thursday for a two-hour workout in weather that resembled preparations for a late-November matchup with Auburn.
[su_spacer size="40″] The Bulldogs practiced in jerseys and shorts for just over two hours in a spitting rain with temperatures in the high-40s. The workout is the second 15 for Georgia this spring, highlighted by the annual G-Day game on Saturday, April 11.
[su_spacer size="40″] Members of the Bulldogs' defense met with the media following the practice.
[su_spacer size="40″] Junior James DeLoach said his teammates were benefitting from a season under coordinator Jeremy Pruitt.
[su_spacer size="40″] "It's a lot different," DeLoach said. "You basically know what's going on this year so you can fly around. I think we're off to a good start. We're working with the young guys, trying to teach them what they need to do."
[su_spacer size="40″] DeLoach said he understands the challenges facing Georgia's offensive players, who are working with new coordinator Brian Schottenheimer for the first time.
[su_spacer size="40″] "The offensive players, they're just now getting a feel for it." DeLoach said. "I think they felt like we did last year."
[su_spacer size="40″] This spring is the first for linebacker Lorenzo Carter, who was named to freshman All-America and All-SEC teams last season after recording 41 tackles, 7.0 tackles for loss and 4.5 sacks.
[su_spacer size="40″] "It feels great," Carter said. "It's my first spring. It feels like I've been here forever, but it's my first spring practice. I did some good things (last season), but there's always room for improvement. I'm just trying to get better each day. I go back and watch game film. We even go back and watch practice film. That's different from high school. I'm just trying to get stronger, play more physical and go out there and have fun."
[su_spacer size="40″] After an off day Friday, the Bulldogs will practice again on Saturday.