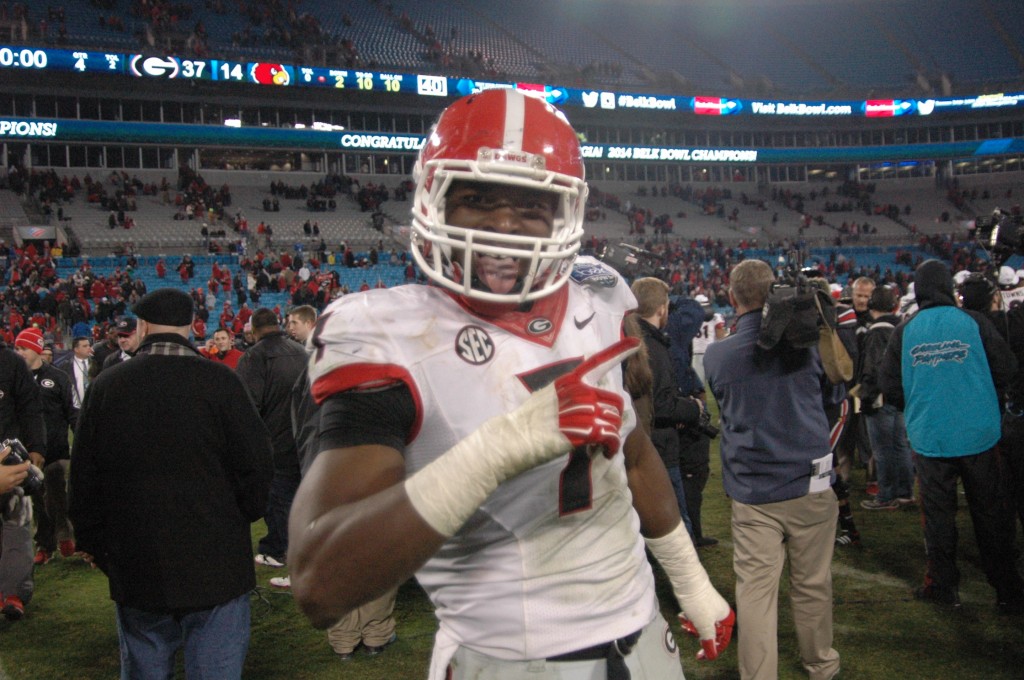 .
UGA Today
.
Roper, Helton To Interview For UGA Offensive Coordinator Job?

.
.
Pac-12 assistant on radar for Georgia assistant's job

.
.
[su_box title="Forlini Comes In Fourth On 3-Meter At Tennessee Invite" box_color="#3c3939″ title_color="#ffffff"]Georgia freshman Ian Forlini continued to perform well in the Tennessee Diving Invitational as he placed fourth on the 3-meter springboard on Sunday.
Third on the 1-meter board on Saturday, Forlini rolled up 351.55 points in the 12-man final on 3-meter Sunday. He stood eighth after prelims with 316.95 points.
Crawford Berry placed 14th with 276.05 points, followed by Walker Wheeler in 16th with 243.15 and Bobby Chambless in 20th with 222.15.
In the women's 1-meter competition, Darcie O'Brien paced the Lady Bulldogs as she came in 14th with 249.25 points. Elizabeth Ann Kirkland was 20th with 233.85, while Olivia Ball took 23rd with 228.95 and Kelly Thatcher rolled up 193.45 for 38th.
The Tennessee Diving Invitational will conclude on Monday with the platform competition.[/su_box]
.
.
Description Georgia Football returns Sept 5
.
.
[adrotate group="2″]
.
.
[su_divider]
Other News
.
Reports: Oklahoma fires co-offensive coordinator Jay Norvell

.
.
The reports of the SEC's demise have been greatly exaggerated

.
.
CECIL HURT: SEC not dead as many want to believe

.
.
Ohio State Website Selling 'Ohio State vs. Florida State' Shirt

.
.
.
.
NCAA has come full circle in football with its playoff

.
[su_divider]
Dawg Treats
.
Music by PanicFan
.
[su_box title="James Brown ~ Chastain Park ~ 1985″ box_color="#3c3939″ title_color="#ffffff"]1. Give It Up Or Turn It Loose
2. It's Too Funky In Here
3. Try Me
4. Get On The Good Foot
5. Prisoner Of Love
6. Get Up Offa That Thing
7. Georgia On My Mind
8. It's A Man's, Man's, Man's World
9. Cold Sweat
10. Papa's Got A Brand New Bag
11. I Got You (I Feel Good)
12. Please, Please, Please
13. Jam
.
One of the greatest soul performers and influential black artists of the 20th century, James Brown performs some of his most well known tracks on this epic show. The concert was recorded at the height of Brown's career, in the Chastain Park Amphitheatre, Atlanta in 1985.
.
[/su_box]
.
.
[su_divider]
.
Stuff
.
[su_box title="Today's Video Selections" box_color="#3c3939″ title_color="#ffffff"]
.
.
No Description
.
.
Song; Cujo Family-Carpenters son http://thecujofamily.bandcamp.com/album/the-cujo-family
.
.
SEND REQUESTS IMMEDIATE TO RUSSIA EMAIL ACCOUNT**DONOT WAIT**
.
.
Subscribe for new episodes every Thursday: http://bit.ly/19jUASK Remember the X-Files episode where it rained frogs and you pretended you understood? Keep us alive on Patreon: http://patreon.com/thisexists SOCIAL MEDIA: Twitter: https://twitter.com/samsthrlnd Facebook: http://www.facebook.com/whoathisexists Reddit: http://www.reddit.com/r/whoathisexists/ Instagram: http://instagram.com/samsthrlnd Snapchat: samsthrlnd Goodreads: http://bit.ly/1vEDRJf Full episodes start again January 8th! More This Exists: Remember Nintendocore?
.
.
No Description
.
.
Diagnosed with kidney failure 20 years ago, Hu Songwen couldn't afford hospital treatment and his health insurance was inadequate. But Hu didn't accept defeat. Instead he built a home dialysis machine that has kept him alive since he had to stop going to the hospital 13 years ago.
.
.
Dario Rossi is a drummer who makes techno music with metal cans in the streets of Ferrara, Italy and throughout Europe. This video is amazing, isn't it? Like it and share it on your social networks.
.
.
[/su_box]
.
.
[su_divider]
.
.
[ts_fab]