Athens is home to so many smart and creative University of Georgia alumni that are at the top of their fields. Vance and I enjoyed having two of our favorites, Lisa Ellis and Peter Dale, over for a potluck dinner recently.The evening was lively and filled with laughter!


Lisa Ellis is an unparalleled design talent who is the principal of her architectural and interior design services, Hawthorne House and SCOPE. All aspects of her offerings are classical yet contemporary. She is a perfectionist and I learn something from her every time we're together. I admire her greatly.


Chef Peter Dale is another talent I respect and appreciate. Peter is one of the powerhouses behind many of Athens favorite establishments: The National, Seabear Oyster Bar and Condor Chocolates. All of these distinctive hot spots serve a niche in the community.


We kicked off the evening with a cheese and charcuterie platter and rose. I love to share a great variety of nibbles and included Sweet Grass Dairy cheeses, Schermer Pecans, Savannah Bee honeycomb, Piedmont Provisions Rosemary Habanero Jelly, whole grain mustard, olives, cornichons, berries, soppressata, and salami.


Then we moved on to wild salmon with tomato-horseradish salsa with rice and field peas served with an unfiltered white grenache that paired perfectly with the meal. We finished off the evening with lemon basil sorbet and Condor Chocolates. Our guests graciously shared their recipes so enjoy!

WILD SALMON WITH TOMATO HORSERADISH SALSA
By Chef Peter Dale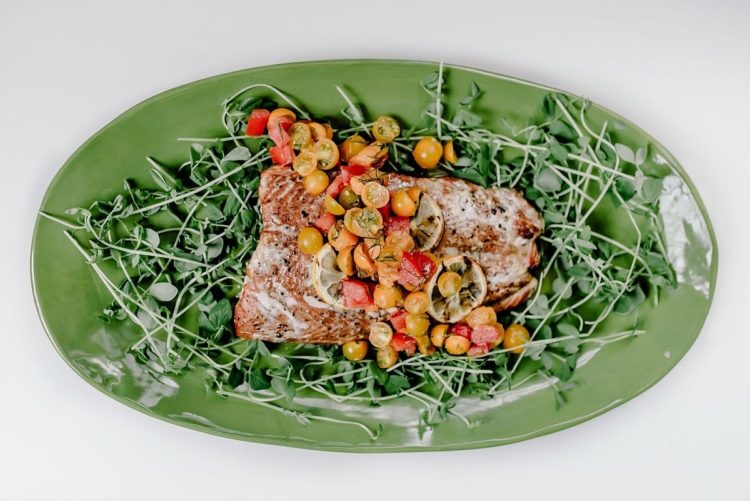 "Late summer and early fall are wild salmon season in Alaska," said Peter Dale. "Look for wild salmon in better markets, it's sustainable, good for you, and most importantly delicious! I love the heat and punch of horseradish. This salsa using fresh end-of- summer tomatoes and horseradish provides a nice contrast to rich salmon," he added.


"Cooking fish at home can be tricky," noted Peter. "No one wants fish stuck to the pan, or overcooked and dry salmon from the grill. Our Athens friends, Gena and Davis Knox, founders Fire & Flavor, have solved this problem with their cedar planks. This method guarantees juicy salmon with great smoky flavor, and clean-up is a breeze. No scrubbing crusty pans!"


SALSA

• 1 Tbs prepared horseradish
• 1 Tbs fresh dill, finely diced
• 1 Tbs olive oil
• Juice of half a lemon
• Salt and black pepper
• 2 cups tomato, chopped (Use the best quality, local if available. If using cherry tomatoes, slice in half with a serrated knife, seed the tomatoes if using larger than cherry)


RUB

• 1 Tbs brown sugar
• 1 tsp kosher salt
• 2 tsp ancho chili powder
• 1 tsp ground cumin
• 1/2 tsp black pepper


SALMON

• 4 x 6 oz salmon filets
• 1 Fire & Flavor Cedar Grilling Plank, soaked (see plank package for instructions)


PREPARATION

First: Preheat grill to medium-low heat, about 350 F.
Second: In a medium mixing bowl, combine salsa ingredients. Season to taste with salt and pepper. Add more lemon juice if you like a bit more acid. Add more horseradish for extra punch!
Third In a small mixing bowl, combine rub ingredients. Rub salmon with the desired amount of rub and set aside.
Fourth: Place soaked plank on preheated grill, close lid, and heat for 3 minutes. Using tongs, turn plank over and place salmon on heated side of the plank. Close lid and grill for 12-15 minutes or until desired doneness.
Remove cedar planked salmon from grill and place on serving platter. Top with tomato-horseradish salsa. Serve immediately.

RICE & FIELD PEAS
By Lisa Ellis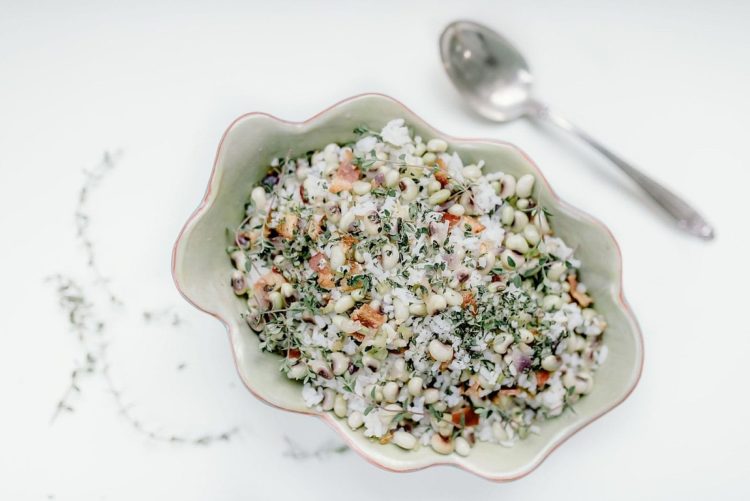 INGREDIENTS

• 2 cups Carolina Gold rice
• 2 cups water
• 1 bay leaf
• 4 stalks celery, diced
• 2 cloves garlic, minced
• 1 small shallot, diced
• 1/2 a red onion, diced
• 1/2 a package of bacon (about 8 oz.)
• 2 cups fresh fild peas
• Fresh thyme, roughly chopped
• 1 Tbs salted butter
• 1 Tbs extra virgin olive oil
• Salt and pepper to taste


PREPARATION

For this recipe … do yourself a huge favor and use a rice cooker. Seriously. 1:1 ratio of rice to water. I like to add 1 bay leaf for flavor. Set it and forget it so you can work on your mise for the peas. Once the rice comes out of the cooker – spread it onto a baking sheet to dry out. This will help prevent it from becoming too sticky.


The other thing to get going is the bacon. I like to bake it in the oven at 350F for about 30 minutes on a wire rack so that it gets nice and crispy. Bake and set to the side to let crisp up. Then give it a nice rough chop.


In a medium saucepan, bring 4 cups of water to boil. Blanch field peas until they are cooked through (about 6-7 minutes). Remove from heat and place in ice bath to preserve tenderness.


While the rice and bacon are cooking, and the peas are cooling, heat a large sauté pan to medium-high heat. Add the butter and olive oil to coat. Brown up your onion, shallot, celery, and garlic. Toss in chopped bacon and continue to cook for about 3 minutes, until onions become translucent. Then, add peas to sauté pan and fold into onion mixture. Sprinkle with fresh thyme. Then, fold in rice to the pea mixture. Garnish with more fresh thyme.

LEMON BASIL SORBE
By Lisa Ellis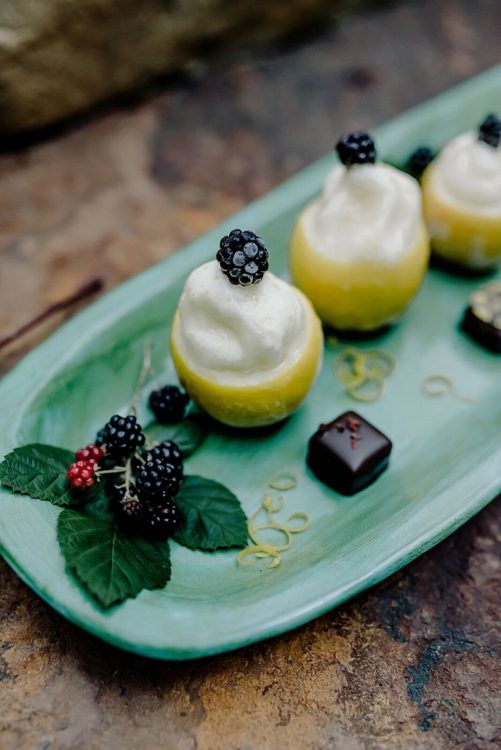 "Lemon sorbet is such a cool treat on hot summer days. Light, zippy, and refreshing, it's sure to please any crowd," notes Lisa. "I like to make lemon 'cups' with the rinds – fantastic for both presentation, and easy to prepare in advance and have in the freezer. The trick to making great cups is to cut the bottom of the lemon that has nipple side. Cut the peak off so the lemon will sit on a flat surface. Cut the stem top off about 1/3 of the way down the lemon. Use a sharp grapefruit knife to scoop out all of the lemon flesh. Freeze the cups to store for future use, or use right away."


INGREDIENTS
(makes about 4 cups)

• 3 cups water
• 1 cup fresh lemon juice
• Zest from 2 lemons
• 1 1/2 cups sugar
• 1 cup basil leaves (or any fresh herb from your garden, thyme, basil, mint – any of these are great options!)


PREPARATION

In a medium saucepan, heat water and sugar over medium-high heat, stirring until sugar is completely dissolved and mixture begins to slightly thicken. Remove from heat, add basil leaves and lemon zest. Let steep for 10-15 minutes. Strain out the zest and basil, mix in the lemon juice to the mixture. Place liquid mixture in the fridge to let chill for at least 1 hour. Set up your ice cream maker and follow the manufacturer's instructions.


Once the mixture is finished and has set, scoop the lemon sorbet into your frozen lemon cups and serve.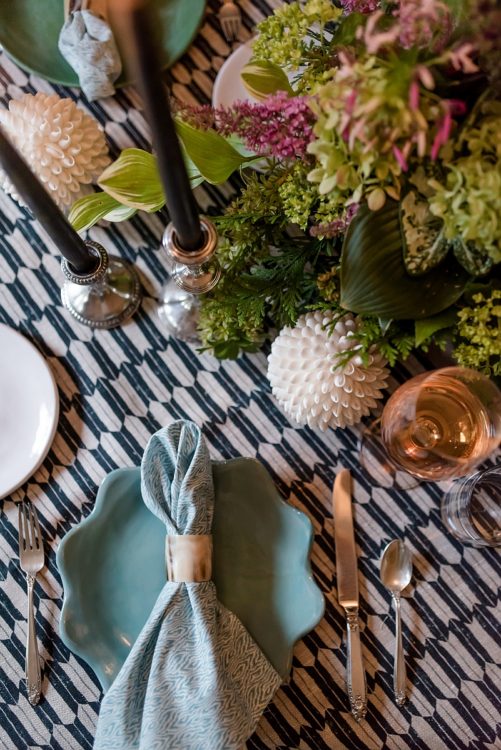 Photos by Danielle Hulsey