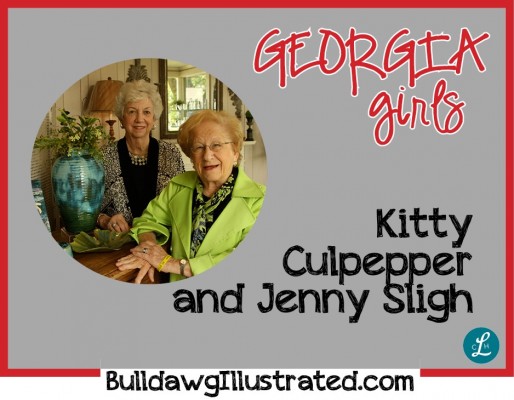 Name: Jenny Shearhouse Sligh
Hometown: Savannah, GA
Current Town: Athens, GA
What Years at UGA: (1953-55)  I came to UGA as a sophmore after being locked up for a year at Mary Baldwin's all girls school in Virginia.
School: Bachelor of Science in Education
Family: Husband Charlie Sligh (deceased). Son Charles (deceased). Son Howard. Son Gordon and daughter in-law Beverly. Son Stuart and daughter in-law Mary Brooke. Son Matt and daughter in-law Michelle. And 8 of the most wonderful grandchildren: Charles, Hays, Stu (deceased), Duncan, Brookie, Maggie, Matthew, and Betsy.
Name: Kathryn Bolton Culpepper
Hometown: Athens, GA
Current Town: Athens, GA
What Years at UGA: (1958-1962)
School: English degree from Franklin College of Arts and Sciences
Family: Husband E.H. Culpepper (deceased), daughter Evelyn Dukes, son—in law David Dukes, son John Culpepper, daughter—in law Katherine Culpepper, and two precious grandchildren, Hamilton and Mimi.
Profession: Owners of Appointments At Five. Our love of antiques led us to open our shop in 1987. We had ten antique chests and sold out the first week in business. We decided then and there the chests were either too cheap or we were onto something. So we packed our bags, and went to England on a buying trip. What one of us doesn't think of the other one does. We love our shop, and have tried to offer Athens the best, and reasonably priced antiques and home accessories, we can find. We love the joy of finding something that makes our customers smile. For us, antiques create a mysterious and abiding link with the past. I'm happy to say after twenty—seven years, we're still here. We both love our shop, and our customers. We hope to continues to sell merchandise that makes "a house a home" for many years to come. The most important thing about working is to enjoy what you do. We get up everyday and look forward to coming to work. Each day is a new adventure.
Describe Athens in three words: 
Jenny: Friendly, Family—oriented, and Electrifying
Kitty: Warm, Welcoming and Home. It is the place I would like to live forever
Share a favorite memory from your time at UGA:
Jenny: I had a huge picture of me on the front page of the Banner Herald sitting astride a wooden replica of the controversial "Iron Horse" sculpture, which the Chi Phi Fraternity had built on their front lawn. All the students were protesting a modern sculpture of a horse that was to be placed in front of the Fine Arts Building. Now the "Iron Horse" stands proudly in a field on Highway 15, between Athens and Greensboro, and serves as a reminder of all the fun I had at UGA.
Kitty: In my day at Georgia, the sororities had to participate in the "Freshman Stunt Night". My sorority pledge class thought up a skit with the "Road Runner" cartoon character as the star. Being tall and skinny, all eyes turned to me to be the "Road Runner." My costum consisted of orange tights and lots of feathers. I dashed across the stage making unbelievable noises. Feathers flew everywhere, leaving me with nothing but orange tights and an orange shirt. Believe it or not, my one and only chance for stardom provided the ADP's with a trophy for best freshman skit in 1958.
Band you heard while living in Athens: 
Jenny: Louis Armstrong (I'm really dating myself). He's been dead for years, but boy could he blow a trumpet! When he played "When the Saints Go Marching In," we would change the words to "When the Dawgs Go Marching In." What a good time I had shagging to Louis Armstrong!
Kitty: If you never heard or danced to the "Hot Nuts Band" you've missed a treat. They were the rage in 1950s and 60s. They could make a room come alive. Not only could they play but they could also sing, and put on a show. They had everyone in their audience swaying, singing, and clapping to their music. Who could ever forget a night dancing to the Hot Nuts?
A favorite restaurant in Athens: 
Jenny & Kitty: Why of course the friendly "Pleasant Peasant Pub" (aka The Royal Peasant) in Five Points. In fact, we are known as "regulars."  It's as good as any pub we visit in England while on our buying trips. It is a small, charming pub right down from our shop. It has yummy food, an outstanding wine and beer selection, a very friendly atmosphere and waiting staff that make you feel right at home. What more could you ask for?
A favorite shop in Athens:
Jenny & Kitty: There is no question, Appointments At Five! Best little shop in Georgia with something for everyone! Where else is there one stop shopping and beautifully wrapped gifts by the two old antiques?
One thing few people know about you: 
Jenny: I am very political and very outspoken in my beliefs. I am a born and bred Republican, having grown up in the state of Georgia. I do not mind sharing my views with you. In my next life, I would like to be more involved in politics. If I weren't so old, I might run for public office.
Kitty: Having been born in Athens and growing up around Georgia football, I became an astute student of football. I love the game! I study the plays and analyze calls the coach makes. I would love to have been a sports announcer.
Favorite books and blogs: 
Jenny: Atlas Shrugged and Fountain Head by Ayn Rand. If you haven't read Atlas Shrugged, you need to!
Kitty: A Farewell to Arms by Ernest Hemingway
Describe your typical Bulldog gameday: 
Jenny: I hurry and get the shop ready to open at 10 o'clock. Then I prepare Bloody Mary's to serve to our early morning shoppers. I also place our Bulldog statue, which we purchased in England many years ago, in front of the shop because it brings us and the Dawgs good luck!
Kitty: Dress in my red and black bulldog outfit. I wear the same scarf every game. It brings us good luck. Hurry to the shop to put the red and black balloons on our sign to welcome the out—of—town football fans to Five Points. We always open early on gameday.
Tailgate Recipe: 
Jenny: In my tailgating days, the food was not as elaborate as it is today. Friends in your tailgating group just brought sandwiches, fried chicken, or deviled eggs. I always took pimento cheese sandwiches because they were easy to make.
                              1 block sharp cheddar cheese grate
                              1 ½ cup real mayonnaise
                              ½ cup sour cream
                              3 tablespoons Worcestershire sauce
                              ½ teaspoon cayenne pepper
                              Tabasco and a few shakes of salt and pepper to taste
                              Mix it all together
                             Serve on crackers or make sandwiches
Kitty: When we tailgated, I was very lucky because my husband, E.H., would get up very early on game days and put his famous barbeque ribs on the grill to have them ready for tailgate. I don't have the recipe anymore because his BBQ sauce was a secret. He never even shared it with me! But I can tell you when E.H. served his ribs at tailgate, Dawg fans came from far and near to taste one of his ribs. They were the best!
Previous Georgia Girls Spotlights:
Christy Griner Hulsey from Statesboro, GA
Katie Foote Weinberger from Charleston, SC
Sidney Wagner from Charleston, SC
Nan McCollum Myers from Thomasville, GA
Helen Castronis from Atlanta, GA
Beth Bridges Lacefield from Smyna, GA
Carol Southerland Williams from Athens, GA
Brandi Ray West from Charleston, SC
Molly Dozier McDowell from Augusta, GA
Lucy Addison Williams from Richmond, VA
Jenny Greer and Erin Bickley from Macon, GA
Breckyn Alexander from Athens, GA
Meredith Gurley Johnson from Sandy Springs, GA
Erika Hollinshead Ward from Atlanta, GA
Lindsey Epperly from Atlanta, GA
Sterling Eason from Charleston, SC
Annie Griffin and Robin Gerber from Atlanta, GA
Mary McGeachy Butin from St. Simons Island, GA
Cullen Albright O'Steen from Athens, GA
Amanda Maddox from Washington, D.C.
 Valarie Davis Lee from Columbia, SC
Julianne Taylor from Charleston, SC
Gabrielle Bratton from Raleigh, NC
Rachelle Hutchinson from Snellville, GA
Wendy Walker Way and Haley Way from Perry, GA