[su_spacer size="20″]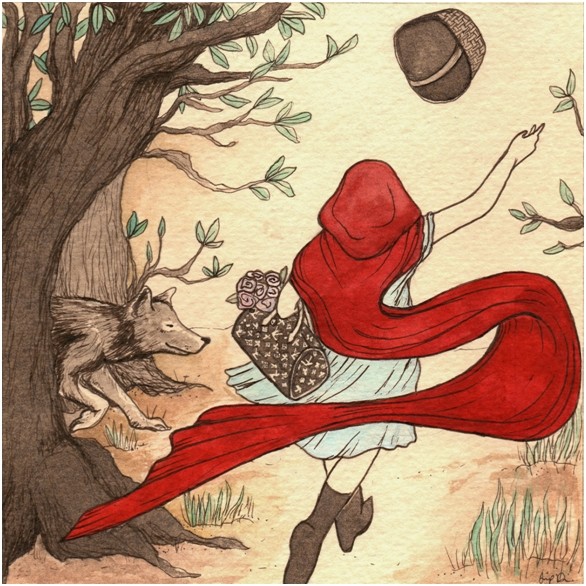 [su_spacer size="20″]
Art by Jess Dunlap. Fairy tale concept and interview by Dominique Paye
[su_spacer size="20″] Airee Edwards opened up
Agora Vintage
in downtown Athens in 2013 as a high-end extension of her original vintage storefront, Agora. Agora Vintage specializes in designer clothing and accessories by high-end labels such as Louis Vuitton, Chanel and Hermès, and after 20 years in the business, Airee's eye for timeless styles (and authenticity) is well-honed. Her cozy storefront right across from campus is like walking into a couture closet. Simply magical.
[su_spacer size="20″] We sat down with Airee to ask a few questions about vintage bags, listening to your mother, and what's currently in her own handbag.
[su_spacer size="20″]
G2A:
In our reinterpretation, Little Red Riding Hood has discarded her straw basket for a classic Louis Vuitton Speedy 35. Like many of the vintage handbags at Agora, this is a model that is still being produced. Why do you think clients prefer the vintage styles when they can purchase new?
[su_spacer size="40″]
Agora:
First, Agora sells many designer items that are no longer in production, so they cannot be found new in the store. For those items currently available in the store new, our vintage bags sell for around 1/3 of their retail price. Oftentimes, our customers find they get more for their money at Agora.
[su_spacer size="40″]
G2A:
In the Grimm Brothers' version, Little Red Riding Hood was told to not stray from the path by her mother. Trouble obviously ensued when she ignored this advice. Was there any fashion advice your mother gave you that you have never strayed from? Or conversely, strayed from and regretted it?
[su_spacer size="40″]
Agora:
A master seamstress, my mother above all else stresses quality craftsmanship. The most fashionable item is useless if it was poorly constructed. To check quality, I turn clothing inside out to ensure the label sewed the seams properly. In today's world of fast fashion, many items slip through quality control. I also check the tag to see what raw material went into making the garment. I prefer cashmere to acrylic, silk to polyester. I also prefer natural fibers of wool and cotton. Last, I make sure the item fits me well and that I feel great wearing it. If it passes all those tests, I purchase it and then most likely never regret doing so. Overall, my mother taught me the wisdom of investing in quality goods, usually more expensive, that outlast the cheaper alternatives.
[su_spacer size="40″]
G2A:
In this story, clothing is used to disguise and deceive. There are certainly days when we use clothing to trick us into a better frame of mind–I believe the saying is, "No matter how you feel, get up, dress up, and show up". Do you have a go-to brand, style, or time period of clothing that makes you feel your most confident, even if you didn't start the day that way?
[su_spacer size="40″]
Agora:
I love classic 1950s styling and feel my best wearing a tailored dress with understated, but beautiful, jewelry. I love having a polished look that makes me feel professional.
[su_spacer size="40″]
G2A:
We are partial to the Grimm Brothers' version, which has Little Red Riding Hood carrying wine and cake in her basket (and in our version, in her handbag). What handbag are you currently carrying and what items are inside?
[su_spacer size="40″]
Agora:
I am currently carrying a Saint Laurent 12 duffle bag with strap. It holds my entire life.
[su_spacer size="40″] Many thanks to Agora Vintage for taking the time to talk with us and to Jess Dunlap, who so artfully reinterpreted this classic tale.
http://www.agoravintageshop.com
[su_spacer size="40″]
About Jess Dunlap
[su_spacer size="20″]
Artist and Georgia native Jess Dunlap has been calling Athens home for just over 5 years. After obtaining her BFA from the University of West Georgia and spending some time hopping around Atlanta she moved to Athens with her husband in 2010. Jess currently works at Taqueria del Sol though many may know her from her days with 1000 Faces Coffee where she wore many hats (including head roaster) and with whom she still maintains a healthy creative relationship. In addition to illustration, Jess is also adept at woodburning/pyrography, painting with watercolor and oils, and various other art forms. She and her husband live nearby in beautiful bucolic Winterville where she has also taken up the art of slow living in various ways including jam making/canning, foraging, gardening, basket-making, and more. You can email Jess at: gneiss.mouse@gmail.com or find her on Instagram as: gneissmouse. Check back in the fall when she launches her brand new website: www.the-imaginary-collective.com.
[su_spacer size="40″]
About Dominique Paye
[su_spacer size="20″]
Dominique Paye is a social media and marketing strategist who lives in Athens, Georgia. Since graduating from Washington & Lee University in Virginia, she has worked in project management across a variety of industries–graphic design, military, telecommunications, web development, real estate, retail, and interior design–in Washington D.C., San Diego, and Houston. Dominique and her husband moved to Athens in 2011 for his job at UGA's Terry School, and she has enjoyed working with Athens' creative entrepreneurs to market their businesses through social media and specialized content creation. You can contact Dominique at dominique@dominiquepaye.com or online at www.dominiquepaye.com.
[su_spacer size="40″]
---
[su_spacer size="40″] Make sure to check out
Bulldawg Illustrated's
latest print edition:
Saban vs Richt – Only one man will be smiling after this one
, digital issue available for free online click
HERE
.
[su_spacer size="80″]