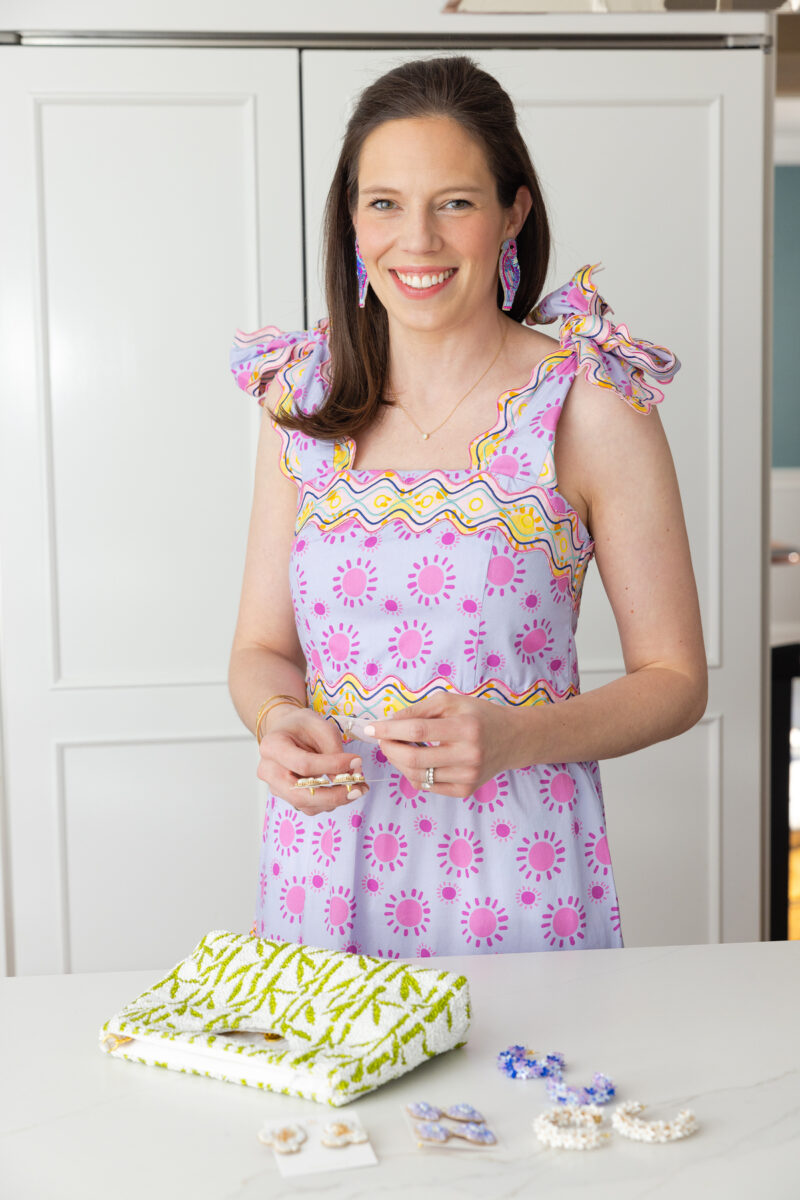 Name: Beth Ladd
Family: My husband Carter (Wofford grad), kids Millie (age 5) and George (age 3)
Hometown: Lynchburg, Virginia
Current Town: Darien, Connecticut
What Years at UGA: 2005 – 2009
School/Degree: Terry College of Business – Marketing major and Spanish minor
Profession: I started my post-graduate career in residential real estate in Charlotte, NC. After a few years in Charlotte, I got engaged and moved to NYC where I worked in interior design. During that time I started Beth Ladd Collections, a jewelry and accessories brand, as a side hustle. After two years I went full time and have never looked back! I am proud to say that all of our pieces are now handmade. We believe in slow fashion, and being able to work with and support so many artisan families in India is a dream come true!
Our pieces are sold in over 80 boutiques around the country, and we have been featured in some of my favorite magazines including Southern Living and Veranda.
Book: Currently reading 'A Princess Remembers' – a memoir by Gayatri Devi (1)
Magazine: Architectural Digest and Veranda
Podcast: The Preppy Podcast and How'd She Do That
Blog: The Nat Note
Instagram: @pencilandpaperco
Brand: I'm all about comfort and sleep these days so Lake Pajamas and a Chappy Wrap blanket.
Fashion designer: Hunter Bell and JJ Martin (La Double J)
Interior designer: Charlotte Lucas (3) – another UGA grad! Also Katie Davis.
Chef: Liam Mackey (4) (Nautilus, Nantucket) and my husband
Historical figure: Very much still alive and making history – Oprah
Quote:
"To succeed in life, you need three things: a wishbone, a backbone, and a funny bone."
—Reba McEntire
Describe Athens in five words or less: This is more describing UGA but Athens too – Best years of my life!
Restaurants and bars: Last Resort, but also can't forget Choo Choo Express and pokey stix from Gumby's – college classics!
Shops: Heery's.
Athens/campus landmark: The Chapel Bell (5) (always had to ring it after a win), the Arch and Sanford Stadium of course!
Memory while in school: So many! Living in the Theta house, football tailgates/games, GymDawgs meets, seeing Coolio in concert at a fraternity house (RIP), attending the world's largest outdoor cocktail party (I mean GA-FL game), the list goes on!
Professor/class: I loved all of my marketing classes, also real estate (I got my license when I was a junior) and golf was really fun too.
Gameday ritual/plan: My roommate and I painted the football stadium on a beer pong table – it lived at her parents' condo and we played at every tailgate. They had such an amazing spread – complete with bloody marys (hair of the dawg) and 10 layer cake. We were truly spoiled! Post-game was usually spent downtown.
Tailgate Recipe: I'm a total dip girl – give me a dip and I'll eat it! In a pinch you can't go wrong with brie, crackers and hot pepper jelly.