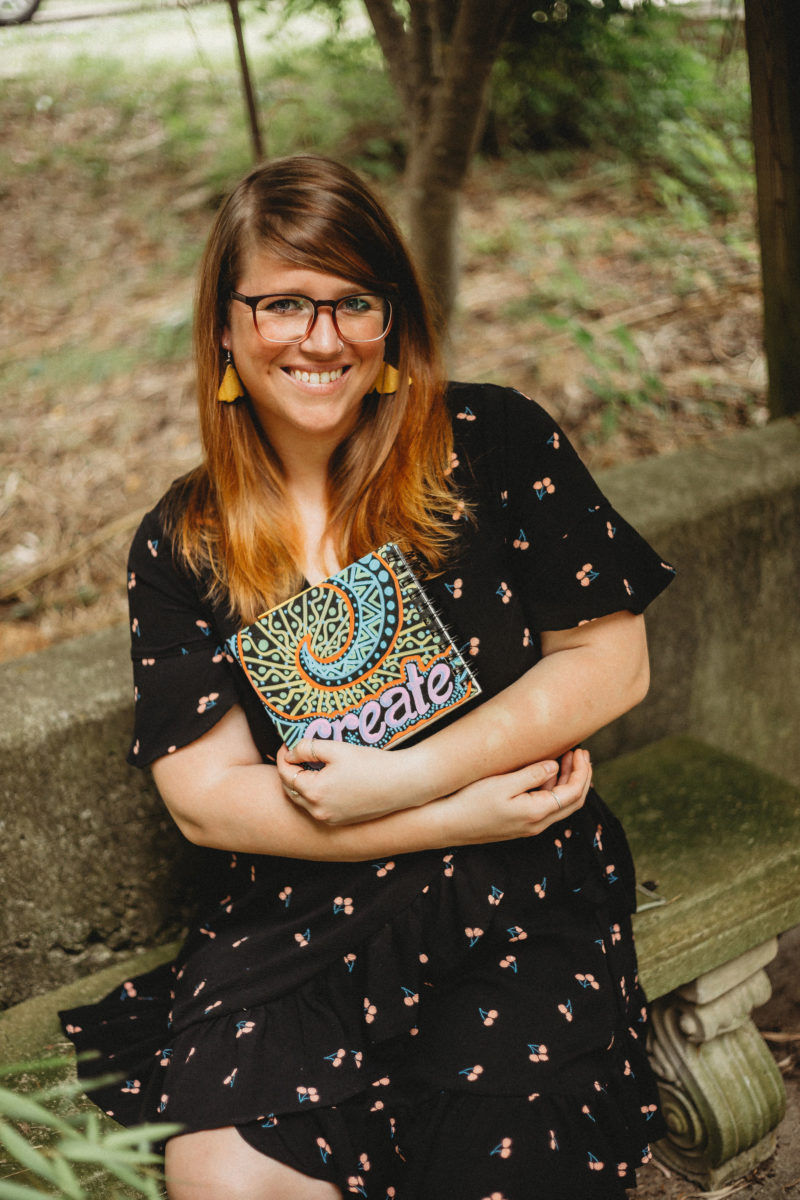 Family: I came from a family of Georgia alumni. My mom twirled as a majorette with the Redcoats, my dad threw the javelin with UGA track and my grandmother worked in the ticket office. I now live in Normaltown with my fur babies, Samson and Fred.
Hometown: Athens, Georgia
Current Town: Athens, Georgia
What Years at UGA: Forever, I changed majors a lot. I finally finished in 2015.
School/Degree: Bachelor of Arts in Studio Art
Profession: By day, I'm the Public Relations Director for UGA's Hugh Hodgson School of Music. The rest of the time, I'm busy running my graphic design firm, Camille Hayes Design, as well as curating exhibitions and programming at my art gallery, tiny ATH gallery. Recently, I've been designing for some of Athens largest events including Twilight Criterium, AthFest and AthHalf.
Accolades: Tiny ATH gallery was named runner-up for "Best Place to See Local Art" in the Flagpole Favorites Awards, Best New Big Idea in the Arts in the Red&Black and recently received the Franklin College Staff Excellence in Service Award at UGA.
Book: The Art Forger (1)
Magazine: Communication Arts
Podcast: I'm usually just listening to music, but one that made me laugh was My Brother, My Brother and Me.
Blog: Creative Bloq
Instagram: @matchstichouse
Brand: REI
Fashion designer: Christian Siriano
Interior designer: Metal + Petal
Chef: Hugh Acheson
Historical figure: Paula Scher
Describe Athens in five words or less: A creative community
Restaurants and bars: Square One, DePalma's, Hi-Lo, Little Kings, Manhattan.
Shops: Wuxtry, Junkman's when it was around, Cillie's, Dynamite.
Athens/campus landmark: 40 Watt.
Memory while in school: I got a call on the way to my first class at UGA that I'd gotten a job at Masada Leather and they needed me to start that day, so I sprinted to my first job after class so I wouldn't be late. The August heat wasn't kind.
Professor/class: Art Business class with Imi Hwangbo.
Gameday ritual/plan: In pre-Covid times, it was all about tailgating with friends and then watching the game from the stands under the overhang! This season, we've been watching games at home while smoking meats.
Tailgate Recipe: The one positive of noon games is getting to try different breakfast casseroles at the tailgate. My favorite includes grits, ground sausage, crescent rolls, eggs and tons of cheese.