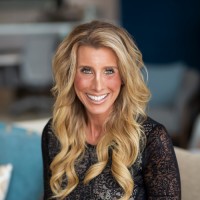 Family: Husband: Brett Mitchell and five precious kids: EmmaClaire (17) OletaKate (15) Case (12) IslaMae (11) AstinJune (8)
Hometown: Snellville, Georgia
Current Town: Sea Island, Georgia
What Years at UGA: 2019-2021
School/Degree: Executive MBA
Profession: Office Creations specializes on providing clients with innovative workplaces, strategic design, and creative collaboration. We are a certified woman-owned business has been awarded the Atlanta Business Chronicle's "Top 10 Dealer Award" on multiple and consecutive occasions. Our mission is to design, consult and furnish work environments that strengthen culture, maximizes efficiency, and drives profitability, one partner, at a time. We strive to ensure that our clients receive world class service from sales to installation to maintenance. We are committed to excellence and providing quality service to our customers beyond the furniture install.
Office Creations is a certified woman-owned, multi-million dollar premier business that produces modern, high-quality work environments. As founding principal of Office Creations, Joy Mitchell (CEO) has been repeatedly recognized for her 'whatever it takes' attitude, as well as her passion for developing the industry's next generation of leaders. Brett Mitchell, COO of Office Creations, brings organization and efficiency to the company's in-house installation crew and a commitment to effective internal organization. Since 2001, Joy and Brett – along with their dedicated team at Office Creations – have aligned the company to provide bid opportunities on the open market and grown the company exponentially – gaining more than $57M in total installed revenue during the last two years.
Atlanta Business Chronicle Top Women Owned Business In Georgia -2018-2021
Atlanta Business Chronicle Top 10 Office Furniture Dealer 2017-2021
Gwinnett Chamber of Commerce Executive Board Member 2020-Current
2021 Moxie Award Winner
Book: My Utmost For His Highest
Magazine: Southern Living
Podcast: John Maxwell Leadership
Blog: LysaKeurst.com
Instagram: loverlygrey, shopburu, Allsteel, FashionFamilyFurniture
Brand: I love Fashion and that includes shoes!!! Ulla Johnson and Alexander McQueen
Interior designer: Commercial Interiors: Murphy/Meyers
Hospitality: Uncommon Studios- Mallori Hamilton
Workplace: NELSON
Chef: Paula Deen
Historical figure: Billy Graham
Quote: Mindset . It is all about Mindset. From the moment you wake up to the moment you rest your head at night. Everything is up to you. Your emotions. Your thoughts. Your perception. Your reactions. Every moment.
Describe Athens in five words or less: Go Dawgs!
Restaurants and bars: Last Resort
Shop: Duke's
Athens/campus landmark: Sanford Stadium- Between the Hedges
Memory while in school:
Professor/class: Human Resource Management Susan Brown
Gameday ritual/plan:
Wake Up- Say "Go Dawgs"
Put on my Red and Black
Watch Gameday LIVE
Put my G decal on my checks
Glory Glory to Old Georgia
Grab a High Noon
GO DAWGS!!
Tailgate Recipe: Buffalo chicken dip