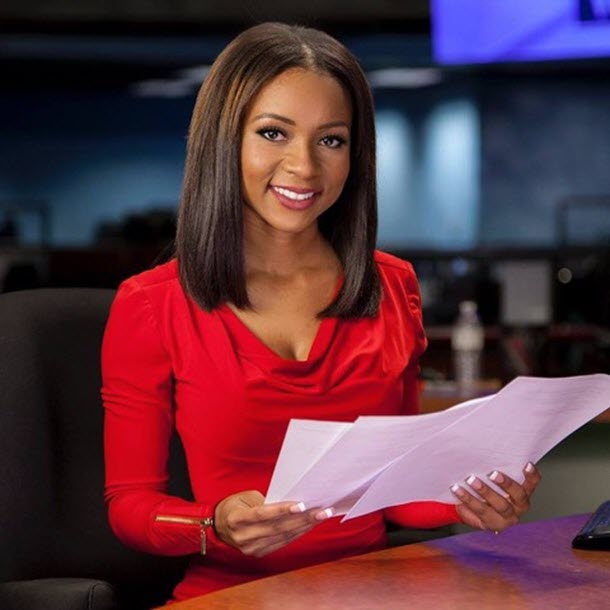 Name: Mikaya Thurmond
Family: Father, Dekalb County CEO Michael Thurmond; Mom, Zola Thurmond; Fur Baby, Tinkerbell
Hometown: Stone Mountain, Georgia
Current Town: Raleigh, North Carolina
What Years at UGA: 2008-2012
School/Degree: Grady College- Digital and Broadcast News Journalism Major + Spanish Minor
Profession: News Anchor
Accolades: UGA 40 Under 40 2020; Miss International 2010; Miss Georgia International 2009: 2 Emmy Nominations
ATHENS + UGA:
Describe Athens in three words: Family, home, joy
Fave bars and restaurant in Athens: Choo Choos + Champy's
Fave shops in Athens: Red Dress Boutique, Agora Vintage
Fave Athens landmark: UGA Visitor's Center (I had the best time of my life working there for four years)
Describe your typical Bulldog game day: My game day starts with picking out the perfect red and black outfit, heading over to Myers Quad for tailgating and then watching the game with my family. I love my Georgia Bulldogs!
Share a tailgate recipe: Catering, haha! 🙂
BEAUTY:
Fave lipstick: Mac Lipglass "Spite" — it's the perfect nude gloss!
Fave mascara: Lancome — I've used this mascara for years on television. It keeps me from needing fake lashes every day.
Fave skin care line: Chanel, which is really expensive, but it's worth it when you see what it does for your skin.
Fave hair product: I have two! Oribe Gold Lust Hair Oil and Virtue Hair Care—both are game changers for my hair, which is very thick.
Product you can't live without: I'm a simple girl. There's no product I can't live without!
Best budget buy product: Lancome Mascara Primer will make your mascara stay on for days. Trust me.
Biggest product splurge: Chanel's skincare line.
STYLE:
Fave fashion designer: I wear a ton of Chiara Boni La Petite Robe dresses. The designer uses beautiful colors and styles for the classy woman.
Fave interior designer: Joanna Gaines— I loved her and her husband on Fixer Upper.
Fave jeans: I love old jeans because they make me feel like home.
Fave tee: I donated all my t-shirts a few years ago! I had over 50. What was I thinking?
Fashion idol: No one. I think it's so important that you just wear what you like.
Fave flower: Hibiscus flowers have been my favorite since I was a child.
Fave accessory: My iPhones— I can't leave the house without them.
INSPO:
Fave blog: Brené Brown is amazing. I read her posts whenever I need a reminder of the importance of being present or vulnerable.
Fave instagram: @ourdailybread has so many great quotes that I love to read each morning.
Fave magazine: Jezebel Magazine is my favorite in Atlanta. It always features all the hottest places to hang out.
Fave book: My Bible is the most important item I own. God is my lighthouse.
Fave song: I listen to "Available" by Elevation Worship every morning. It's a reminder for me to always say yes to God's calling for my life.
Fave artist: Dave Matthews Band is my favorite. I listen to their songs every morning between newscasts to keep me upbeat.