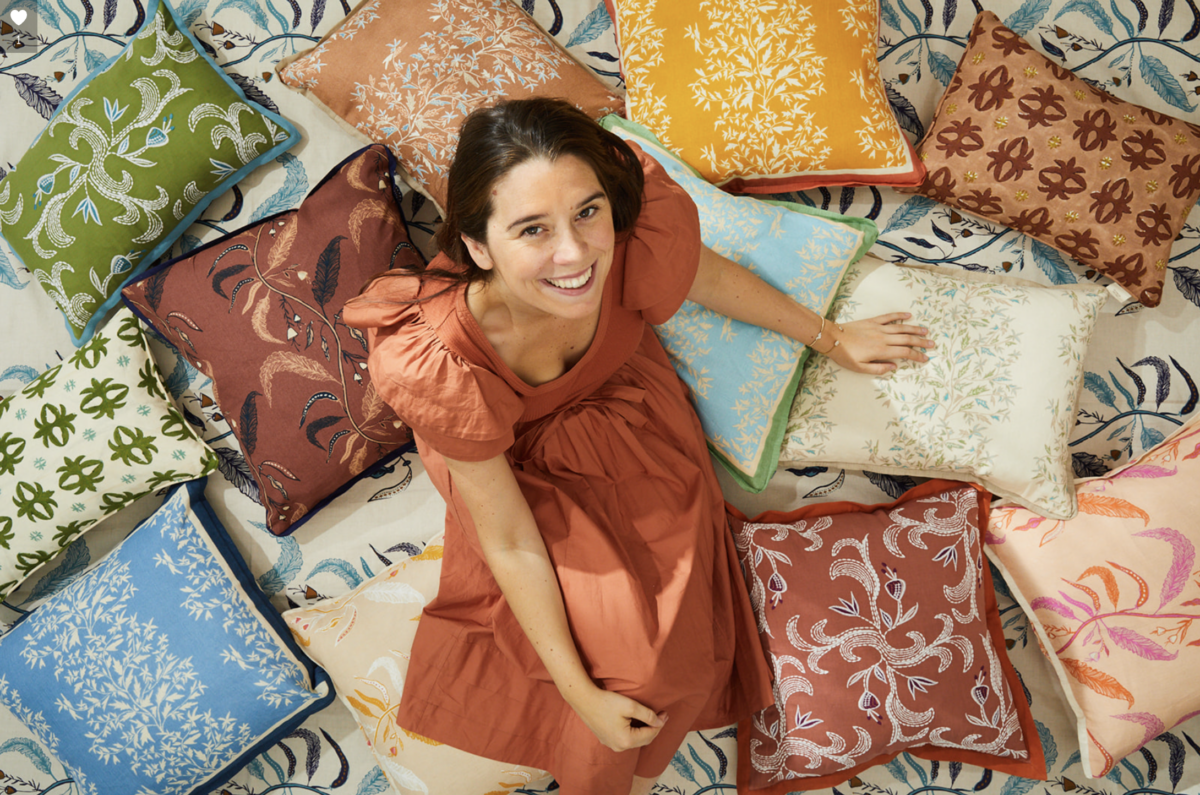 Name: Olivia Bienvenu Massie
Family: Daughter of Jim and Camille Massie, Older sister to Larkin and Elise Massie
Hometown: Alexandria, Virginia
Current Town: New York, New York
What Years at UGA: 2014-2017
School/Degree: Lamar Dodd, BFA in Fabric Design
Profession: My career has been focused on designing upholstery and decorative fabrics for the residential home interiors industry. My first job after graduation was designing prints and home product for a women's block printing initiative in Jaipur, India. In my 14 months there, I immersed myself in each step from sourcing and product ideation to print design, colorwork, sampling, and production. After Jaipur, I moved to NYC and was a designer for John Robshaw Textiles until I moved into designing upholstery and decorative fabrics for a textile mill based in New Jersey. This experience broadened my understanding of the way our industry works between the furniture manufacturers, the "Kravet's" and "Schumachers" and the retailers of our world. Designing for each industry in tangent with my background and love for the artisan, handmade side of this industry brought me to launch Maison Venu, a heritage collection of home textiles that weaves character filled, colorful prints with handmade details.
Accolades: Textile Eye Fall 2023 Report
Book: The Golden Thread (1)
Magazine: Textile Eye, Cabana, World of Interiors
Podcast: The Daily, How I Built This – I love the episode with Amanda Hesser. Her path through food, cooking, and writing resonated with me.
Blog: I wish I had more time to read blogs!
Instagram: @housesandparties (2)
Brand: Pierre Frey (3), Parterre, Pomelo Casa
Fashion designer: Johanna Ortiz, La Double J
Interior designer: Beata Heuman
Chef: Rita Sodi (4)- she owns a restaurant in my neighborhood that transports you to Florence. I could eat there every night!
Historical figure: Helen Frankenthaler (5), St Francis of Assisi
Quote:
"To be yourself in a world that is constantly trying to make you something else is the greatest accomplishment." -Ralph Waldo Emerson
Describe Athens in five words or less: Creative, comfortable, community.
Restaurants and bars: I spent multiple nights a week in college at World Famous … it was my happy place. Love Heirloom, Homemade, Seabear, the pub!
Shops: RWood, Heery's, the Creature Comforts gift shop 🙂
Athens/campus landmark: The tree that owns itself and walks through Normal Town.
Memory while in school: Lamar Dodd at sunrise with my fellow fabric design classmates. Many friendships I cherish were born during late nights in the dye lab and weaving room. I learned so much about myself during those times.
Professor/class: Material Futures with Zipporah and Classical Indian Art and Religion with Nicolas Morrissey.
Gameday ritual/plan: Most Saturday home games started with a trip to the Athen's farmers market – Farm Cart breakfast sandwich and mimosas before heading to the tailgate!
Tailgate Recipe: Buffalo chicken dip!