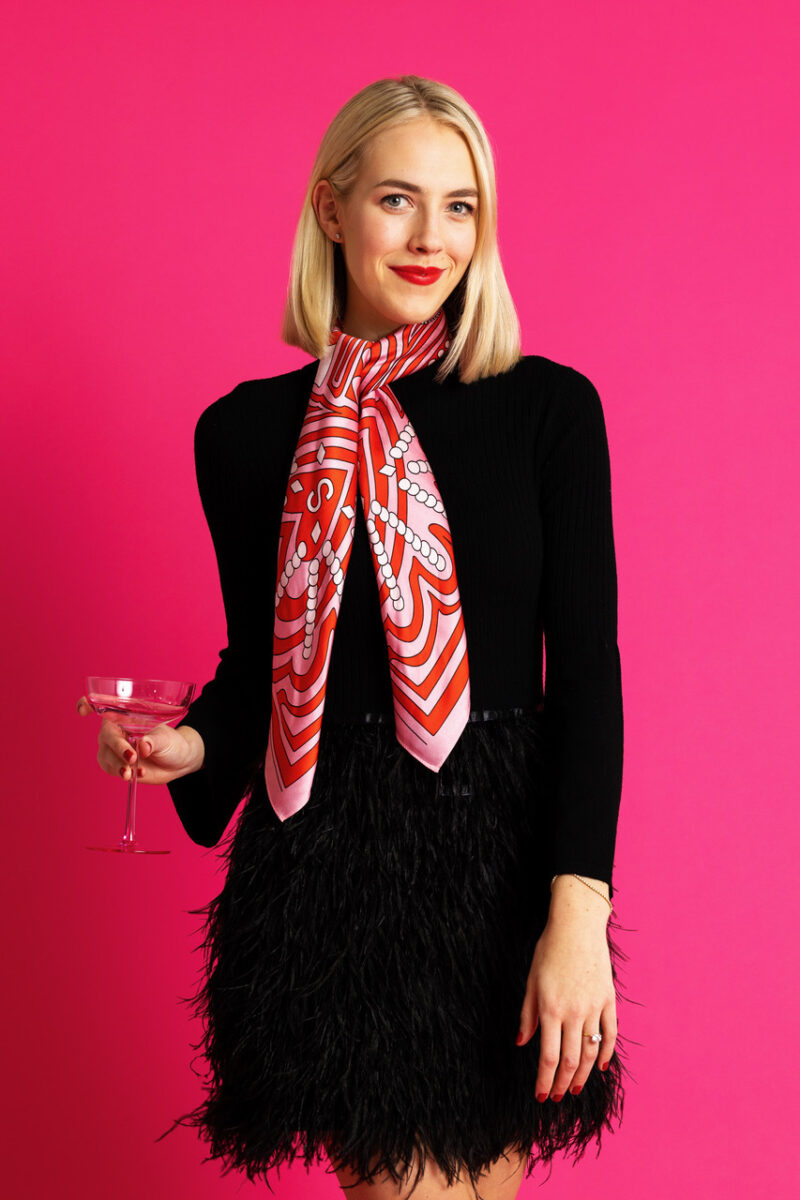 Name: Wells Maley McConnell
Family: Married to Shem McConnell and daughter of Candy and Rick (UGA Grad!) Maley
Hometown: Atlanta, Georgia
Current Town: Charleston, South Carolina
What Years at UGA: 2017-2021
School/Degree: College of Family and Consumer Sciences; Fashion Merchandising Major
Profession: During my time at UGA, I started Swells, my silk scarf brand featuring hand-drawn designs. The mission of Swells to reintroduce a classic accessory to a new wave of wearers, through bold colorways and whimsical motifs. There are three reasons why I love designing scarves: they're timeless, sizeless, and effortless … aka easy to gift, and easy to always wear! To shop scarves that smile, head to shopswells.com !
Accolades:
‌"The Ultimate Accessory" by StyleBluePrint
Southern Living's Small Business Holiday Gift Guide 2022
The Atlantan Magazine's "8 To Watch"
Sold in over 20 stores across the Southeast
Book: Just read Verity by Colleen Hoover and couldn't put it down! Truly— I read it in one day! (1)
Magazine: Holiday Magazine— I love seeing how the rebrand visually mirrors the original copies while also being fresh. The vintage covers are the best eye-candy!
Podcast: How'd She Do That Podcast and Here with Allison James are great ones. I was also recently on The Preppy Podcast and So Can I Podcast! All great listens!
Blog: A lonestar state of southern or LCB STYLE They are both amazing women with great blogs! (2)
Instagram: @juliaberolzheimer – her outfits are beautifully rich in color, and I love how her aesthetic balances sophistication and whimsy.
Brand: Staud – very midcentury but also modern!
Fashion designer: 1960s Givenchy. (3)
Interior designer: Mallory Mathieson – her firm in Atlanta creates the most dreamy spaces!
Chef: My husband! Shem is an amazing cook and cocktail-creator.
Historical figure: Slim Aarons — his photographs are my constant inspiration!
Quote:
Let go and let God!
Describe Athens in five words or less: Spirited, creative, sunny, great-food!
Restaurants and bars:
The National, Chuck's, 5-Bar,
Rooftop @ Georgia Theatre.
Shops: Amelia's, Heery's, Cheeky Peach.
Athens/campus landmark: Dawson and Barrow Hall! Where all my fashion merchandising classes were 🙂
Memory while in school: Living in the sorority house at ADPI!
Professor/class: Digital Design with Laura McAndrews or Intro to Fashion Merchandising with Clair McClure.
Gameday ritual/plan: Growing up, we'd put our tv on the front porch and host our neighbors for a front-yard tailgate of sorts. Embarrassingly, I was more interested in the snacks on the table than the actual game on TV! While at UGA, gamedays were the best: the atmosphere was electric, and outfits (of course) incredible. My husband and I just moved to Charleston, so we are excited to find our new gameday plan here. I can say, however, that a Swells gameday scarf will always be a part of tradition! (4)
Any recipe of buffalo chicken dip is always a hit! (5)