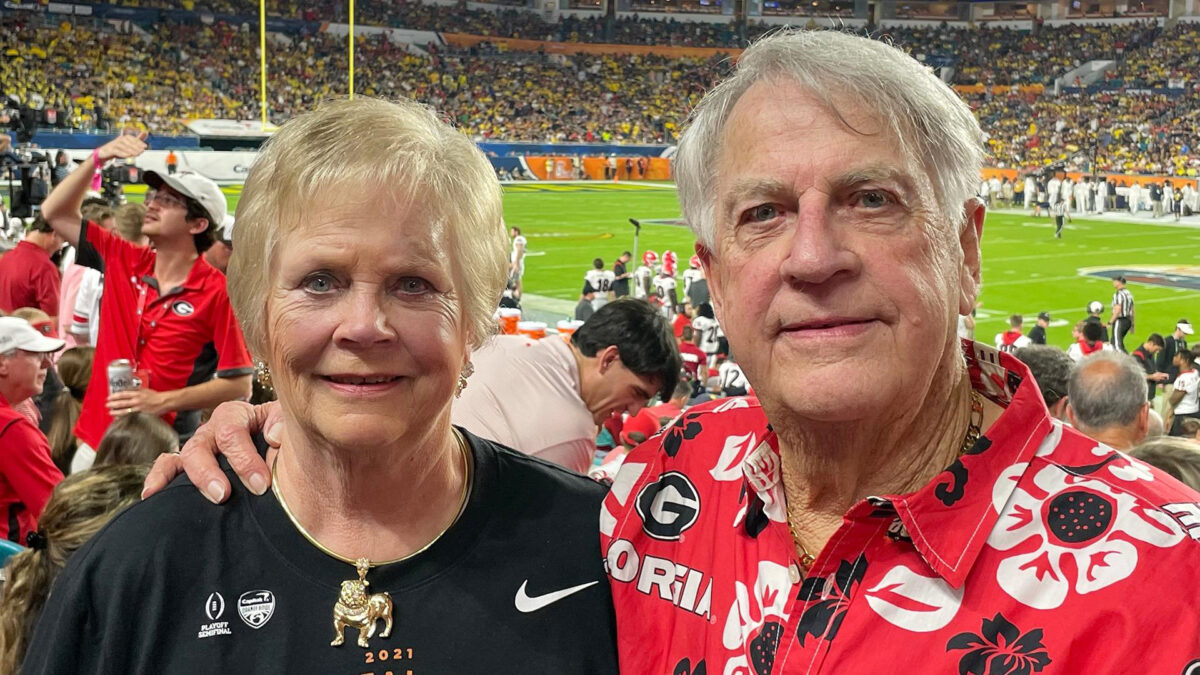 It came naturally that Alice and John Sands, a generous Bulldog couple, would grow up with Georgia on their minds. It was ingrained in them that they would wear red and black and that they would always consider Athens to be the Dawg's Valhalla.
Growing up in Columbus where half the town has always been populated with nearly as many Auburn fans as Bulldog aficionados they were related to the Georgia hierarchy, realizing early on, their good fortune.
Stalwarts like Judge Frank Foley, father of the Georgia Student Educational Fund (now the Hartman Fund), George "Kid" Woodruff, famous for coaching the Bulldogs for a dollar a year and was also the man who brought the Notre Dame Box football formation to Athens.
That needs some explaining. Woodruff, who coached the Bulldogs, 1923-1927, saw Notre Dame devastate Georgia Tech, 35-7 in 1923, and decided to bring the Irish system to UGA.
Woodruff hired three of legendary Knute Rockne's former players (Frank Thomas, Jim Crowley and Harry Mehre) as assistant coaches. They installed the Notre Dame Box at Georgia and later became successful college head coaches themselves. Mehre became the Bulldog head coach.
John and Alice appreciate that sort of lore, and while they are mostly caught up in the emotional excitement of winning championships in the Kirby Smart era, they learned, in their formative years, the importance of loyalty to UGA. They sang the words to "Glory, Glory to Old Georgia," with deep and abiding commitment. They didn't paint their faces but embraced the Bulldogs with enduring good sense and unswerving allegiance. (They can tell you about loyalty. John married Alice when she was 16, and their marriage has gotten stronger with each passing year.)
They experienced firsthand the commitment of the "Bulldog mafia" in Columbus, including those previously mentioned along with Bradley Driver, Frank Lumpkin, Don Leebern, and others. "Bradley was a first cousin," Alice says, "but he was more like an uncle. For sure, I was raised a Dog." John was a classmate of Fate Leebern (brother of Don Leebern Jr.) and grew up within arm's length of the Bulldog's most valuable alumni circles.
Early on, the Sands were attracted to the "Gameday" experience in Athens. "There is no place we would rather be on a fall Saturday," Alice says.
"We are serious about football," John adds. "We started buying season tickets in 1980, certainly a good time to start, and we have been royally rewarded for our investment in Bulldog football." John and Alice are members of the exclusive Director's Circle in the Bulldog Club.
For years they were avid skiers and enjoyed trips to places such as Snowmass but settled on a second home in Clark, Colorado, which is twenty miles northeast of Steamboat Springs. They also have a place in Highlands, North Carolina, which they frequent in summer when the heat is unbearable in Columbus.
In addition to the back-to-back championship years, their favorite games include beating Notre Dame in the Sugar Bowl in New Orleans for the national championship in 1981. The Tennessee game in 1980, Herschel's coming out party, is a favorite although they didn't see it.
They were spending the weekend at Callaway Gardens where the radio reception was weak. They got into their car and drove around Pine Mountain to listen to the game.
With their business success, they have been generous to several charities, their favorites being animal causes and the University of Georgia. "We love our Dawgs," Alice smiles. "We support the things we like."
Their love of dogs and Dawgs has no limit which is why they are proud to have the opportunity to endow the offensive coordinator position at Georgia. "We have been admirers of Mike Bobo for some time," John says. "We saw how great his offenses were a few years ago and how he was regarded in the profession with his quarterback development with the Georgia QBs. He is a Georgia graduate, a great family man and we know he will do great things for our football