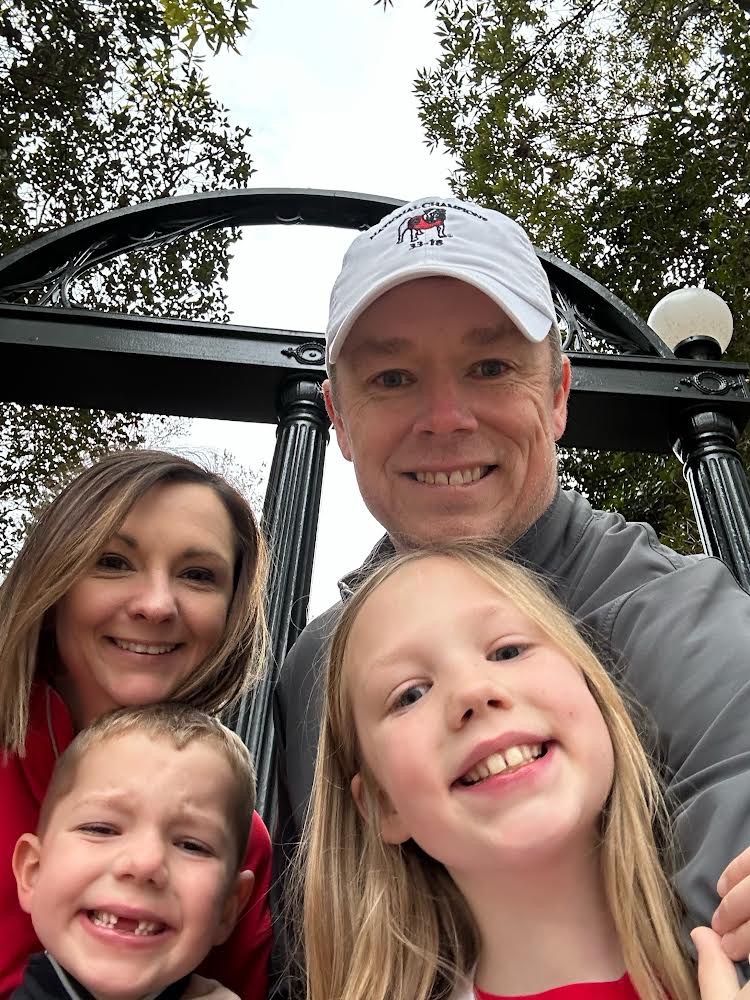 Name: Bryan Johnson
Family: Wife, Emily Griffin Johnson (UGA 2006); Children Natalee (UGA 2036) and George (UGA 2039).
Hometown: Covington, Georgia
Current Town: Rome, Georgia
What Years at UGA: 2001-2003
School/Degree: Franklin College of Arts and Sciences, A.B. Sociology 2003
Profession: Superior Court Judge, Rome Judicial Circuit
Accolades: The only one that matters is receiving the #1DAD commemorative license plate award from my children last year after they raided a village gift shop in St. Simons.
What life lessons did you learn while at UGA? 
Three main things: that cold domestic beer and playing automatic two-down presses share an inherent sublime beauty; that the menu at Achim's K Bob was proof that God loves us; and that the University of Florida deserves every bit of hatred one's heart can summon.
What professor did you most admire? 
Dr. Mark Cooney. He taught my criminology class and provided me a gateway into thinking about the intersection between crime, punishment, and morality. That eventually led me from the golf course to law school and ultimately to my current job.
Which historical figure do you most identify with? 
Cincinnatus. When his country needed him, he stepped and served. After the need had passed, he voluntarily stepped away from power and was content to return to his plow. We should all strive to serve our communities when needed, but remember we do so not for ourselves, but for others.
Who are your heroes in real life? 
My father, Ed Johnson, and my stepfather, Denny Dobbs (UGA 1968). Both served Georgia when needed, but their service never became their identities.
Quote to live by: 
"Time is my fair seed-field; of time I'm heir" – Goethe
What is your idea of perfect happiness? 
Re-living the glory of 33-18 with the best hunting dogs known to man.
What do you consider your greatest achievement? 
Other than being a dad and husband, I'm proud to be one of Bullet Bob's guys.
What is your most marked characteristic? 
A mischievous loquaciousness.
What do you most value in your friends? 
A sense of humor, authenticity, and brutal, but nonjudgmental, honesty.
If you could change one thing about yourself, what would it be?
My wife tells me there isn't just one thing …
Who are your favorite writers? 
William Gibson, Herbert Warren Wind and Thomas Carlyle.
Fave social media and who to follow? 
Poor Man's Game Notes is a solid preview for every game. I also like Old Salty Golf for some random vintage golf vibes in my timeline.