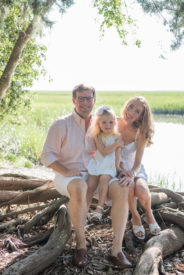 Name:  Dr. Jack O'Neill
Family: Jessica and GiGi (3)
Hometown: Savannah, Ga.
Current Town: Shreveport, La.
What Years at UGA: 1997 – 2001
School/Degree: Franklin / Economics (BA) … Econ used to be offered through Franklin and Terry
Profession: Periodontist (DMD, 2011 – Medical College of GA)
ACCOLADES: Diplomate, American Board of Periodontology; Leukemia and Lymphoma Society "Man of the Year" (2016, Savannah Chapter); Georgia Dental Association "Outstanding Senior Dental Student"
What life lessons did you learn while at UGA?
The value and importance of true friendships. The relationships that I fostered while at UGA have been life-long and beneficial in both personal and professional life.  I cherish the friends who I met while in Athens more than any others, for the past college memories they invoke and the future experiences we will share.
What professor did you most admire?
Charles Bullock. I was not a political science major, but was fortunate enough to have Dr. Bullock for his southern politics course as an elective.  His charisma and connection with his students make him a fantastic professor, and his use of class props, such as red "Eugene Talmadge" suspenders, still elicit fond memories of his class.  Even though I earned my degree in Economics, Dr. Bullock helped inspire an interest in politics, which led to my career as a Legislative Assistant to Congressman Jack Kingston prior to dental school.
What do you consider your greatest achievement?
Obtaining board certification in my dental specialty of Periodontics; it served as the culmination of many years of schooling and dedication.  I have been very fortunate to have a wonderfully supportive wife and family to during the process.
Which historical figure do you most identify with?
Benjamin Franklin. I appreciate the interests he had in a wide range of subjects including science, engineering, and politics.  He was the definition of a Renaissance Man. The fact that he supported the turkey as our national bird only strengthens my admiration!
Who are your heroes in real life?
My father and my grandfather.
Quote to live by: "The man who does not read good books, has no advantage over the man who cannot read them." – Mark Twain
What is your idea of perfect happiness?
We have a family home in western North Carolina.  There is nothing better than breathing the mountain air over morning coffee on the porch with my family overlooking God's creation.
What is your most marked characteristic?
 My curly hair. It's thinner than it used to be, but hey, these things happen.
What do you most value in your friends?
I value the importance that my friends place on their families.  I have funny friends, I have selfless friends, and I have friends who are able to bring everyone together, but I truly love seeing each of the families that they have built.  Their families make my own richer from their friendship.
If you could change one thing about yourself, what would it be?  
My eyesight. I have worn some form of corrective lenses since I was in 2nd grade, and unfortunately, I am not a candidate for Lasik surgery. My vision has always been poor and it is the first thing I would change, if I could.
Who are your favorite writers?  
Tom Wolfe and Jack Kerouac.  I love the way Tom Wolfe told a story, and his form of New Journalism perfectly captured the dynamics and landscape of the modern world in which we have lived.  He was witty, while critical, and always entertaining. The relevance of A Man in Full to our state made for an especially fun read.  On the Road remains perhaps my favorite book.  Spontaneous and youthful whims to "go" remain a fantasy, which exist in my dreams.  Travel is one of my true passions, and I look forward to a day when my wife and I can travel the world together.
Fave social media and who to follow?
Art by O'Neill [@artbyoneill] is my wife's Instagram and art/lifestyle company. She went to Savannah College of Art and Design and has a career in art and marketing, so I leave the social media to the professional in my life!