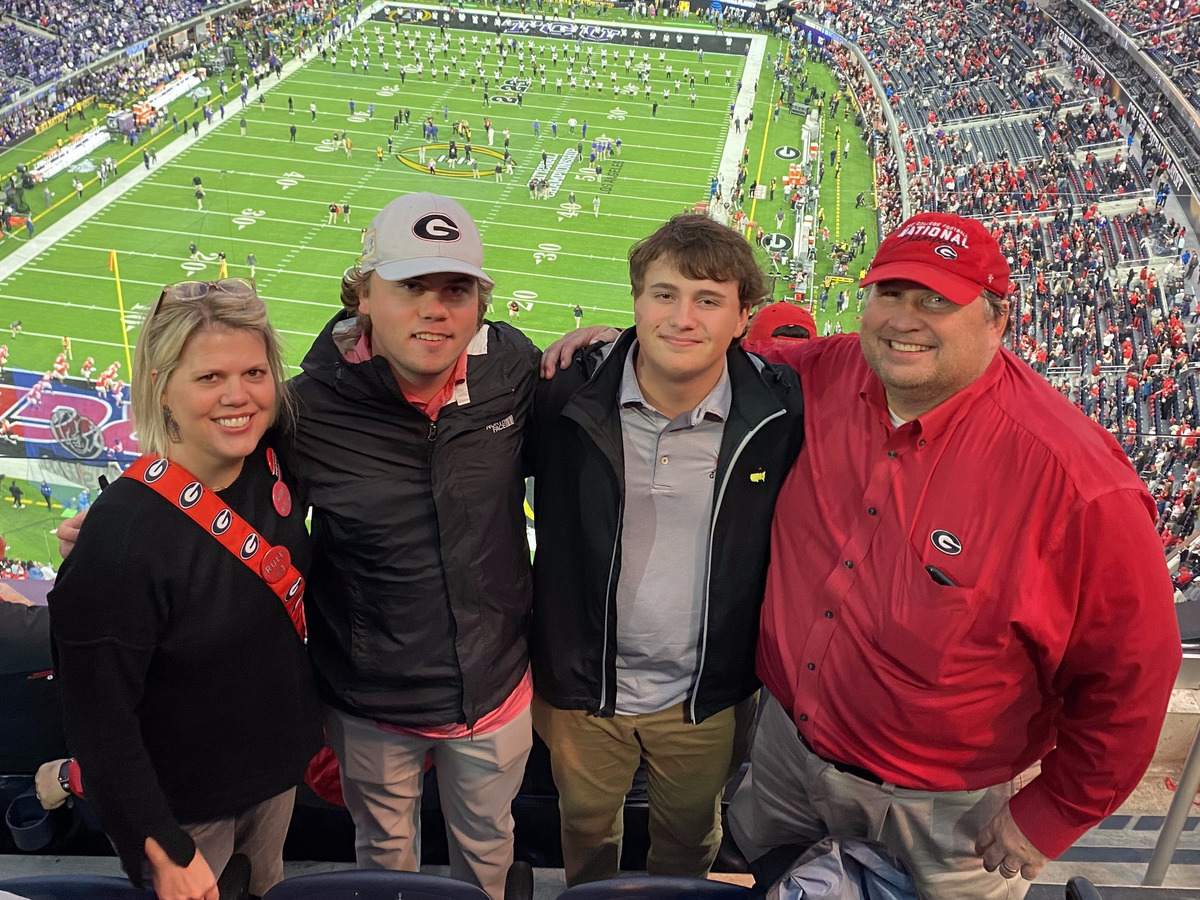 Name: Thomas Wesley Gash
Family: Wife: Marion Phinizy Gash. (UGA grad – 1995) Sons: Stewart Phinizy Gash (20) and Thomas Wesley Gash, Jr. (18)
Hometown: St. Simons Island, Georgia
Current Town: St. Simons Island, Georgia – Why leave Paradise?
What Years at UGA: 1989 – 1993
School/Degree: UGA – Terry College of Business – BBA – Finance
Georgia State University, MBA – Finance
Profession: Banker – Senior Credit Officer – First Chatham Bank and Senior Credit Officer of Chatham Business Capital.
Accolades: The greatest pride in my career came helping our bank survive the Great Recession and helping to create an SBA Lending division that is thriving and enviable.
What life lessons did you learn while at UGA? 
My Calculus professor told me after making a dramatic improvement in my test scores that "Mr. Gash, you seem to do a lot better when you show up for class."
What professor did you most admire? 
I don't remember them and they don't remember me.
What do you consider your greatest achievement? 
I want to say my game saving catch in the 1993 Zeta Diamond Challenge to send us to the Semi-Finals and my 5 Iron on No. 18 at the UGA Golf Course to win 64 beers off Billy Foshee (great golfer, horrible gambler). But my greatest achievement was meeting the love of my life, a cute Phi Mu from Augusta.
Which historical figure do you most identify with? 
I would like to think that I identify with Norman Borlaug, an under-appreciated genius that did more for humanity than possibly anyone else. However, honesty forces me to say Charlie Brown.
Who are your heroes in real life? 
My parents: Jimmy and Mary Gash (also alums of UGA). They have always been there for us and we have always had a place to go home.
Quote to live by: 
"Speech is silver, Silence is Golden" It is a strong reminder from Sir Thomas Carlyle to shut up and listen.
What is your idea of perfect happiness? 
I truly love any opportunity to hang out with my family and friends. I love a great hang out with my KA brothers and my older brother Jim at Foster's Farm or on Mrs. Kitty's Porch. I love my tailgating crew gathered for the Dawgs with Squirt Gun the night before and a Southern Soul BBQ tailgate prior to a big victory in Jacksonville. Or Dan's back deck, or Craig's backyard parties, or the Rose Bowl with my entire family, or going to another National Championship with Marion and my boys.
What do you consider your greatest achievement? 
I am lucky enough to reach our 25th Wedding Anniversary this year and we have two boys who make us proud and are fun to be around.
What is your most marked characteristic? 
I hope it's a smiling face and fun to be around.
What do you most value in your friends? 
They all follow Rule No. 1: (edited for print) Don't Mess Up the Fun!
If you could change one thing about yourself, what would it be?
Low cool factor.
Who are your favorite writers?
I have read and still own every one of Lewis Grizzard's books. We seem to love the same things, good BBQ, cold beverages, great jokes and Georgia Bulldawgs. I enjoy reading Michael Lewis' books. He does a great job of explaining complex issues to a simpleton like myself. And, I like the histories of Stephen Ambrose and Joseph Ellis. Short but full of the necessary information to understand and appreciate his subjects.
Fave social media and who to follow? 
I am addicted to Dawg information. Every morning, I check UGASports.com and the Dawgbone.com (founded by some of my KA brothers). I frequently check in with The Mad Dawg podcast from another great KA, Dixie Dave. And, of course, read the Bulldawg Illustrated from an outstanding collection of Island Dawgs – The Leavy Family. And, like many middle aged men, I have a facebook account that I view at least monthly.