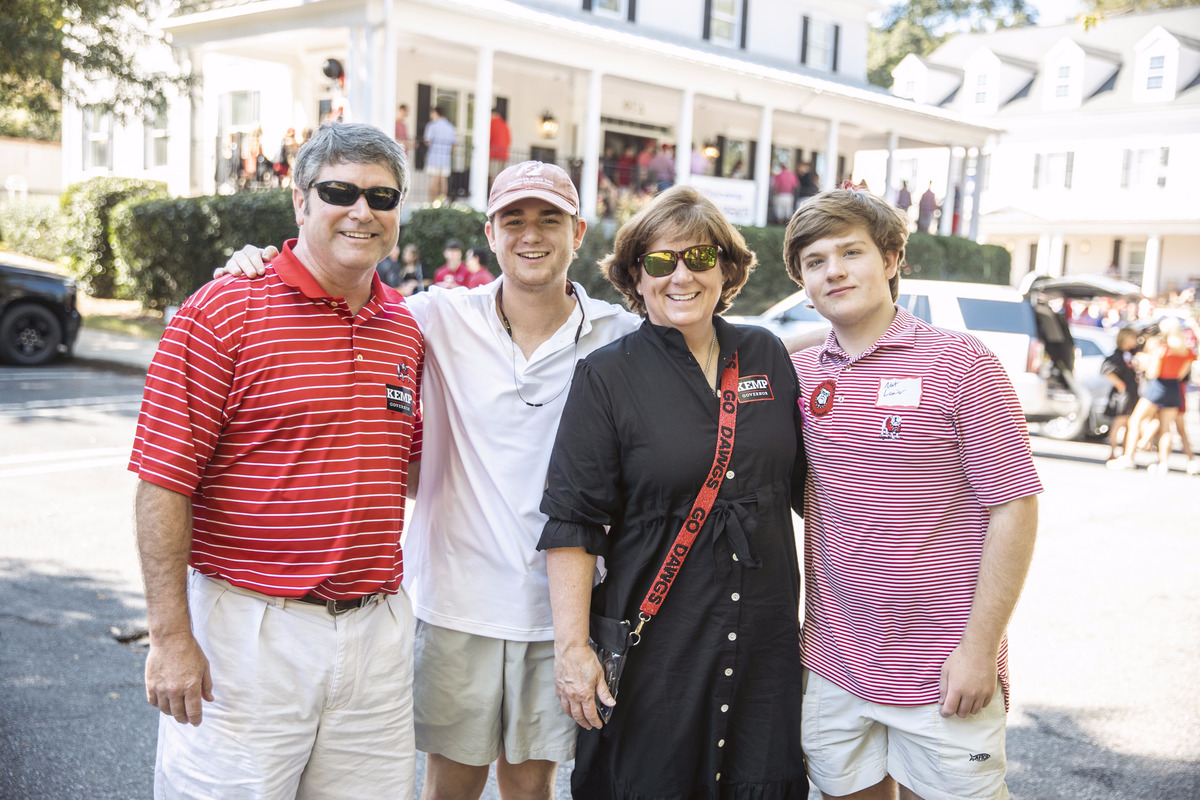 Name: Troy A. Lanier
Family: Married to Shannon Gentry of Marietta, Georgia for 25 years; two sons, Sam (22), Sr. at UGA, and Nat (16), Sophmore at Darlington School.
Hometown: Lincolnton, Georgia
Current Town: Augusta, Georgia
What Years at UGA: 1984-1992
School/Degree: A.B. (History) 1988; J.D. 1992
Profession: Attorney
Accolades: Second Team All-County Football (Lincoln County) (1983). More recently, have served as the president of the Augusta Bar Association and the Kiwanis Club of Augusta. Recipient of the International Bannockburn Award.
What life lessons did you learn while at UGA?
(1) How little I knew, and how much I needed to learn; (2) Good people come from everywhere; and (3) Don't run out of money before you run out of month.
What professor did you most admire?
R. Perry Sentell, Jr. of the UGA School of Law had a unique style, and he employed an exacting version of the Socratic method. He provided an hour of entertainment and sheer terror every Monday, Wednesday and Friday morning, for nine months.
What do you consider your greatest achievement?
Fellow UGA alum Trey Googe recently gave a presentation to a group of undergraduates and stressed the impact of both hard work and luck in professional life. I was lucky enough to find a wonderful wife and many friends in Athens, Georgia. They, along with the rest of my family and many others along the way, have helped me craft a good life for which I am very thankful.
Which historical figure do you most identify with?
From recent and local history, The Mailman (S.F.B. IV) – without the rings, MVP awards and lateral agility. In a broader context, the Founding Fathers of the United States and Winston Churchill.
Who are your heroes in real life?
Teachers, like fellow Dawg fan Kathy Thomas, and those who serve in the military, like my friend Ret. Col. Todd Phinney.
Quote(s) to live by:
"Life is not a dress rehearsal." (Dave Garwood)
"Throw deep." (Kenny Stabler)
President Calvin Coolidge's quotation on persistence.
What is your idea of perfect happiness?
An extended tailgate with my family and the rest of the Clinch County Bulldog Club, captained by Bulldog Fan #1 Jeff Brown, followed by a thorough thrashing of any team wearing orange feels pretty close.
What is your most marked characteristic?
Doing the duty that lies nearest, or maybe semi-proficiency at catching stumpknockers and shoal bass? It's not dancing.
What do you value most in your friends?
When I was a young person attending UGA and living in Athens, confidentiality was valued.
If you could change one thing about yourself, what would it be?
To be more like Chip Champion, every day.
Who are your favorite writers?
Robert Ruark – exceptional Southern storyteller.
Victor Davis Hanson – American classicist, military historian and political commentator.
Sir Thomas Carlyle – world's greatest post-Renaissance philosopher.
Fave social media and who to follow?
Denys Davydov provides daily updates on Russia's invasion of Ukraine. What happens over there matters over here.