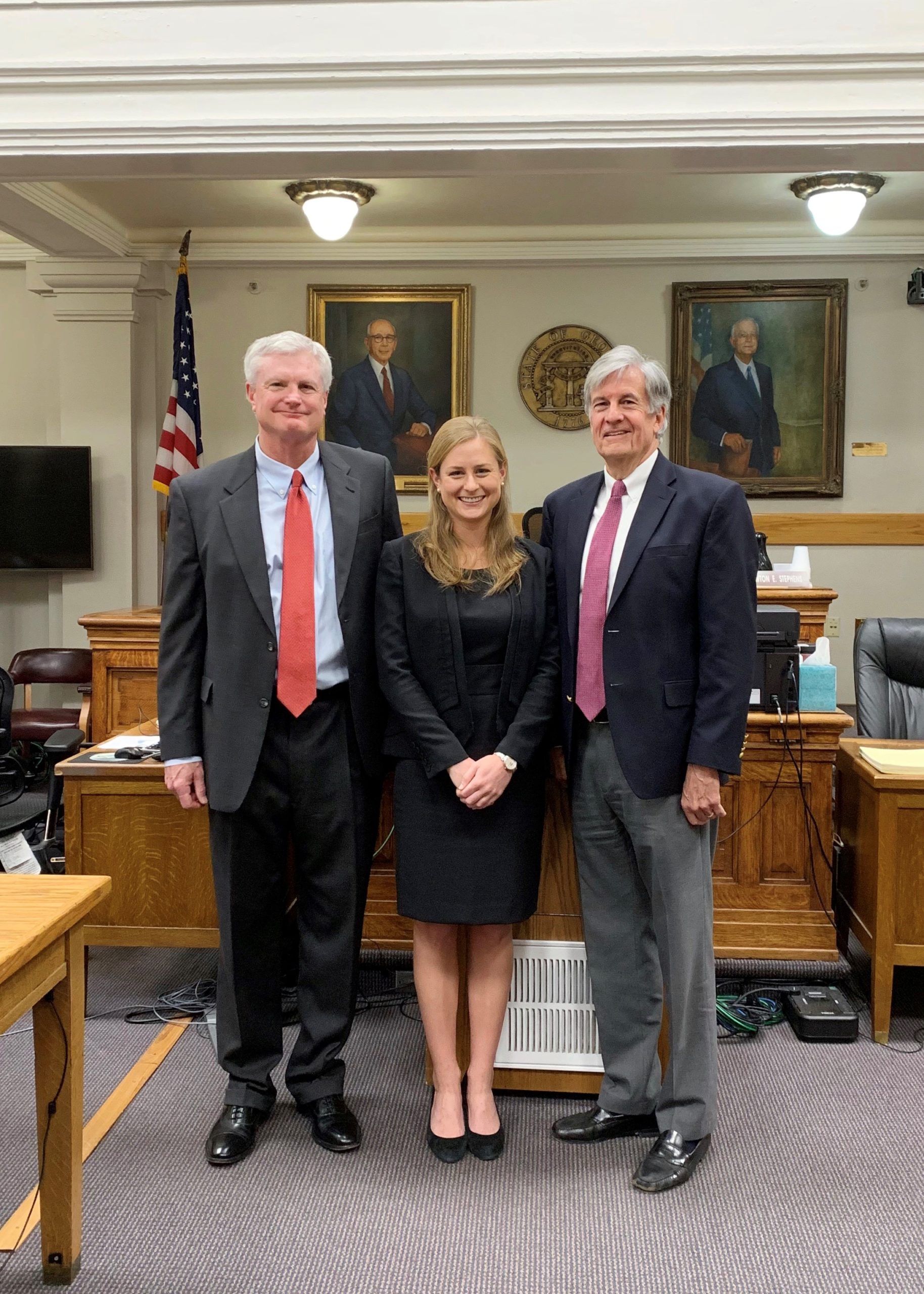 Name: Mary Matthews
Family: Father: Jim Matthews, Mother: Lynn Matthews, Brothers: Walker and Charles
Hometown: Athens, Georgia
Current City: Atlanta, Georgia
What years at UGA: Undergraduate: 2011-2014; Law School: 2016-2019
School/Degree: B.A. in Journalism and Spanish; J.D.
Could you please describe your career? I currently work as an Associate Attorney with Weathington McGrew. Our firm specializes in Medical Malpractice and Civil Litigation defense.
What was your biggest take away from UGA? Well, I may be biased, but I think Athens is the greatest place on earth. Even though I grew up in Athens, it wasn't until I attended UGA that I truly came to appreciate the city and all it has to offer. So my biggest takeaway from UGA would be the importance of getting involved in different scenes and exploring new areas around town.
What was your favorite class at UGA? Journalism Ethics with Dr. Keith Herndon. The class centered around social responsibility, transparency in reporting, and various other ethical challenges facing journalists. Not only was the subject matter fascinating to me, but also Dr. Herndon was one of the most engaged and intelligent professors I've ever had. I owe him quite a lot in terms of the development of my career.
What is your favorite part about your career? Every day is different. You're always learning something new. It also helps that the people at my firm are especially great teammates to work with.
What are some of your hobbies? I enjoy trail running with my rescue dog, Louise, and cooking whenever I have some free time. And after living in Athens for 25 years, music is a big part of my life, so I love to see shows at any of the local venues.
What is your favorite restaurant in Athens and what do you like to eat
there? The National. Everything on the menu is excellent, but I particularly love the vegetable plate and their pizzettes. For brunch, I love Little City Diner just outside of Athens in Winterville.
Were you involved in Greek Life at UGA? If so, what was your favorite
part about it? I was a member of Kappa Kappa Gamma in my undergraduate years at UGA. Hands down, my favorite part about it was the friendships developed during that time.
What did you do on a typical gameday in Athens? My "typical" gamedays have changed a lot from undergrad to law school to now. In college, a gameday usually would entail getting breakfast with my roommates (preferably Ike and Jane, RIP), visiting a few tailgates, and then squeezing into the student section on the upper level of the stadium. Law school gamedays involved a lot more early morning studying!
How has the transition from college life to the business world been? Overall, it has been pretty smooth. I worked part-time throughout college at Blasingame, Burch, Garrard, & Ashley, a law firm in Athens, and took a full-time position there for a year preceding law school. And then law school itself is like a full-time job, so the move to the actual business world was relatively seamless.
Who would you consider your hero? This is always a hard question because there's so many people in my life who I look up to, but I'd have to say my late grandfather, Jim Matthews. He worked as an English teacher at Crisp County High School in Cordele, Georgia and was deeply dedicated to education. I've heard numerous stories of the positive impact he made on his students' lives, and it's always been an inspiration to me. He seemed to be the epitome of the phrase, "Leave people better than you find them."