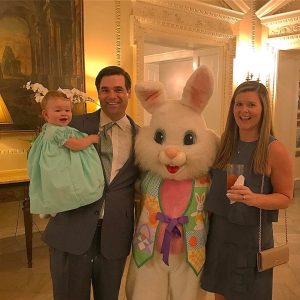 TJ Callaway (BBA '07) has had an entrepreneurial drive for as long as he can remember. At age 11, when the 1996 Summer Olympic torch passed through his hometown of Thomasville, Georgia, he saw an opportunity to sell drinks and boiled peanuts to the gathering crowds. True to this entrepreneurial spirit, TJ now serves as the founder and CEO of Onward Reserve, an online and retail destination for lifestyle gifts and apparel. TJ attributes much of his success to the hands-on experiences he gained through the University of Georgia's Terry College of Business. Today, as a donor and a member of the Metro Atlanta Young Alumni Leadership Council, TJ gives both his time and money to ensure that UGA students continue to have similar, eye-opening experiences.
TJ has always prioritized the journey over the destination, and he recognizes that the diverse opportunities available to him at UGA helped him reach his goals. Along with supporting the Institute for Leadership Advancement (ILA), TJ gives to various areas on campus, including the UGA Botanical Gardens, athletic programs, Terry College and the Georgia Fund.
"I received a lot of help as a student by reaching out to others and learning from them, so I'm trying to pay that forward," said TJ.
While majoring in finance at Terry, TJ was accepted to the ILA's Leonard Leadership Scholars Program, which encourages leadership development through innovative courses, company site visits, campus visits from industry executives, and challenging service opportunities. Not only did TJ make life-long friends in the program, but he also feels that it enhanced his work in the classroom and provided the tools he would one day need to open his own business.
Read the full story by Claire Dickey HERE.