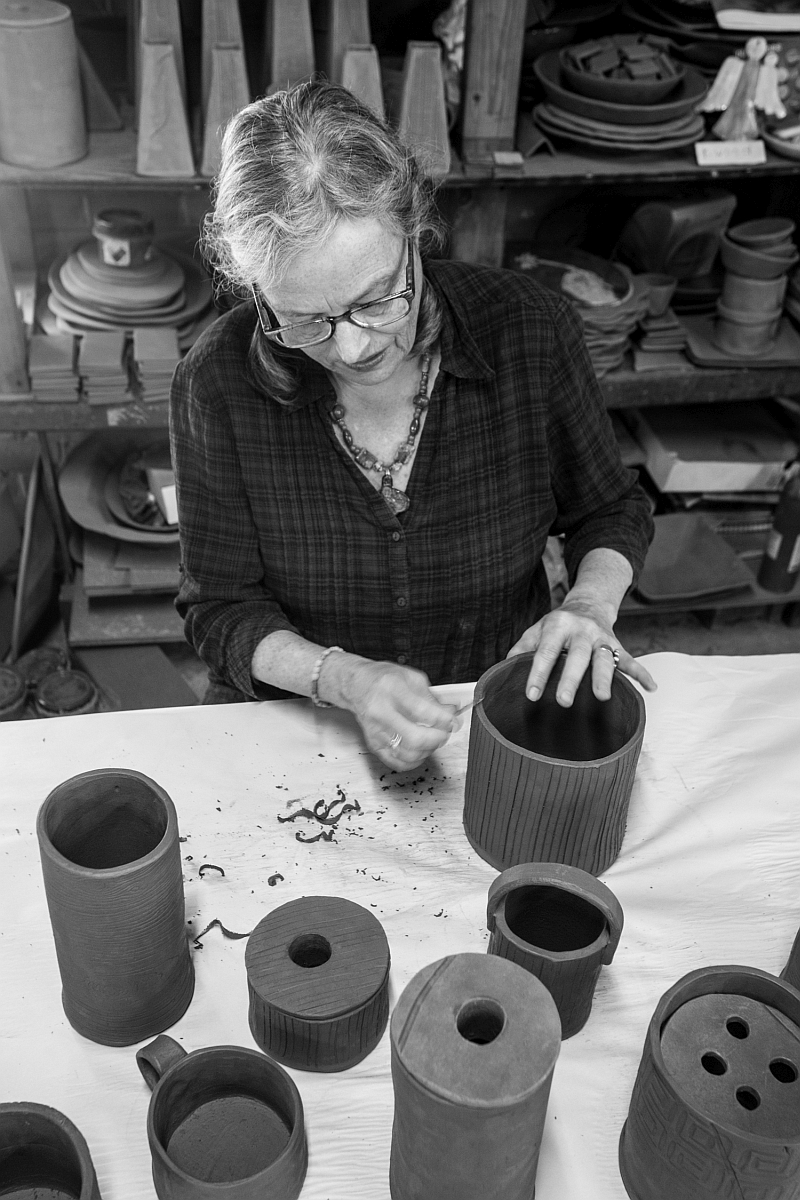 Name: Rebecca Wood
Hometown: Vinings, GA
Current Town: Athens, GA
What Years at UGA: 1975 – 1977
School/Degree: BFA drawing and painting
Profession: artist/designer/business owner
Accolades: grown a pottery business for 25 years!

What life lessons did you learn while at UGA? 
That I could be boss of my own life by following my intuition.
What professor did you most admire (and why)?
Robert Croker and Dick Olsen always pushed and inspired me, but never got in the way of my artistic impulses.
What do you consider your greatest achievement?
Two kids who are bright,creative and kind.
Which historical figure do you most identify with?
Cezanne because he was a rugged individualist who had a singular vision. Without much support or understanding from others in the art world, he clung to his vision and believed in his vision and worked hard his whole life to realize his vision.
Who are your heroes in real life?
Joan of Arc because of the same thing: she listened to and believed the directives she felt in her heart, even when others called her crazy. Believing in yourself and having confidence in your unique vision is so important. It's what you have to give, so it's important to listen to, protect and nourish your own personal vision.
Quote to live by:
"intuit and do it"
What is your idea of perfect happiness?
Being by myself, deep in the woods.
What do you consider your greatest achievement?
Wonderful kids and successful business, being my own boss, being able to inspire others in their dreams and creativity.
What is your most marked characteristic?
Strong inner vision/intuition
What do you most value in your friends?
Open mind, sense of humour, and deep wisdom.
If you could change one thing about yourself, what would it be?
I'd have the energy to get more done.
Who are your favorite writers (and why)?
I'm not much of a reader. I prefer how-to books and reference books about gardening, cooking, American Indians, Japanese flower arranging, herbal remedies, fashion, sewing and more.
Fave social media and who to follow (and why)?
I'm on facebook and Instagram. Otherwise, I stay off the internet and don't have an iPhone. I don't want to be all that 'connected', and the internet is addictive and interrupts my natural creative and life 'flow'. I mainly follow other potters and flower arrangers.
FOR A RECENT POST ABOUT R.WOOD STUDIO ON GUIDE2ATHENS – click here
FOR CHERI'S RECENT GEORGIA GIRLS POSTS with UGA ALUMNAE – click here 
FOR CHERI'S RECENT PROUST Q&As with UGA ALUMNI – click here
FOR RECENT POSTS on THE SOUTHERN C BY CHERI  – click here
---