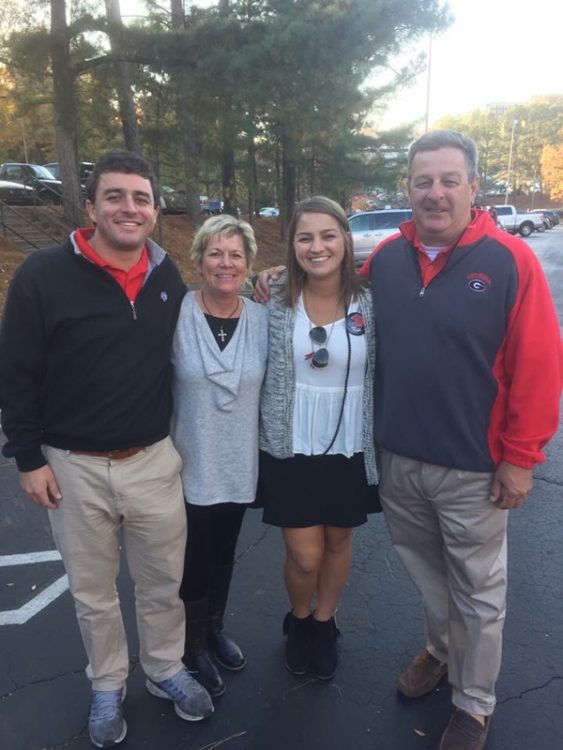 I had the pleasure to sit down with my friend and new President of the UGA Alumni Association, Bonney Shuman, to discuss her new role as President as well as her deep affection for the school and the town of Athens. Bonney graduated from the University in 1980 with a major in Finance from the Terry College of Business. She was a member of the Zeta Tau Alpha sorority as was her daughter Mary Ellen. Bonney, like me, is a St. Simons Island resident but most definitely has her roots firmly planted in both towns. Both of her children will be back at the University this Fall, with one starting Law School and the other getting his Masters, so I think it is safe to say Bonney and her husband Billy will be spending a lot more time in Athens this year. Here are some highlights from our conversation but if you want to catch the full interview please go listen to the podcast, which you can find down below.


WHAT WAS YOUR FIRST JOB OUT OF COLLEGE AND HOW DID THAT LEAD TO THE START OF STRATIX, THE COMPANY YOU CO-FOUNDED?


"Initially, I went to work for a bank that I had been working for every summer and that led me to the finance world where I worked for the first few years out of school. About three years into that job a fellow UGA grad came to the bank looking to get a loan to start a business, fast forward, I left the bank to help start a company called Bar Code Systems which ultimately became Stratix Corporation."

"I stayed with Stratix for 28 years until we sold that company in 2011. My finance degree gave me great preparation for what I encountered in my first job and beyond. It certainly was so valuable when I ran my own business."


HOW LONG HAVE YOU BEEN PART OF THE ALUMNI ASSOCIATION?


"I have been on the Alumni Board for over ten years and Vice President for the past two years. I am following in the footsteps of a wonderful friend and mentor, Ruth Bartlett. She has been a great guidepost for me and has spent a lot of time developing a strategic plan for the Association and focusing on engaging our Alumni in different ways to encourage them to participate in helping in ways, not always financial."


WHAT WOULD YOU SAY IS THE MISSION STATEMENT OF THE ALUMNI ASSOCIATION?


"The Alumni Association's mission is to advance the academic excellence, interests, and traditions of Georgia's flagship University by inspiring engagement through relevant programming, enhanced connections, and effective communications. Ultimately, these efforts are to turn all UGA alumni into advocates of the University and to engage alumni in all activities on campus."


WHAT ARE SOME OF YOUR FAVORITE RESTAURANTS AND THINGS YOU AND YOUR FAMILY ENJOY DOING WHILE IN ATHENS?


"We have a house in Five Points so we love Provisions as well as Marker Seven; those are both go to spots for us. Marker Seven actually has a St. Simons connection through the Davis family, we attend church together which just goes to show you what a small world we live in. George's on Milledge is also another favorite of ours. I will be honest; it becomes less about restaurants and more about spending time with friends. Someone asked me recently to describe what I think of Athens, and I told them it is like home but in a different way. It's not home where I grew up but it is home with friends and so many good memories. We have so many friends in Athens that we have made over the years that it becomes more about getting together with them and enjoying dinners together. Athens has such a sense of community much like St. Simons, but the difference being there is always something going on in Athens, whether it is a concert at Georgia Theater or a sporting event, it truly hits on every cylinder so that there is something for everyone."


I am so thankful to Bonney for taking the time to sit and discuss with me her excitement for the upcoming year and all that the Alumni Association has coming up throughout the year. There are over 300,000 Alumni and there are so many different ways for Alumni to connect and get involved through the Association.


I encourage you to listen to our full conversation on the podcast because Bonney goes into great detail about upcoming events as well as how to engage as Alumni to be the most effective for the University. We learned recently our research dollars have increased 40 percent over the last three years which makes the impact so powerful for our student body, as Bonney said; we have a tremendous amount to be proud of as UGA Alumni.


If you want to learn more about the UGA Alumni Association please visit the website at alumni.uga.edu.