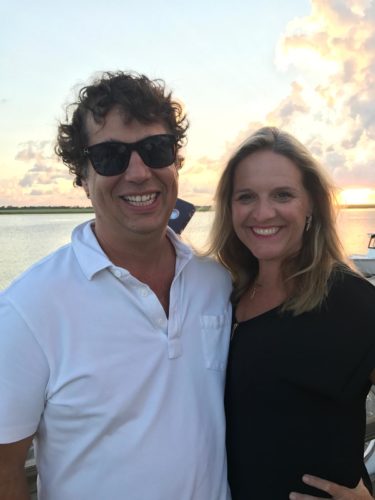 Name: Downing Barber
Family: Candace (wife) and two children Downing (14) and Mary Brooke (17)
Hometown: Valdosta, Ga.
Current Town:   Athens, Ga.
School/Degree: Valdosta State University – Marketing, Mercer – M.B.A. International Business
Profession: Founder and CEO of Barberitos Franchising, Inc.
Down Home Cooking
What are five ingredients always in your pantry?
Rice

Cereal- Captain Crunch Peanut Butter

Grits

Saltines

Sea Salt
What are five ingredients always in your fridge?
Milk

Watermelon

Eggs

Yogurt

Too many condiments
Favorite local, seasonal produce?
Strawberries because it starts summertime for me.
If you had to choose one last meal, what would it be?
One box of Cap'n Crunch Peanut Butter because it's my favorite, and it would take a while to eat, so I could have time to reflect on this wild ride called life.
If you could only have one cookbook, what would it be?
My great Aunt Marie Musgrove Caldwell's cookbook "The Gourmet Cookbook" I & II.
Who are some up and coming culinary names in the south … some visionaries we should be looking out for?
Justin Keith- former Food 101 head chef now doing Hog Heaven Barbeque in Atlanta.
What is your "signature dish?"
Heavy D Burrito – Ingredients: spinach tortilla, southwest rice, black beans, grilled chicken, homemade guacamole, lettuce, smoked chipotle hot sauce.
To Market, To Market
How did you get into the culinary business?
I believe I was born to cook, with a hypersensitive palate, I used to eat spices as a kid from my mom's spice drawer. Denny's on Jekyll Island in 1991 was my first job. Through college and graduate school I worked in restaurants as well.
Is there a person or a dish that influenced you to make a career out of your love for food?
In Aspen, Colo., I was broke so I would eat a half burrito for lunch and a half for dinner from Under Ground Burrito and I would save the rest of the money for going out.
If you could take over an Instagram account for the day, whose would it be?
Selena Gomez because she has the most followers.
If you could ask one person or brand to take over YOUR Instagram account, who would it be?
Facebook because they own Instagram.