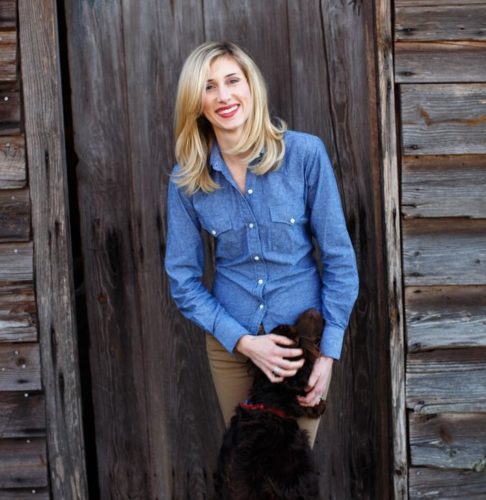 Name: Gena Knox
Family: Husband: Davis, Children:  Neely, Genevieve, Georgia Mae, and Bickley
Hometown: Reynolds, Ga.
Current Town: Athens, Ga.
What Years at UGA: 1997-2001
School/Degree: School of Environmental Design/Landscape Architect
Profession: Co-owner Fire & Flavor
Down Home Cooking
Five ingredients always in your pantry:
Georgia olive oil

Organic chicken stock

Good, organic coffee

Brown rice pasta

Cane syrup
Five ingredients always in your fridge:
Citrus fruits

Organic milk – three kinds because with four kids everyone wants something different

Homemade pesto for the kids

Eggs from backyard

Burrata from Trader Joes
Favorite local seasonal produce right now?
Arugula – I love salads for lunch and at dinner I toss roasted vegetables and winter squash with arugula and a homemade vinaigrette for a warm salad to go with a grilled fish.
If you had to choose one last meal, what would it be?
Cedar planked salmon, Burrata cheese with really good tomatoes and bread and a bottle of really good bubbly.  Oh, and my mom's fried okra.
If you could only have one cookbook, what would it be?
I flip through books for inspiration, but rarely use the recipes top to bottom.  I love Sara Foster's book – Fresh Every Day.
Who are some up and coming culinary names in the south … some visionaries we should be looking out for?  
There are so many talented people in the South – these days I keep closer tabs on the hardworking farmers more than anything.  Just hit the Saturday markets and you will be amazed at the talent behind the produce.
What is your "signature dish?"
Davis and I can cook some pretty good cedar planked salmon, but I also can bake some mean biscuits – the kids love them for a weekend breakfast.
Planked Salmon with Avocado-Pomegranate Salsa
Prep Time:  15 minutes + soak
Cook Time:  15 minutes
Yields:  4 servings
Salsa:
 1 small avocado, diced

 Juice of ½ lime

 1 tablespoon olive oil

 ½ teaspoon lime zest

 ¼ cup pomegranate seeds

 ¼ cup fresh cilantro leaves
Salmon:
 1 teaspoon brown sugar

 ½ teaspoon ground cumin

 ½ teaspoon kosher salt

 1½ pound salmon fillet

 ½ lime

 1 – Fire and Flavor Cedar Plank, soaked
FIRST:  Preheat grill to medium heat, about 350-400°F.  
NEXT: In a small mixing bowl, combine salsa ingredients, avocado through cilantro, and set aside.  
LAST: Combine sugar, cumin, and salt and rub over salmon fillet.  Place soaked plank on preheated grill, close lid, and heat for 3 minutes. Using tongs, turn plank over and place salmon on heated side of plank. Close lid and grill for 12-15 minutes or until desired doneness. Remove planked salmon from grill and squeeze fresh lime over top; serve with salsa.  
To Market … To Market
Is there a person or a dish that influenced you to make a career out of your love of food?
I grew up around really good food and hardworking parents.  I think the best thing my parents ever did was put me to work at a very young age.  That has stuck with me and gave me the drive to become an entrepreneur. Before I could count money, I was selling boiled peanuts from my dad's farm uptown in Reynolds, Ga.  June and July in the summer heat – he had a peach stand built for the three of us (siblings) and that was our summer job before any of us could drive. I could go on forever … I think I have sold every type of produce that could grow in middle Georgia.
If you could take over an Instagram account for the day, who's would it be?  
Hmm, between me and our business, there are three Instagram accounts so I am not sure I need another one!
If you could ask one person or brand to take over YOUR Instagram account, who would it be? 
Well, Shayna Hobbs of Sons of Sawdust is an Instagram genius so she can take over for me anyday.