[su_spacer size="20″]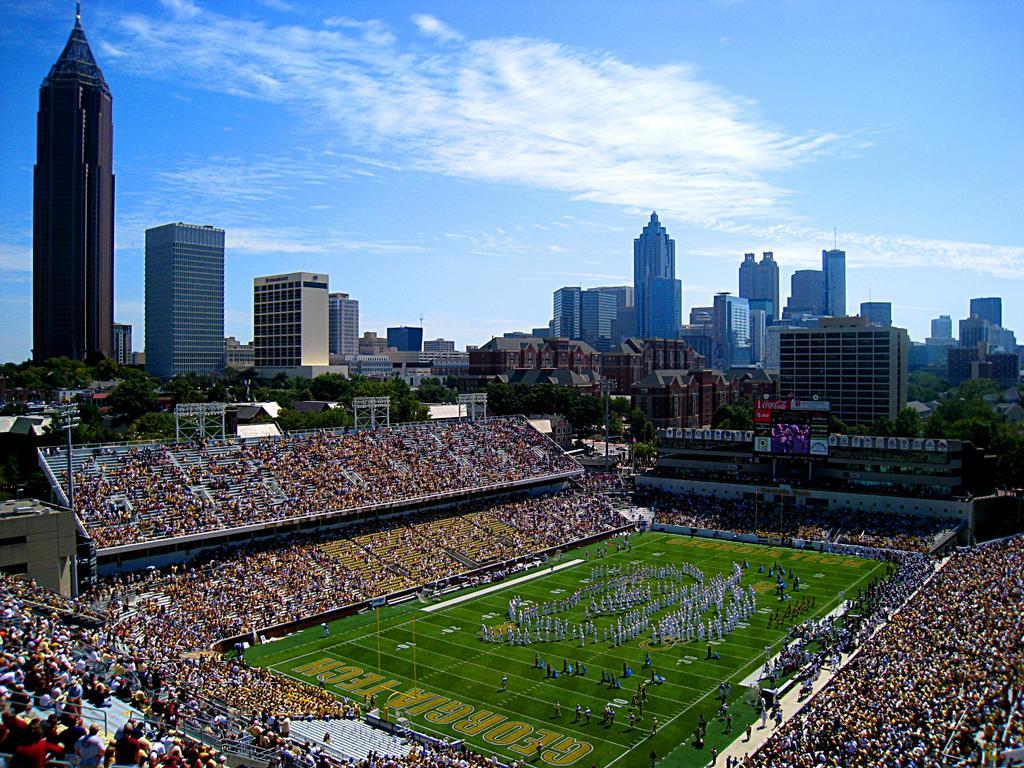 [su_spacer size="40″] Eric Brand of 960 The Ref and Rivals.com offers his thoughts on this year's battle between the Bulldogs and Yellow Jackets. Eric can be heard on The Ref and can be read on Rivals.com, prominently covering recruiting.
[su_spacer size="20″]
Are you surprised with Tech's season thus far?
[su_spacer size="40″]
At the beginning of the year all of the so-called "experts" picked Tech to make it to the ACC championship game and to be a playoff dark horse candidate. Being a lifelong Tech fan I know better than to get my hopes up. With that being said I did expect Tech to at least win six or seven games and make a bowl. The combination of a tough schedule, a crazy amount of key injuries and a very young team derailed Tech's chances of making a bowl. To answer your question, yes I am surprised that Tech had such a disappointing season, but I never expected them to be able to even come close to replicating last year's success.
[su_spacer size="40″]
What is your take on Georgia?
[su_spacer size="40″]
Georgia is an extremely talented and athletic team, which is credited to the superb job done by the coaching staff in recruiting and development of players. I credit the offensive woes this season to less than stellar play from the quarterback position and losing Nick Chubb for the season against Tennessee. Even with these issues Georgia has still been able to put together a solid year and should be able to handle Tech this year.
[su_spacer size="40″]
What did the win in Athens last year mean for Tech?
[su_spacer size="40″]
It was the exclamation point put on a superb regular season for the Jackets, which I believe saved Paul Johnson from the hot seat. I am not one of the Tech fans who would be okay with losing every game except the annual show down against the Dawgs, but there are a lot of Techies who would prefer a win against Georgia over a national title. So, that win meant a lot to the program and the bragging rights are always sweet.
[su_spacer size="40″]
Though it is a losing season, the highlight for Tech thus far was the win over Florida State, talk about the emotion of that.
[su_spacer size="40″]
Any win over a program that is the caliber of Florida State is huge. If you add in the facts that Tech is having a down year and they won on a last second miracle play, it makes it even more special. At that point in the year that win meant even more because it kept post season hopes alive. It really showed that even though this team is struggling they wouldn't quit even with their backs against wall.
[su_spacer size="40″]
How popular is Paul Johnson within the Yellow Jacket fan base?
[su_spacer size="40″]
Johnson has had his doubters and supporters throughout his time in Atlanta. I will be the first to say that I wanted him gone prior to last season, because his only good years in Atlanta were with Chan Gailey's recruits. Last year showed that if Johnson is able to put a team together that buys into his system he is extremely hard to beat. Now that Johnson has had a successful season with guys that he recruited I think the majority of the Jacket fan base supports him.
[su_spacer size="40″]
Where would you rate Justin Thomas amongst Tech's top players of the 2000s?
[su_spacer size="40″]
That is tough to do considering a lot of what Thomas is successful at doesn't show up in the stat sheet. He is getting better and better and making the correct reads and distributing the ball to his play makers at the correct time. This season, Thomas has been electrifying and confusing all at the same time. I think that comes from him not trusting his young teammates as much as the veteran group from last season and trying to do too much on his own. I would rank Justin Thomas as the third best offensive player in the 2000s only behind Calvin Johnson and Johnathan Dwyer. By far he is the best signal caller Tech has had since Joe Hamilton.
[su_spacer size="40″]
What does Tech need to do to win?
[su_spacer size="40″]
Tech will need to first and foremost hold onto the ball. Untimely turnovers and negative plays have plagued the Jackets all season. Also, the Jackets need to figure out a way to get the fullback dive play going, which was a large reason for the win in Athens last year and the success all season long. This year the dive isn't working very well, because of the young running backs and the loss of All American guard Shaq Mason. The dive is the first option for most plays for the Jackets and if that isn't working Tech is usually in a bad spot on 2nd an 3rd downs.
[su_spacer size="40″]
What is your prediction of the score?
[su_spacer size="40″]
I expect a lot of rushing yards from both teams this year. I am going to use the old cliché that this game is going to come down to the turnover battle, which is a battle Tech has lost more often than not this season. I predict that UGA's defense is going to be too much for the Jackets to handle. UGA 24 GT 17.
[su_spacer size="120″]