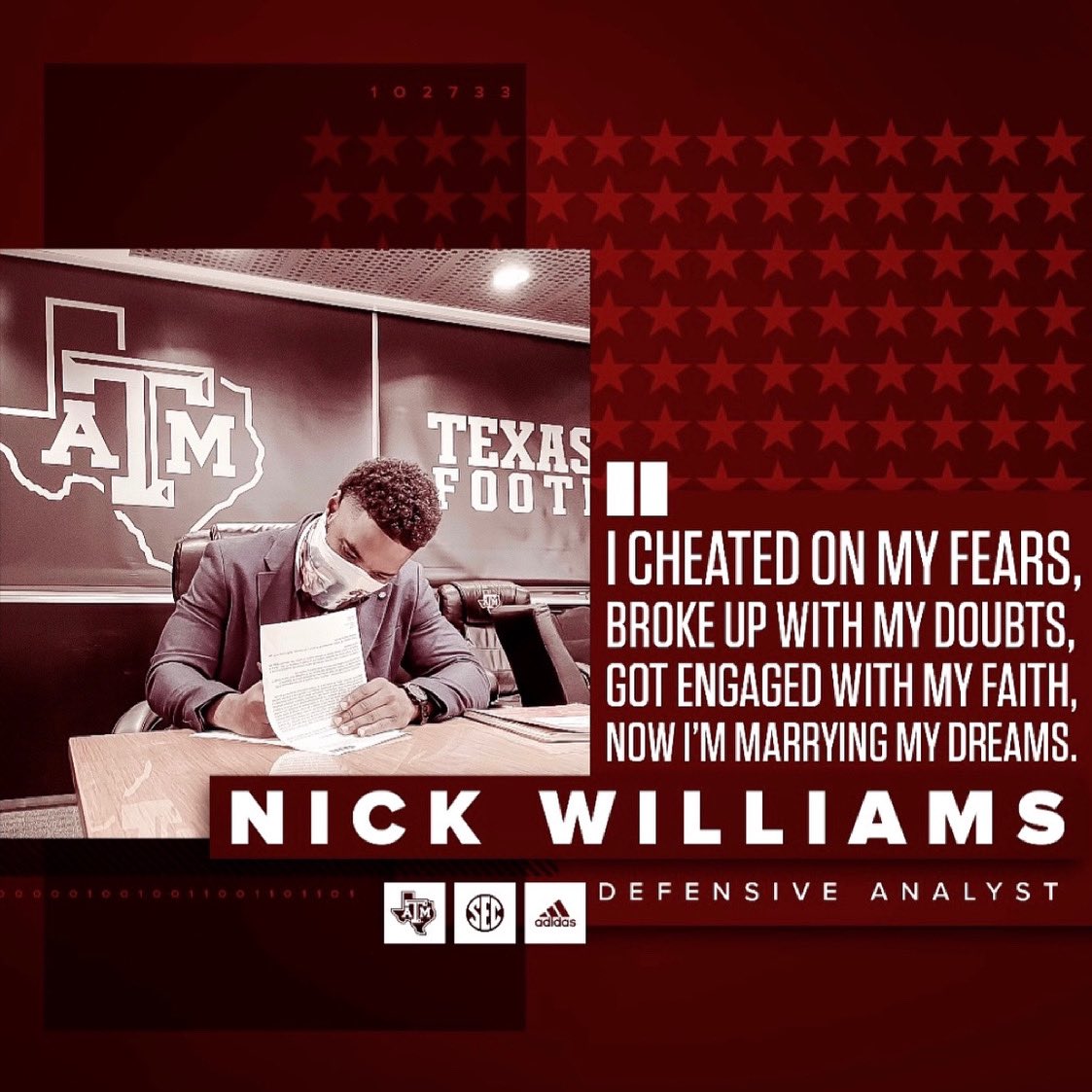 In the world of college football recruiting, relationships are everything. A program needs to have coaches and support staff that can relate to the prospects they're targeting and earn the trust of said prospects through clear and consistent communication. I've talked to a plethora of recruits and high school coaches over the last few recruiting cycles. Too, it has been apparent for a while that Nick Williams has been one of the more genuine and effective recruiters for the University of Georgia. Dozens of recruits I've talked to in the past, even recently in the 2022 cycle, have mentioned Nick Williams by name as coach they enjoy talking to and felt comfortable with. All of that to say that when Nick Williams announced his departure from Athens to take a Defensive Analyst role for Texas A&M, well, it felt like a significant development.
Williams was an integral part of the recruitment that helped to get commitments out of Bear Alexander, Tyre West, and Deyon Bouie in the class of 2022. Also, the former UGA grad assistant made several trips out west to visit high schools, pre-covid of course, and he played a major role in recruiting Kelee Ringo. Being from Bainbridge, Georgia, and having played at the University of Georgia, just like Head Coach Kirby Smart on both counts, it was obvious that when recruits spoke about Williams pitching them on Georgia, they were getting the pitch of a Dawg through and through. You can't teach passion for your alma mater, and while I'm sure Williams will do very well in his new role in College Station, it's hard to replace the desire to see your own team you played for, the colors you put blood, sweat, and tears into, be improved. Also, as a Head Coach, it's hard to find someone with the same fire and hunger to win as a former player of said program.
Having a large part of recruiting the far south and the west makes Williams a homerun hire for Jimbo Fisher. The Dawgs are no stranger by now to losing assistants. In fact, Nick Williams now joins former Georgia OC and Receivers Coach James Coley and former Georgia Director of Player Personnel Marshall Malchow at Texas A&M. Again, relationships. Obviously, a personnel director like Malchow would know of the great job that Nick Williams was doing for Georgia, Coley, and why the Aggies would not target him for an analyst role. It will be interesting to see how Georgia fills this role and if any of the 2022 class will pause at one of Georgia's better cultivators of relationships heading out west to A&M. Only time will tell. Still, Bear Alexander and Kojo Antwi are closely recruited by A&M, or at least were at some point. Of course, Bear Alexander is committed to Georgia and is viewed as very solid in it, at least by his own words. Georgia and Texas A&M have long courted Kojo Antwi, but many factors, including family ties, seem to be trending Antwi's way at the moment.
***For more recruiting news and analysis pertaining to Georgia and around the SEC, make sure to listen and subscribe to Recruiting Every SECond my podcast centering around recruiting in the Southeastern Conference and the implications of it. Episodes can be found in the embed player below!***