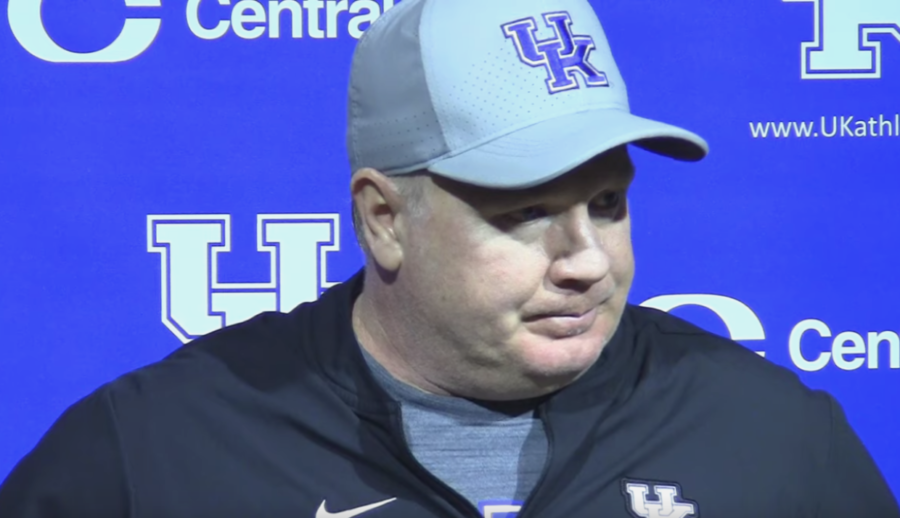 After the Bulldogs shutout the Wildcats 21-0 Saturday night in Sanford Stadium, Kentucky Head Coach Mark Stoops discussed the game talking about the bad weather, praising Georgia running back D'Andre Swift, gave an injury update on Sawyer Smith and Kavosiey Smoke, and more.
Stoops also complimented Georgia, 06:10, saying they are "very, very talented… This team will be a top-five team again at the end of the year."
Below the video, you can find a timestamped index of the topics Stoops talked about.
00:00 OPENING STATEMENT
"Obviously, this is a difficult loss in a tough environment for us today. The weather was a big factor, but it was a very good football game. It
came down to several plays that really made a difference. Give [Georgia] credit— D'Andre Swift is an impressive player. I just gave him a
'congratulations' after the game and wished him 'goodbye,' because he needs to go to the NFL. He's an elite player. I'm proud of our guys. I
thought we fought all night in a tough situation. We knew Georgia was going to respond the way they did, and I was proud of our guys. I
promise you they left it all on the field. They played extremely hard, made some critical plays, but we made a few mistakes. That's the difference
in a game like this. You could boil it down, probably, to three or four plays that made a big difference. Starting with the punt, we talked about ball
security, which Lynn [Boden] did an incredible job of all night. He didn't put one on the ground. We dropped a touchdown, so you've got a few
plays out there that could've made it a very close game."
00:25 Compliments UGA running back D'Andre Swift
01:25 On whether Stoops considered putting Sawyer Smith in at QB…
"It was tough. I'm not going to withhold information from you guys— I'm very up front and try to be as honest as I can. He's close, but it's tough
on a cold, rainy, miserable night to put him in, when he's just barely getting close to being ready to play. He would go… He'd play if his arm was
falling off, but I can't do that to him again. It was a tough night and was going to be a tough grind, so we did what we felt was the best option
was at that point."
02:19 What did Kentucky defense do to slow down Georgia's offense, especially in the first half?
03:14 Max Duffy's shanked punt
03:30 Do you feel like the Wildcat defense is getting and growing every week?
04:30 Pre-snap penalties
04:59 How do you feel Kentucky competed tonight against a top-10 team on the road in bad weather?
06:10 Georgia is a different beast… will be a top-5 team at the end of the year
06:25 Update on Kavosiey Smoke injury
06:45 On the physicality of the Georgia offensive line and running game
07:25 Did weather affect what you wanted to do offensively?
07:53 Yusuf Corker's growth and development as a player
08:34 What was the mood of the team at half-time?
09:05 END OF VIDEO