Today's Contents – Click to Read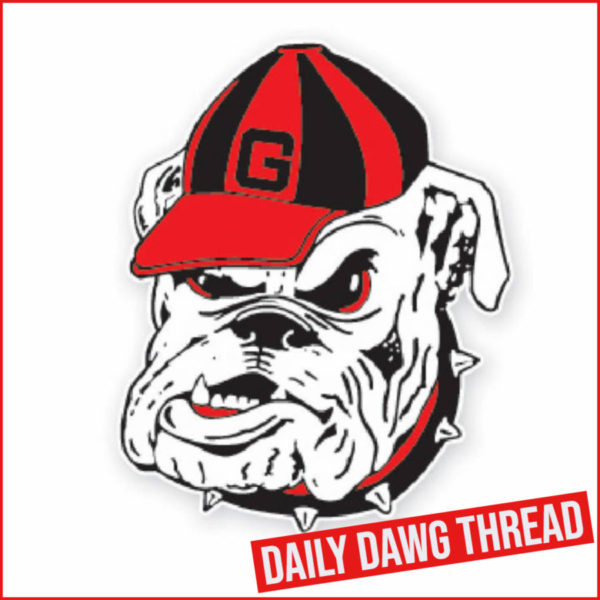 ---
OLYMPICS: Three Dawgs Advance to Track & Field Finals
Former Bulldog Keturah Orji took off on her first attempt in the triple jump and qualified for the final and a pair of Georgia sprinters advanced in the mixed 4×400-meter relay during the opening day of the track and field action in Tokyo, Japan, at the Olympics in Olympic Stadium on Friday.
This marked the first of 10 days of track and field events as the Games continue.
In addition to Orji and sprinters Elija Godwin and Lynna Irby, 2021 sophomore Jasmine Moore (triple jump) also competed in her event on Friday.
A native of Mount Olive, N.J., Orji soared 14.26 meters (46 feet, 9 ½ inches) on her opening try in the triple and was the top American finisher in the qualifying round. This put her 11th overall as the top 12 advanced to Sunday's final at 7:15 a.m. ET.
Orji was three centimeters short of the bronze medal in the triple jump at the 2016 Olympics after her fourth-place showing was the best for an American woman in the event in history. Awarded The Bowerman in 2018 for being the top collegiate track and field athlete, the NCAA Woman of the Year was a 15-time All-American and eight-time NCAA individual champion who helped lead the Lady Bulldogs to the 2018 national team title. Orji set school, collegiate and American records in her featured event during her legendary career in Athens.
Irby, who only competed one full year for Georgia in 2018 before turning professional, and Godwin, who was on the Bulldogs' record-setting 4x100m relay that was the runner-up at the 2021 outdoor Nationals, were part of the first mixed 4x400m relay in Olympic history. The relay consists of two men and two women and was first introduced at a major international meet at the 2019 World Championships.
Godwin ran the lead leg and handed to Irby after his lap. Taylor Manson and Bryce Deadmon rounded out Team USA's legs and the foursome won their heat with a 3:11.39. Initially, the relay team was disqualified because Irby was at the incorrect exchange line because of an official's error. Following an appeal, Godwin, Irby, and their relay mates were reinstated and will run in Saturday's final at 8:35 a.m.
A native of Covington, Ga., Godwin set the school record in the outdoor 400m with an Olympic standard time of 44.61 this year and had runner-up and third-place finishes in the event at the SEC Indoor and Outdoor Championships, respectively. Scheduled to return to Athens for the 2022 seasons, Godwin ran a leg on the record-breaking 4x100m relay (38.54) that was second at this year's NCAA Outdoor Championships and clocked a 44.21 (fastest indoor 400m relay leg in collegiate history) for the fourth-place Bulldog 4x400m relay team indoors at Nationals.
A native of Indianapolis, Ind., Irby is the No. 3 collegiate performer all-time in the outdoor 400m after she registered a 49.80 to win the 2018 NCAA title. She was third in the 400m at the 2018 NCAA Indoor Championships to help the women secure their first national team championship.
Also in the triple jump, Moore, a native of Grand Prairie, Texas, opened with a pair of fouls and then went 13.76m (45-1.75) on her third and final attempt. This put her as the second American finisher behind Orji and 23rd overall at her first Games.
Moore recently completed her second year with the Lady Bulldogs as she swept the SEC triple jump titles. She was the outdoor runner-up in the triple jump and third in the long jump at the 2021 NCAA Outdoor Championships after also scoring in both jumps at this year's NCAA indoor meet. Moore traveled 47-2.50 outdoors this season to become the No. 3 all-time collegiate performer in the triple jump.
The Olympic track and field competition continues Saturday morning as former Bulldog Cejhae Greene runs in the first round of the 100m at 6:45 a.m. ET. Godwin and Irby will also run in the finals of the 4x400m relay mixed at 7:35 a.m. Later that day (occurring on Sunday morning in Tokyo), former Lady Bulldog Chanice Porter will long jump in the qualifying round at 7:50 p.m.
Source: Georgia Sports Communications
Today's Contents – Click to Read
---
Today's Photo Gallery: Nakobe Dean
Career High
* 15 Tackles vs. Florida, 2020
* 4 QB Pressures vs. Cincinnati, 2021 (2020 season)
2021: Named to 2021 Watch List for the Lott IMPACT Trophy, which goes annually to college football's Defensive Player of the Year but also gives equal weight to personal character…also a nominee for the 2021 Allstate AFCA Good Works Team…included on the pre-season watch list for the Bronko Nagurski Award, given annually to the nation's top collegiate defensive player.
2020: Semifinalist for the Butkus Award, which recognizes the nation's best linebacker…made great progress in his second season…started all 10 games and played 76 percent of Georgia's total defensive snaps in the regular season, tops among linebackers…the Bulldogs' leading tackler with 71 total stops and 13 QB pressures…career-high 15 tackles vs. Florida, 14 stops in the Bulldogs' win at Kentucky and 12 more in victory over Mississippi State…team-high seven stops in Chick-fil-A Peach Bowl win over Cincinnati…also had four QB pressures vs. the Bearcats…one of his seven tackles was a key 2nd-down stop on UC's final drive…had four tackles and a QB pressure in win over Auburn…three solo stops and a QB pressure vs. Tennessee…led team in tackles with a then-career-best seven stops, including an assisted tackle for a 2-yard loss vs. Arkansas…also credited with two QB pressures vs. the Razorbacks…had five stops, including a QB sack for a 7-yard loss, and three QB pressures vs. Alabama…earned a spot on the SEC Academic Honor Roll for Fall 2020.
2019: Co-winner of Defensive Newcomer of the Year award, given at team's post-season awards gala…played in all 14 games and finished with 25 total stops, including 1.5 tackles for loss…solo TFL came in Sugar Bowl win over Baylor…one of four Bulldogs to have a team-high six tackles in shutout of Kentucky..also forced a fumble on a UK punt return…had two tackles and a QB pressure vs. Florida…three solo tackles and a pass breakup vs. Georgia Tech…also had a QB pressure vs. Arkansas State…enrolled at UGA in January and participated in Spring drills…had five tackles in the annual G-Day intrasquad game…Named by National Football Foundation as a member of its inaugural "Team of Distinction," recognizing high school scholar-athletes for their combination of athletic and academic performances, as well as service to their communities.
Source: georgiadogs.com
Watch a fullscreen slideshow
HERE
.
Click
HERE
for our mobile photo app.
Today's Contents – Click to Read
---
Jump To Comments