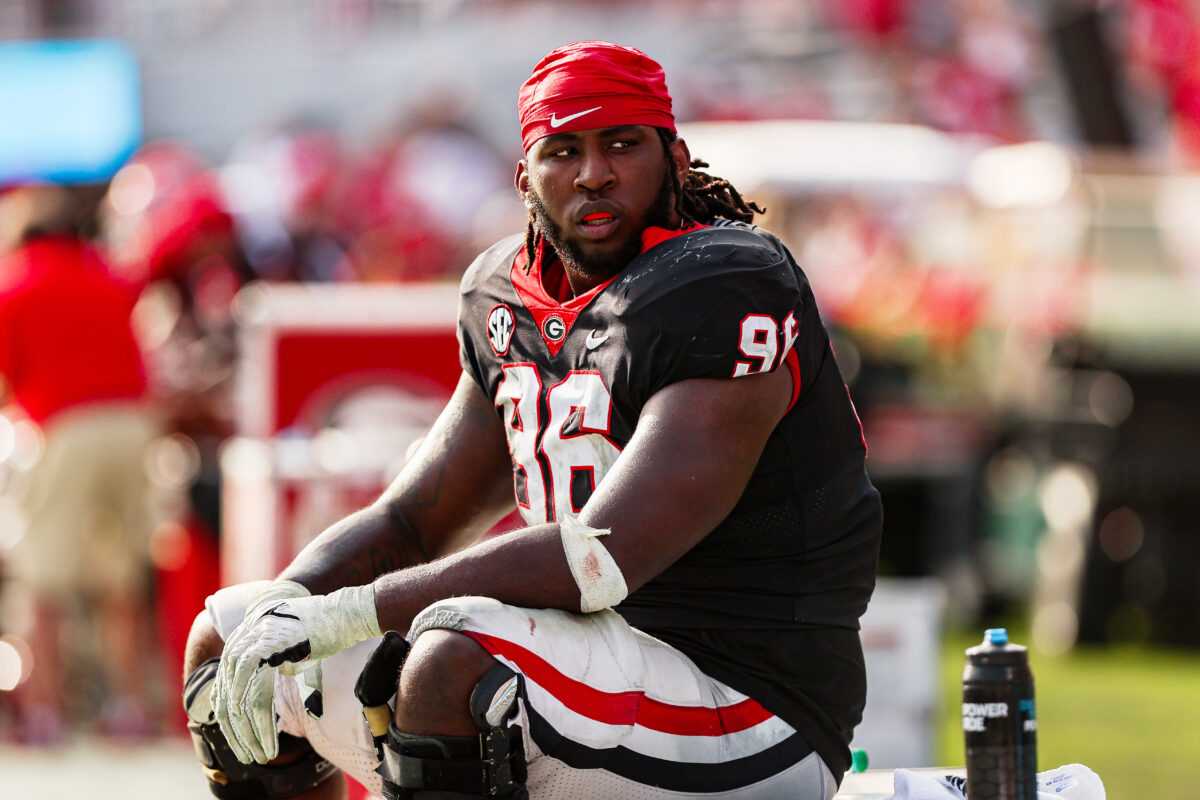 OFFENSE
Quarterback
All eyes are on the quarterback derby to succeed one of the most decorated players in Georgia history. Stetson Bennett IV was a two-time Most Valuable Player in National Championship Game victories, a two-time College Football Playoff Semifinal MVP and last year's SEC Championship Game MVP. His career and journey to glory is one of the most incredible ever, a script that Hollywood directors and executives would've turned down for being completely implausible. But it happened … covered in raining confetti … so who's next?
Fourth-year junior Carson Beck is the front-runner. He had an excellent spring game, and sits atop the depth chart, ahead of highly touted third year sophomore Brock Vandagriff and ballyhooed redshirt freshman Gunner Stockton. But the competition to be the Bulldogs starter behind center is far from over.
Bulldogs Coach Kirby Smart is always pushing competition. The quarterback position is a little different. So much revolves around the quarterback. Continuity is vital.
When he stepped in for Bennett last season, Beck had some big moments, including a touchdown pass to Oscar Delp in the 48-7 win at South Carolina and directing a pair of fourth quarter scoring drives (highlighted by a fourth down pass to Dillon Bell, a nice toss to Kearis Jackson and some strong running from Branson Robinson) in the 65-7 victory over TCU to secure a second straight national title. He also showed some surprising mobility. The only big negative play was a fumble against the Yellow Jackets with a 37-7 Georgia lead in the 37-14 triumph over Tech. For the season, Beck was 26 of 35 for 310 yards and four touchdowns with no interceptions. He ran for 43 yards on seven carries The numbers are a keen indicator of his improvement, as Beck threw two interceptions and two touchdowns on 23 attempts in 2021. He looked much more poised and comfortable, as he clearly established himself as the top backup to Bennett.
In the G-Day game, Beck was 11 of 18 for 211 yards (11.7 yards per attempt) and a six-yard touchdown pass to Arian Smith, as he directed the "Red" team to a 31-26 win.
Both Vandagriff and Stockton were record-setters in high school and are pushing hard for snaps. Both are athletic, very good runners. For whoever the starting quarterback is, it will be a steep learning curve. Especially when South Carolina comes to town in week three.
The first two games should provide the opportunity to get snaps to multiple quarterbacks by choice. It's always unknown when a player's number will be called, and the great ones are prepared when it's their time.
Big picture, Beck is running first string heading into preseason camp, but it's not a lock that he'll be the starter.
Mike Bobo, a fantastic quarterback for Georgia in the 1990s, is back for his second tenure as the Bulldogs offensive coordinator, moving up from his analyst position where he assisted Todd Monken a year ago. Bobo was an excellent quarterbacks coach and recruiter, and during his first stint as OC (under Mark Richt), the Bulldogs routinely put up big offensive numbers.
Running Back
When the Bulldogs won the SEC title and played for the 2017 national championship, the running backs were Nick Chubb, Sony Michel, D'Andre Swift, Elijah Holyfield and Brian Herrien. Incredible. Zamir White and James Cook were the headliners at tailback for the 2021 national championship, with Kenny McIntosh a very strong third back. Last year, it was McIntosh with Daijun Edwards and late in the season, a healthy Kendall Milton, plus the Branson Robinson, who had some huge moments as a freshman, including the fourth quarter in Los Angeles.
Milton and Robinson were injured in spring practice. Presuming good health, they should combine with Edwards to form a strong trio of runners.
Andrew Paul is an X-factor. As a true freshman last year, Paul was playing well in preseason camp but suffered a knee injury and missed the season.
True freshman Roderick Robinson is built like a fullback at 6-1, 230-pound. He got his feet wet as an early enrollee. A second true freshman, Kyron Jones, arrived this summer.
There are also a pair of talented walk-ons, Sevaughn Clark and Cash Jones, who had action last year. Plus Len'Neth Whitehead, an Athens native, who comes in via the portal. He could be an option when Georgia uses a fullback.
Health, granted that's an issue at any position, is so important at running back. It's the position that seems to get hit the hardest across the board at any level. Over the last decade, Todd Gurley, Keith Marshall, Chubb, Michel, White …. have all dealt with major injuries.
If Robinson and Milton are full speed, that is a strong trio of backs, along with Edwards atop the depth chart. When Milton was healthy late last season, he broke off long knockout scoring runs against both Mississippi State and Tech, had a 51-yard run in the SEC Championship Game and scored a touchdown in the National Championship Game. B. Robinson had a breakout game against Auburn, and then delivered those final two touchdowns against TCU with powerful running. Edwards was strong all season, chalking up 771 yards and seven touchdowns, while averaging 5.5 per carry.
McIntosh was a fantastic runner and receiver. He accumulated 1,334 yards from scrimmage and scored 12 touchdowns. The Seattle Seahawks got a steal with him in the seventh round. The running of Stetson Bennett will also be greatly missed. He ran for 10 touchdowns last season, including a pair in the National Championship Game.
As Georgia gets settled at quarterback, the rushing attack will be center stage. Smart will always run the football. It's a huge part of the identity of Georgia football going back to Bob McWhorter, and is vital to Smart's DNA of toughness and line of scrimmage control. He's also been fantastic at coming up with "creative ways to run the football." How many times was it Bennett on a keep, Ladd McConkey on a reverse or Brock Bowers on misdirection? Many teams stacked the defense up front to try and take away the traditional running game, but Smart's Bulldogs always found a way to – at least eventually – move the ball on the ground. See the Missouri game.
Wide Receiver
Ladd McConkey is one of the top wide receivers in college football. He is a big-play making touchdown producer with ++ speed, savvy and elusiveness, versatility, lean and sway. He gets open and makes the catches. Two touchdowns in the National Championship Game, a TD in the SEC Championship Game, scores against Oregon, Florida, Tennessee and Mississippi State, McConkey has been at his best in the biggest of games. McConkey caught 58 passes for 762 yards and seven touchdowns last year, while running for 134 yards on seven carries, with touchdowns against Oregon and Mississippi State. McConkey also averaged 12.3 yards on 16 punt returns. McConkey scored six touchdowns (five through the air) as a freshman. He and All-American tight end Brock Bowers are an all-time great pass-catching (plus running on reverses, blocking, punt returning, etc.) duo, both producing a treasure chest of unforgettable performances during Georgia's back-to-back national championship seasons.
Arian Smith is another difference-maker. One of the fastest players in college football, Smith has proven to be an elite deep threat when healthy. He set up Georgia's first TD against Tennessee on a deep pass. He set up Georgia's second TD, with the Dogs down 21-7, against Ohio State with a deep grab. And the quick-hit 76-yard scoring strike to Smith – followed by the two-point conversion pass to McConkey – cut the Buckeyes lead to 38-35 with over eight minutes remaining in the Bulldogs thrilling 42-41 Chick Fil A Peach Bowl CFP Semifinal victory.
Marcus Rosemy-Jacksaint is one of the country's top blocking wide receivers (he helped lead the way on Brock Bowers touchdown in Indianapolis that gave the Bulldogs a 26-18 lead), and he's made some big catches, including leaping TD grabs in the West End Zone of Sanford Stadium in the Bulldogs victories over Tennessee and Tech a year ago.
Dillon Bell played well as a freshman with 20 catches. Jackson Meeks is an excellent blocker. Mekhi Mews looked great in the spring game, primarily on special teams.
So what about the new additions and players still early in their Georgia careers.
A.D. Mitchell is gone. Yes he was limited by injuries a year ago, but Mitchell caught a touchdown in each of the Bulldogs four College Football Playoff victories over the past two seasons.
The portal giveth, the portal taketh away.
Dominic Lovett and RaRa Thomas come into the Georgia program after successful stints at fellow conference schools. Lovett was an All-SEC performer at Missouri with 56 receptions for 846 yards and three touchdowns. In the Bulldogs pulse-pounding 26-22 win at Mizzou, Lovett pulled in six catches for 84 yards.Thomas had 44 receptions for 626 yards and seven touchdowns last season. Thomas had two receptions for 24 yards in Georgia's 45-19 victory in Starkville.
Both Lovettt and Thomas have two years of eligibility remaining.
Third year walk-on Mekhi Mews had an electric G-Day performance in the return game and at wide receiver. Along with explosive special teams plays, Mews had four receptions for 91 yards and a touchdown with a long-gainer of 54 in April.
Along with Bell, there are four second-year wide receivers on the depth chart – De'Nylon Morrissette, C.J. Smith and Cole Speer. Georgia welcomes in three true freshmen this season: Anthony Evans, Yazeed Haynes and Tyler Williams.
Smart, Bobo and wide receivers coach Bryan McClendon would love for at least a couple of these younger, underclassmen wide receivers to make some strides and show the promise of being "the next guys" this season.
Tight End
Brock Bowers heads into his junior season as one of Georgia's most accomplished players ever. The two-time first team All-American is on a trajectory that could well culminate with him being considered the greatest tight end in College Football History. His exploits are documented in a column in this issue (page 12). For his career, Bowers has 119 catches for 1,824 yards and 20 touchdowns, plus four TDs on the ground. He averages 15.1 yards per touch, and is a tremendous blocker.
The tight end pair of the Napa native and Darnell "The Skyscraper" Washington was all-timer stuff. Washington is now with the Pittsburgh Steelers. He was a dominating blocker and tremendous target. At 6-8, 270-pound, Washington was an intimidating force. One play that stands out, on Georgia' second possession of the third quarter of the National Championship Game victory over TCU, Bennett flipped a short pass to Bowers, and Washington moved the defender he was blocking 17 yards down the field.
Todd Hartley has proven to be the best tight ends coach in America. When it comes to recruiting and developing, no one is better.
So who will pair with the magnificent Bowers this season? Sophomore Oscar Delp, who caught a touchdown at South Carolina, and played well against Ohio State when Washington was battling an injury, was a big time recruit and has a bright future. The same goes for true freshman, Georgia legacy Lawson Luckie. The early enrollee impressed in the spring, and had three receptions for 48 yards in the G-Day game. Both have the talent. Both will be called upon early. Both should get chances with so much defensive scheming aimed at trying to slow Bowers.
Another true freshman legacy early enrollee, Pearce Spurlin, was injured and missed most of spring practice. He too has a high ceiling.
Offensive Line
When Smart took the Georgia job, the two most glaring areas that needed improvement were the offensive line and special teams. Mission accomplished. Sam Pittman and Matt Luke were Smart's first two offensive line coaches, and both did an amazing job recruiting and developing talent. After Pittman moved on to become Arkansas head coach, Luke, a protege of Georgia national championship center and SEC coaching great Hugh Nall, picked right up. The blue-chippers kept coming, and Georgia's offensive line was a central force in the Bulldogs 2021 national championship campaign. Following the victory in Indianapolis over Alabama, Luke announced that he was stepping away to spend more time with his family.
Enter Stacy Searrels, a standout tackle at Auburn in the 1980s, and veteran offensive line coach, for his second stint in the role at Georgia. The Bulldogs didn't miss a beat last season, and even though Georgia didn't win the Joe Moore Award which goes to the nation's top O-Line, the Bulldogs were widely considered to have college football's best group. The statistics, scoring totals and postseason dominance sure backs that up. Plus a pair of elite tackles joined Georgia's impressive growing list of NFL offensive line standouts, with Broderick Jones and Warren McClendon moving on to the professional ranks as first and fifth round draft choices, respectively.
The tragic loss of Devin Willock leaves an enormous void. An excellent player, rising star and likely future NFL pick, Willock was loved by his teammates, coaches and everyone associated with the Bulldog program. His fellow offensive linemen have vowed to play in Willock's honor.
Which brings us to how this year's offensive line will stack up. Amarius Mims, a blue chip recruit, is the starter at right tackle. He began rotating in at tackle as last season progressed and certainly began living up to his enormous promise.
The starting guards will be Tate Ratledge and Xavier Truss on the right and left sides. Willock, Ratledge and Truss were a tremendous trio at guard a year ago.
Georgia has been lights out at left tackle since 2017, with Isaiah Wynn, Andrew Thomas, Jamaree Salyer and Jones the headliners. Who the starter will be at left tackle this season is a big question. Highly touted redshirt freshman Ernest Greene, who was injured last year, got the start with the first group in the G-Day game. He has the look of that next terrific Georgia tackle. Austin Blaske is vying for the starting job as well. If Greene is the starter, that could be a big plus, as the versatile Blaske has the ability to play virtually anywhere up front. He could be the top backup at left tackle and center, a 'big ugly' Swiss Army Knife akin to Warren Ericson, who is in the Denver Broncos rookie camp.
That brings us to center, and one of the best to ever play it for the Bulldogs. Georgia has a phenomenal history at the position, and the sensational Sedrick Van Pran is right at the top of the list. His decision to return for a fourth year (Van Pran played sparingly due to injury during the Covid 2020 season) gave the Bulldogs hopes for a "three-peat" a huge lift. Think Jordan Davis and DeVonte Wyatt on the other side of the line of scrimmage.
Van Pran started all 30 games for the Bulldogs 2021 and 2022 National Championship teams, playing virtually every 'meaningful' snap. Amongst his goals for this year, become an Academic All-American.
The 6-4, 310-pound New Orleans native is the bell cow of the Bulldogs front. He's a tremendous run blocker, superb in the "A-Gap" in pass protection, quick to the edge when pulling on sweeps and he makes all the calls to get the line into proper pre snap position.
Van Pran's return solidifies what should be another fine starting offensive line.
Developing talent and depth amongst a group of third year players in the middle is essential. Dylan Fairchild, Jared Wilson and Micah Morris are a big part of that next group who will push forward when this veteran group moves on to the next level. Morris can also play tackle. Redshirt junior Chad Lindberg provides depth at tackle. Drew Bobo's versatility and talent will be important moving forward and Aliou Bah is massive.
A very good freshman class is coming in, featuring tackles Monroe Freeling, Bo Hughley, and Jamal Meriweather, and interior line prospects Joshua Miller and Kelton Smith.
Developing that second unit is certainly important for this season, but looking ahead, discovering that first group of heir apparents is vital for a position that was once a constant question, but during Georgia's run of six straight top ten finishes in the Kirby Smart era has been a consistent source of strength.
DEFENSE
Defensive Line
Over the last two seasons, Georgia's national champions have produced four first round draft picks off the defensive line. Tray Scott coaches the big guys up front and has done a great job. Travon Walker, Jordan Davis, Davonte Wyatt, they were all first round picks in 2022. Jalen Carter was a first rounder this past April. It's no coincidence. Just like with the offensive line, the defensive front has been a great strength. Football is won in the trenches.
There are four veterans who are fourth/fifth year players back to lead the way for this season's defensive line. Zion Logue, Nazir Stackhouse, Warren Brinson and Tramel Walthour are battle tested seniors back for one last ride at glory. Logue and Stackhouse are tough interior linemen who can play nose tackle and defensive tackle. Brinson and Walthour can play tackle and end. Versatility and experience are always valuable, especially with the complexity of the multiple looks that Georgia utilizes.
Mykell Williams, a big time recruit, emerged last season as a true freshman into one of the Bulldogs top pass rushers. He can be an elite defensive end. Tyrion Ingram-Dawkins is another talented, versatile player who can line up in a variety of spots. Third year sophomore Jonathan Jeffereson is coming into his own and making a push for more snaps.
Then there are the three big freshmen.
Redshirt freshman Christian Miller, and true freshmen Jordan Hall and Jamaal Jarrett were all bally-hooed recruits who will have the chance to earn playing time.
That's ten true defensive linemen. Even with the massive loss of talent to the NFL the last two years and getting dinged a bit in the portal, there is talent and depth on the defensive line that virtually every team in America would be envious of.
Will a true disrupter emerge this season? Those four first rounders were all tremendous at getting penetration, stifling the run and disrupting the pass.
Getting back to the multiple looks. Sometimes Georgia will line up with just two "true" defensive linemen, and an outside linebacker or two will slide down in a three point stance. Sometimes there is a four man front with a quartet of true D-linemen. Oftentimes, there are three.
It's fluid, which takes us to ….
Linebacker
On the outside, the loss of gridiron stalwart Nolan Smith during the Florida game was a huge blow. Smith's leadership and tremendous positivity showed as he became a student assistant coach, helping his understudies in the Bulldogs push to glory.
Two top recruits will vye for starting roles, as Jalon Walker and Marvin Jones showed tremendous promise as true freshmen a year ago. Both have the size and speed to come off the edge and wreak havoc.
Chaz Chambliss is back. He stepped in and logged a lot of snaps following the injury to Smith. Darris Smith, athletic, began to make his mark on special teams as a freshman last year. He's built like Leonard Floyd and Lorenzo Carter were early in their freshman careers.
Then there is that next wave. Redshirt freshman C.J. Madden, and a trio of highly touted true freshmen – Samuel M'Pemba, Gabe Harris and Damon Wilson – have the potential to be future stars, and the chance to contribute as freshmen on special teams and in a reserve role. Smart has not hesitated to play true freshmen, and with the four-game redshirt rule and increased number of games, having those younger players engaged throughout the season has become a much more important part of the process for developing talent.
Both inside linebackers are all-stars. Jamon Dumas-Johnson and Smael Mondon are arguably college football's best one-two inside punch. Mondon had 76 tackles, eight tackles for loss, a sack, the pick off the helmet in the SEC Championship Game, and 23 quarterback hurries. JDJ earned All-American honors with 70 stops, 9 TFLs, four sacks and 26 hurries. Both are juniors, both already drawing the attention of the NFL. With those veterans able to occupy blockers up front, Georgia's 'backers should once again flourish.
Xavian Sorey can play inside or out. The redshirt sophomore figures prominently into Georgia's linebacker plans. E.J. Lightsey, what a story, is a redshirt freshman pushing for snaps. Then there are the three true freshmen. C.J. Allen, Troy Bowles and Raylen Wilson were all elite recruits and certainly look like they have the ability to continue the incredible wave of linebackers at Georgia, which includes Roquan Smith and Nakobe Dean.
How about some early enrollee G-Day punch. Allen had five stops in the G-Day game, Damon Wilson had two sacks and four tackles, Raylen Wilson had four tackles and a pick six. Hello!!!
Glenn Schumann has been on Smart's staff since season one. The co-defensive coordinator, along with Will Muschaamp, has done an excellent job and has another stocked group, perhaps Georgia's deepest of the Smart era.
Secondary
Muschamp, who has done a tremendous job at his alma mater, has a talented group, which, like so many other positions for the two time reigning national champions, boasts depth, talent, experience and highly touted true freshmen itching for playing time.
Let's start at safety and the star/nickel position.
Malaki Starks was a freshman All-American a year ago. He has elite ball skills, which were on display in his first game with a spectacular interception against Oregon. Javon Bullard is a hard-hitting big play maker. He had a critical pass breakup in the Chick-Fil-A Peach Bowl, then was Defensive MVP of the National Championship Game with two first half interceptions and a fumble recovery against TCU.
Chris Smith leaves a huge void. One of the greatest safeties in Georgia history, Smith made some of Georgia's all-time great plays, highlighted by the pick-six versus Clemson and blocked field goal return, off Stackhouse's deflection, for a touchdown against LSU in the SEC Championship Game.
Dan Jackson is back from injury. A dynamo on special teams with excellent ball skills, he's right in the mix. Tykee Smith is healthy, versatile and talented. David Daniel-Sisavanh is a big hitter who has logged some big snaps. Sophomore JaCorey Thomas is fighting to climb the depth chart, and true freshman Joenel Aguero turned heads with excellent spring play as an early enrollee.
Kamari Lassiter is locked in at one corner. The do-everything defender is one of the most physical tackling corners in the country and has very good ball skills. Perhaps the biggest question mark on defense is who will slide into Kelee Ringo's spot at the other corner. Ringo made one of the biggest plays in Georgia history to punctuate the 33-18 victory over Alabama to clinch the 2021 national championship. He had critical picks against Tennessee and Kentucky this past season and a clutch breakup just prior to Ohio State's missed field goal in Atlanta. Sophomore Daylen Everett and Nyland Green are the top candidates to draw the starting assignment. Both were highly recruited. One of Green's biggest plays was chasing down Brett Thorson's epic 75-yard punt against Tennessee and knocking the ball out inside the one yard line.
Julian Humphrey, a second year player, and transfer Smoke Bouie, also a second year player, are in the mix at the position. True freshman A.J. Harris is one of the versatile young players who could get early action.
The ability to play multiple spots in a variety of looks is a must and a plus for the Bulldogs secondary. Whether there are four, five or six defensive backs on the field, there are all kinds of combinations Georgia could utilize.
SPECIAL TEAMS
Brett Thorson stepped in for one of the great punters (and kickoff specialists) in Georgia history, Jake Camarda, and did a great job. The Australian boomer averaged 45.0 yards per punt and showed the ability to flip the field.
Placekicker Jack Podlesny leaves big shoes to fill. He added his name to Georgia's rich history of kickers. "JackPod" made a lot of mighty big kicks in his stellar three year career.
Gotta trust your quarterback and kicker.
So who will it be? The veteran Jared Zirkel is the front-runner. Walk-on Liam Badger made a 51-yarder on G-Day and is in the mix. A lot of eyes will be on true freshman Peyton Woodring, a high school All-American hailing from Louisiana.
Here's the deal, anything over 40, especially anything over 50, might have to be viewed as a bonus until someone emerges at the position, which will hopefully be early this season. But the short kicks, the 35 yarder, the 27-yarder when there's a holding penalty in the red zone, gotta have the short ones.
The aforementioned Mekhi Mews was fantastic in the return game on G-Day. McConkey is a tremendous punt returner, but perhaps Mews could become the regular there to lighten the load on Georgia's great wide receiver. With the health concerns at tailback, will Edwards still be back on kickoff returns?
Camarda and Bennett were great holders. Will it be Thorson this year? Will it be one of the backup quarterbacks?
William Mote has done a tremendous job snapping for punts, earning second team All-SEC honors last season. Payne Walker leaves big shoes to fill as Georgia snapper on field goals and extra points. Will Snellings and Jonathan Washburn are amongst the candidates to succeed Walker.
Along with trusting the quarterback and kicker, the snapper and holder had better be really good and bat 1.000 or games slip away.
Georgia's protection and coverage units have been outstanding in the Smart era, a direct correlation with the tremendous depth amassed within the program. You want to get on the field as a freshman? It starts with special teams.