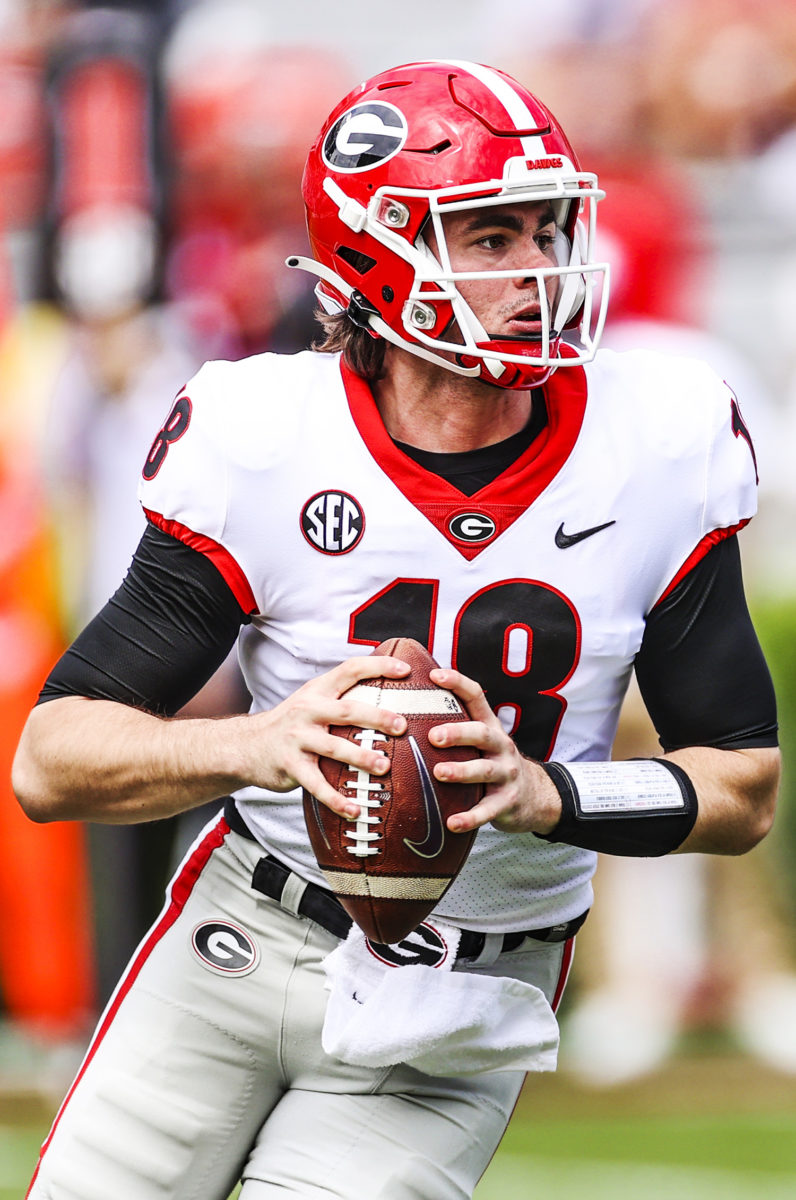 The 2021 edition of the Georgia Bulldogs is the deepest, most talented roster Kirby Smart has fielded during his tenure in Athens. It is time for the Bulldog Nation to double down and be ready to take down the house by bringing the first National Championship back to Athens since 1980. There are Four Aces, Four Kings and Four Jacks who will lead the way for Georgia. The Aces are superstars who must perform at a high level for the Dawgs to reach the promised land. The Kings are players capable of taking over a game and making game changing plays. The Jacks are versatile players that coaches will use to create mismatches with opponents.
JT Daniels
Since Kirby Smart's arrival in Athens, the Dawgs have recruited at an elite level at every position, including quarterback. However, Jacob Eason and Justin Fields transferred, Jake Fromm fought valiantly with what he had and Jamie Newman opted out due to COVID-19. All of this while SEC rival Alabama was elite with Tua and Mac Wilson and LSU hit the lottery with Joe Burrow. Then, with all hope lost, Daniels exploded onto the scene at the end of the 2020 season.
Daniels is the quintessential California kid with an eccentric personality and unflappable demeanor. What makes him special is his love for the game and desire to be great. When he took the field for the first time as a Bulldog against Mississippi State, he was electric with a four touchdown performance. He had clearly been preparing for this moment behind the scenes while grinding on his rehabilitation from a torn ACL.
In 2021, the spotlight will be squarely on JT as the face of a program that is expected to win their first National Championship in 41 years. His extraordinary work ethic in combination with a gunslinger mentality is the perfect combination for an offense loaded with talent. 2021 is time for Daniels to play at an elite level and lead the Dawgs to the promised-land.
Lewis Cine
The son of Haitian immigrants, Cine is a throwback safety in the mold of Thomas Davis and Greg Blue. Cine arrived in Athens with the reputation of a heat-seeking missile capable of flying downhill in run support and punishing receivers who dared come across the middle. He certainly lived up to his reputation and in 2020 he was only scratching the surface of his potential.
With Lecounte III, Campbell and Stokes now in the NFL, Cine is the unquestioned leader of the secondary. He will be responsible for all calls in the secondary, which he is well prepared for entering his third season in Coach Lanning's defense.
In order for the Bulldog defense to reach its potential in 2021, Cine needs to excel at the role of eraser. It is inevitable that a cornerback will get beat or linebacker will fill the wrong gap leaving the opportunity for an explosive play. One of the best tacklers in the country, Cine is the perfect fit to erase those opportunities.
Jordan Davis
When Jordan Davis announced his return to Athens for his senior season the earth shook. No, it was not the thunderous impact of a collision with Davis, it was the Bulldog Nation celebrating. When Davis arrived at Georgia from Charlotte, North Carolina he was a raw 6'6-330 pound with more questions than answers surrounding his potential.
Fast forward three years and he is now the most dominant interior force in college football. Davis is not going to put up a tremendous stat line but what he does cannot be measured by his statistics. In the run game Davis commands double teams allowing the inside linebackers to freely flow to the football. Against the pass, he pushes the interior of the pocket into the quarterbacks face forcing opposing quarterbacks to flee the pocket only to be met by the Dawgs' ferocious edge rushers.
Davis is a man amongst boys in college football whose impact will be felt by opponents every Saturday.
Jamaree Salyer
Salyer's road to stardom in Athens has been long and winding. Deemed by recruiting experts as a can't miss guard prospect he found the road in front of him blocked by numerous five-star recruits. Instead of taking the easy way out and transferring he continued to grind so that he would be ready when an opportunity presented itself.
Starting at left tackle in 2020 was a tremendous challenge for Salyer and one that he embraced. There were occasional rocky moments but by midseason he was a stalwart protecting the quarterbacks blindside. His combination of strength and light feet made it difficult for speed rushers to get around him and impossible for bull rushers to get through him.
As his final season in Athens approaches the future is uncertain once again. He could be asked to open the season at left tackle or line up at either guard position. What is certain is that Salyer will be a dominant force in the trenches and a leader that sets the tone for the Dawgs offensive line.
Jermaine Burton
Burton was a recruiting coup for the Bulldogs when they were able to land his signature on Signing Day and lure him away from LSU. The Calabasas, California native arrived in Athens with expectations to play the Robin to George Pickens' Batman. His season got off to a slow start, but when fellow Californian JT Daniels took over the reigns at quarterback Burton flashed his potential against Mississippi State.
With George Pickens suffering a potential season ending injury during spring practice, Burton has now been thrust into the role of Batman. He is quick and physical at the line of scrimmage, dynamic with the ball in his hands and has the speed to take the top off the defense at any moment.
Burton is a game changing talent that defenses will be forced to account for on every snap. Opposing defenders can do everything right and Burton will still make a play because his talent level is so high. As his comfort level continues to rise within the offense and timing getting dialed in with Daniels, he may emerge as the top wide receiver in the SEC.
Nakobe Dean
Dean was faced with an impossible proposition when he arrived in Athens, replacing Roquan Smith. During Roquan's final season in Athens he was the most dominant inside linebacker in the country and having those expectations as an incoming true freshmen is very difficult. Dean handled the high expectations well and has developed into an ALL-SEC player.
In today's SEC, inside linebacker is difficult to play. It demands the ability play physical against the run, cover backs out of the backfield and occasionally match up with tight ends and receivers. Dean has proven himself as a three down linebacker capable of handling those difficult matchups.
He will reap the benefits of playing behind a powerful defensive line that will keep him clean and allow him to freely flow to the ball and make plays all over the field. His instincts and athleticism make him a prime candidate to be a dominant performer in 2021.
Nolan Smith
Being rated as the No. 1 player in the country coming out of high school comes with a tremendous burden. In the case of Nolan Smith, people were expecting double-digit sacks per season from the moment he stepped on campus. So expectations will be high for him in 2021, so he is expected to shine with more snaps. The quintessential team first player, Smith couldn't care less about his stat sheet at the end of the game as long as the scoreboard shows the Dawgs on top.
Smith is a rattlesnake coiled and ready to strike. He is a high character young man with a relentless motor and the ability to bend the edge very similar to Azeez Ojulari. His ability to pursue the quarterback and drop into the flats in coverage make him a breakout candidate in Coach Lanning's scheme.
Jalen Carter
Jalen Carter is one of the rare defensive lineman that came to the SEC physically ready to compete from the moment he arrived. Carter was a disruptive force on the interior for the Bulldogs as a true freshmen and he ended the season strong in the Peach Bowl against Cincinnati.
With a strong offseason conditioning program, Carter is poised to become a game changer at defensive tackle. His ability explodes off the snap and quickly penetrates into the backfield to create negative plays on early downs will put offenses in uncomfortable third and long situations. He also speeds up the internal clock for quarterbacks, which leads to turnovers.
While Jordan Davis may be the most dominant force in the SEC, Jalen Carter could be the most disruptive. He is the ideal three down defensive lineman. And paired with the likes of Davis, Devonte Wyatt, Travon Walker, he is in the position for a monster sophomore campaign.
James Cook
Cook is a wildcard for the Bulldog offense. His versatility at running back, receiver out of the backfield, slot receiver and splitting out wide is a nightmare for opposing defenses. There is no doubt offensive coordinator Todd Monken has spent the offseason scheming to create mismatch opportunities for Cook.
In 2020, Cook averaged 6.7 yards per carry and 14.1 yards per reception, including an 82-yard receiving touchdown against Alabama. When Cook gets matched up against a linebacker in space, he is going to win a majority of those battles. His combination of quickness and top-end speed in the open field sets him apart from the other Georgia running backs.
If Cook is able to run more effectively between the tackles in 2021, he will become a jack of all trades for Dawgs' offense. Opponents tend to play for him to bounce the ball to the outside on a majority of his carries, but if he shows a willingness to stick his foot in the ground and explode through the small creases between the tackles, his game will elevate to a new level.
Arian Smith
Georgia fans only saw a brief glimpse of Smith in 2020, but it was enough to have them salivating for more. In his first appearance against the Gamecocks, Smith exploded off the line of scrimmage and roared past the defensive back for an easy 31-yard touchdown. His only other reception on the season was a 55-yarder against Cincinnati, where he made the defensive back look like he was standing still. And it would have been a walk-in touchdown,if not for an under-throw by JT.
Smith has spent the offseason starring for the Georgia track team and qualifying for the NCAA Championships after posting a blazing 10.10 in the 100 meter dash. To put that in context, UGA's viral track and field star Matthew Boling ran a 10.09. Simply put, Smith has elite speed.
He will split out wide, line up in the slot and also be involved in jet sweeps and reverses. When he gets an angle on a defender, it is over and the only thing they will see is the back of his jersey as he glides to the end zone for another Georgia touchdown.
Adam Anderson
Anderson arrived in Athens as a highly touted five-star prospect. He was blessed with a lightning quick first step, incredible athleticism and ideal length for an outside linebacker. However, one thing was missing … weight. When arriving to campus, he was approximately 210 pounds and while he was able to add strength during workouts he was not able to add the mass to hold up on early downs against SEC offensive tackles.
Late in the 2020, Anderson appeared frustrated with his limited role as a third-down pass rush specialist. With the departure of Azeez Ojulari and Jermaine Johnson, a number of early down snaps are available and Anderson is ready to embrace a larger role.
A major emphasis for Anderson this offseason has been to increase his weight to be prepared to be a three down linebacker for the first time in his career. His goal is to increase and maintain his weight at 235 for 2021. If he can reach that goal, the sky is the limit for his production this season.
Travon Walker
Walker is the definition of versatile. During his time in Athens, we have seen him play all three positions along the defensive line, stand up at linebacker and on special teams coverage units. It is not often that you see a 6'5- 265 pound defensive lineman running just as fast as linebackers and safeties, but that is exactly what Walker does. Much like Adam Anderson, he has been a specialist early in his career and is poised to breakout in 2021.
Pictures from spring practice show that Walker has reshaped his body by adding mass to his long, lean frame. The former high school football and basketball star physically looks the part of a SEC defensive lineman now.
Everything Walker has shown in his two years in Athens oozes potential. And in 2021, with added mass and strength, potential finally becomes production. His ability to turn the corner as a defensive end or penetrate from the interior in pass rushing situations will allow Coach Lanning to use his versatility to create mismatches.