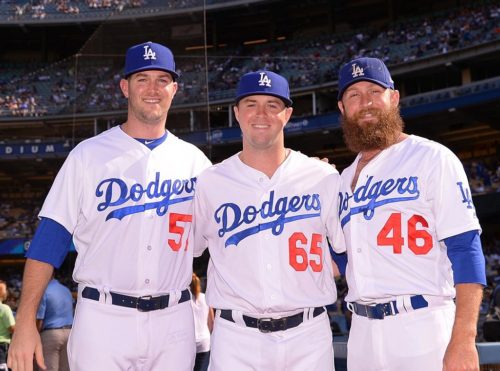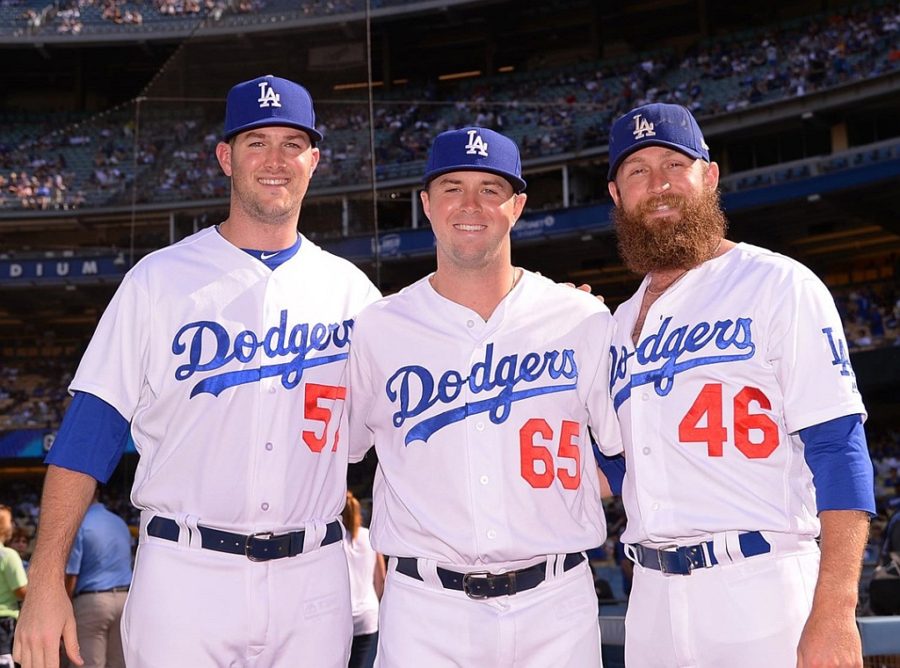 While the 2017 Major League Baseball regular season ended Sunday, four Bulldogs are part of clubs in the playoffs starting this week.


Three Bulldogs are with the Los Angeles Dodgers as they clinched home-field advantage throughout the playoffs after posting the best record in the Majors at 104-58. Pitcher Alex Wood (UGA 2010-12), pitcher Josh Fields (UGA 2005-08) and catcher/infielder Kyle Farmer (UGA 2010-13) helped set a club record for victories since the team moved to Los Angeles in 1958. Justin Grimm (UGA 2008-10) is part of the bullpen of the defending World Series champion Chicago Cubs.


The Dodgers will play host to Game 1 of the National League Division Series (NLDS) on Friday. Los Angeles will play either Arizona or Colorado in a five-game series. The Diamondbacks play host to the Rockies Tuesday in the National League wild-card game. Meanwhile, the Cubs, champions of the National League Central, open their NLDS on the road Friday against the Washington Nationals. Teams must submit their 25-man playoff roster to the MLB Office before each round of the playoffs.


Wood enjoyed an All-Star season, going 16-3 with a 2.72 ERA in 27 games including 25 starts. He registered 151 strikeouts in 152.1 innings. Wood is a candidate to start game four of the NLDS or he may be an option out of the bullpen. In his career, he has made four appearances in the postseason, all out of the bullpen, going 0-0 with a 4.91 ERA. He pitched twice in relief in the 2013 playoffs with Atlanta and had one appearance each with the Dodgers in 2015 and 2016. His postseason experience consists of 7.1 innings with one walk and six strikeouts.


Fields put together one of his finest regular seasons as a professional in 2017 going 5-0 with two saves and a 2.84 ERA in 57 relief outings. He struck out 60 in 57 innings. In his career, Fields has made six relief appearances in the postseason including two with the Houston Astros in 2015 and two with the Dodgers in 2016. In his postseason career, Fields is 0-0 with a 4.50 ERA with eight strikeouts in four innings.


Farmer made his Major League debut this year and enjoyed two stints with the Dodgers for a total of 20 games. He batted .300 (6-for-20) with two RBI as a utility player. He saw action at catcher (three games), third base (four games) and made one start at first base. Overall, he posted a perfect fielding percentage in 11 total chances. He played in 92 games in the minors and hit .317 with 23 doubles, 10 home runs, and 56 RBI


Grimm made 50 relief appearances and went 1-2 with one save and a 5.53 ERA in 55.1 innings. In his career, he has made nine appearances in the playoffs including three in the 2016 World Series for a total of 6.1 innings. He has one walk and seven strikeouts to go with an 8.53 ERA.


Also of note, infielder Gordon Beckham (UGA 2006-08) finished the season with the Seattle Mariners after spending most of the year with their Triple-A affiliate in Tacoma. Last month, Beckham played in 11 games with the Mariners and had 17 at-bats. He made one start, and in that game, he went 2-for-4 with a stolen base and turned a double play after making a diving catch in foul territory. He played in 83 games for Tacoma this year and batted .262 with 16 doubles, nine home runs, and 45 RBI. He made his MLB debut in 2009.


In other alumni news, the Bulldogs held their annual Lettermen Golf outing this past weekend at the UGA Golf Course. The winning foursome consisted of Brooks Brown (UGA 2004-06), Jake Crane (UGA 2005, '07-08), Johnny Dobbs (UGA 2004-05) and Chris Webb (UGA 2002-04) as they fired a 55! The winner of the longest drive contest was Clint Sammons (UGA 2002-04) and the home run derby champion was Grant Earls (UGA 2013-14) who edged out Taylor Hicks (2012, '14'15).


The annual First Pitch Banquet will be held in February with the exact date, location and guest speaker to be announced later this year. Also, Georgia will hold its Alumni Day on Saturday, April 28th during the Tennessee series, and it will honor the 10th anniversary of one of the greatest teams in school history, the 2008 College World Series Finalists.