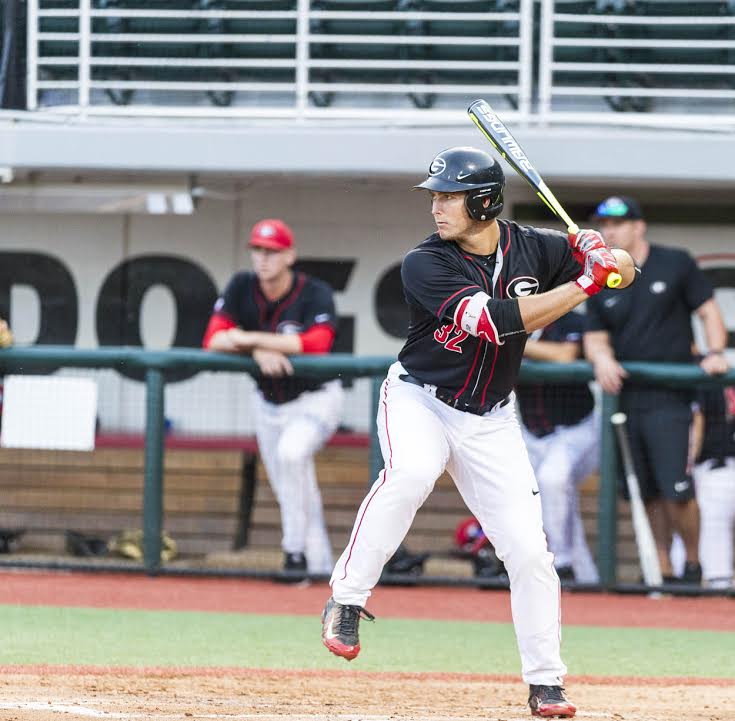 The UGA baseball team got redemption in their second trip at SunTrust park as they defeated their in-state rivals Georgia Tech by a score of 8-7.



The Bulldogs hit well in the game but it was the bottom of the order that scored the majority of the runs for the team. Five of the Bulldogs eight runs were scored by the bottom half of the order and those five runs were critical to their victory. The eighth run came off a single by Keegan McGovern, which brought home Mitchell Webb, who made it from first to home on the hit.


Keegan McGovern led the team in hitting tonight as he went three for five and had three RBIs while also scoring a run of his own. Each and every run that the Bulldogs scored proved to be pivotal in this one-run game. Tucker Bradley also had a solid night as he extended his hitting streak to 10 games and had two RBIs of his own as he went two for four.


The Bulldogs as a team should be very pleased with their offensive production in this game as eight of their nine starting batters reached base. They will need to continue their impressive offensive production as they head into some upcoming pivotal SEC games.


Tony Locey started the game for the Bulldogs and had a solid night of work as he pitched four innings of shutout baseball with four strikeouts while only allowing three hits and one walk. However after Locey was replaced, the UGA pitching struggled.


Locey's replacement was Zac Kristofak, who has been consistently strong out of the pen for the Bulldogs this season but struggled in this game as he gave up four runs in only 2/3 innings pitched. Kristofak was followed by Drew Moody and Ryan Avidano, who both had solid nights on the mound but Moody gave up two runs in two innings of work and Avidano gave up one run in 1/3 innings pitched.


Tim Elliot would calm things down on the mound for Bulldogs as he pitched one and 1/3 innings of shutout baseball. The Bulldogs used two more pitchers in the ninth as Blakely Brown earned a pop out and Justin Glover earned the final out and the save, which was his first save of the season, on a groundout. The Bulldogs as a team should be pleased with Locey's impressive start, but their bullpen will need to be more consistent as they head back into SEC play.


With Tuesday night's victory, the Bulldogs completed the sweep of the season series over the Yellow Jackets 3-0. What's next for the Dogs? Georgia will face the SEC West leading No. 7 Mississippi State Bulldogs in their next series which will start at 7 p.m. on May 12th at Foley Field.




Recent Articles by Michael Pope


[pt_view id="b8629e37y8″]