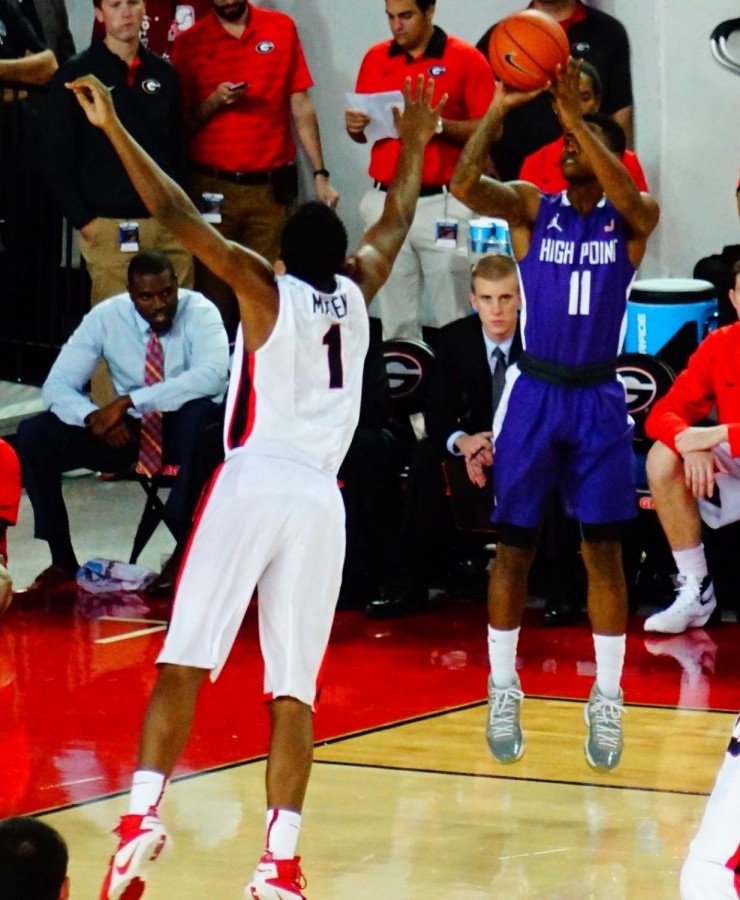 [su_spacer size="20″]
Georgia vs. Oakland 
Tuesday, December 1 at 7:00 p.m.
Stegeman Coliseum (10,523) in Athens, Ga.

Video: SEC Network + (Jeff Dantzler, PBP; Jarvis Hayes, Color)
Radio: Georgia Bulldog Network by IMG (Scott Howard, PBP; Chuck Dowdle, Color; Tony Schiavone, Producer) Flagship: AM 750;
[su_spacer size="40″] The Starting Five
• Georgia and Oakland are meeting for the first time ever. In fact, this is just the third time UGA has faced a Horizon League foe.
• Georgia dropped a 69-62 decision in its first road game of the season last Saturday at Seton Hall despite career-high scoring outputs from Yante Maten (21) and Kenny Paul Geno (13).
• Yante Maten (right) is a native of Pontiac, Mich., and attended Bloomfield Hills High, which is about 20 minutes from the Oakland campus. Mike Edwards is from Westland, Mich., less than an hour OU.
• Charles Mann is five points from No. 31 Joe Ward and 15 points from No. 30 Travis Leslie among UGA's career scoring leaders.
• Kenny Gaines is currently 38 points shy of becoming the 46th Georgia Bulldog to score 1,000 career points.
[su_spacer size="40″] Bulldogs Begin Homestand With First-Ever Matchup Against Oakland
Georgia opens a six-game December homestand on Tuesday by hosting Oakland at Stegeman Coliseum at 7 p.m.
The Bulldogs fell to 2-2 on the season following a 69-62 setback at Seton Hall last Saturday. Georgia led for most of the first 25 minutes before the Pirates took the lead with a little over 14 minutes left on the clock. Seton Hall gradually built a 10-point lead with 7:31 remaining before the Bulldogs rallied. Georgia pulled within one with 2:23 left but could not complete the comeback.
On the season, Kenny Gaines paces Georgia on the offensive end with an 18.0 ppg scoring average. The senior from Atlanta ranks fifth in the SEC in scoring, largely due to leading the league and ranking seventh nationally in 3-pointers per game (4.0) in the latest statistical ledgers.
Yante Maten's career-high 21-point outburst at Seton Hall upped his scoring average to 13.3 ppg. The sophomore from Pontiac, Mich., has produced career-best offensive outputs three times in UGA's last seven games dating back to the 2014-15 season. Maten leads the Bulldogs and ranks fifth in the SEC in rebounding at 8.8 rpg.
J.J. Frazier also is contributing points at a double-digit rate (11.0 ppg).
Oakland won two games last weekend to capture the Laguna Madre Bracket of the Corpus Christi Coastal Classic and improve to 3-2 on the season.
The Grizzlies' Kay Felder presents two eye-grabbing averages – 23.6 ppg and 10.8 apg. Oakland's offense features three more double-figure scorers in Percy Gibson (18.2 ppg), Sherron Dorsey-Walker (12.2 ppg) and Max Hooper (10.4 ppg). Dorsey-Walker is bringing down a team-best 9.2 rpg.
[su_spacer size="40″] Keeping An Eye On…Entering today's game:
[su_spacer size="40″] Millennium point watch…
• Kenny Gaines is 38 points shy of becoming Georgia's Basketball's 46th 1,000-point scorer
[su_spacer size="40″] Among UGA's career Leaders
[su_spacer size="40″] Charles Mann is…
• 10 points from No. 31 Joe Ward
• 20 points from No. 30 Travis Leslie
• 23 FT attempts from No. 2 Alec Kessler
• 68 FTs from No. 2 Litterial Green
• 36 assists from No. 10 Donald Hartry
[su_spacer size="40″] Kenny Gaines is…
• 5 3FGs from No. 9 Kentavious Caldwell-Pope
• 3 3FGAs from No. 13  Ty Wilson
• 6 3FGAs from No. 12 Terrance Woodbury
J.J. Frazier is…
• 7 3FGs from No. 20 Katu Davis
[su_spacer size="40″] Series History With The Grizzlies
Tonight's game is the first ever between the Bulldogs and Oakland. 
In fact, Georgia has played only two contests against schools currently competing with Oakland in the Horizon League. The Bulldogs defeated Milwaukee, 89-69, on Dec. 28, 2002; and lost to Youngstown State, 68-56, on Nov. 12, 2012.
The Grizzlies and Baylor are the only first-time foes for Georgia during 2015-16.
[su_spacer size="40″] Last  Time Out
Despite a career-high 21 points from Yante Maten, Georgia lost a hard-fought 69-62 road decsion to the Seton Hall on Saturday night at the Prudential Center. 
Forward Kenny Paul Geno also recorded a career-high 13 points, while Kenny Gaines dropped 13 points of his own to round out Georgia's double-digit scorers.
Georgia led for most of the first half and, following a 30-30 tie at halftime, regained an edge for the first five-plus minutes of the second stanza.
The Pirates took the lead with 14:41 left and gradually expanded that margin to 56-46 with less than eight minutes remaining.
Georgia rallied with a 13-4 surge that cut the lead to 60-59 with 2:23 left; however, Seton Hall made too many plays down the stretch. With 28 seconds left, Isaiah Whitehead  hit a big 3-pointer for the Pirates, the last of his game-high 22 points, to all but put the game out of reach.
[su_spacer size="40″] Similar Paths To Athens
Michiganders Yante Maten and Mike Edwards followed relatively similar routes to the University of Georgia. Both signed with UGA during the spring period after outstanding senior seasons.
Maten was tabbed as Michigan's Gatorade Player of the Year for 2014, representing the state's all-classification honoree. As a senior, Maten averaged 19.8 points, 15.2 rebounds, 6.6 blocks and 4.8 assists at Bloomfield Hills High School.
Bloomfield Hills' Black Hawks finished 24-4 and reached the championship game of the 2014 Michigan Class A state tournament.
Another interesting side note about Maten's senior year is the fact that it was Bloomfield Hills' first season of basketball. The school formed in the fall of 2013 after Lahser High, where Maten played as a freshman, sophomore and junior, merged with Andover High.
Edwards burst onto the scene during a spectacular final season at John Glenn High.
Edwards averaged 18.8 points, 10.3 rebounds, 2.5 blocks and 2.3 steals as a senior and notched 10 20-point outings in 23 games played during the 2014-15 season.
Edwards was a consensus All-State selection, earning that designation from the Basketball Coaches Association of Michigan, the AP, Detroit Free Press and the Detroit News. He was named as the captain of the Class A All-State team by the Free Press.
[su_spacer size="40″] Maten Continues Breaking Out
Yante Maten was dubbed by several national writers as a one of several expected "breakout players" for 2014-15. Among others, the sophomore was included on ledgers published by CBS, NBC and SI.
Maten certainly has lived up to that billing to date. Actually, his production can be traced to late last season.
Over Georgia's last seven contests, Maten has produced both of his career double-doubles, all three of his double-figure rebounding efforts and three of his seven double-digit scoring outputs. He also has upped his career scoring high three times during that span.
Maten recorded his first career double-double with what were then career-best tallies of 13 points and 10 boards against South Carolina in the SEC Tournament last season. He opened this season by improving those numbers to 17 points and 13 rebounds versus Chattanooga and then collected a game-high10 caroms in the Murray State contest.
Maten's stellar run continued in Georgia's road opener at Seton Hall, where he scored 21 points.
[su_spacer size="40″] Mann Does It All Against Panthers
It's not uncommon to hear a comment like "He could play all five positions."
Against High Point, Charles Mann proved those capabilities were more than a claim as he played all five positions during his 31 minutes of PT. Mann played everything from point guard to post against the Panthers. Perhaps most impressive was his defensive effort in several matchups with John Brown, the nation's No. 4 active scorer.
[su_spacer size="40″] < 50 Victories Rare For UGA
Georgia's 49-46 victory over High Point marked just the third time the Bulldogs have won while scoring less than 50 points since the introduction of the shot clock in 1985.
Georgia last won scoring fewer than 50 when it defeated South Carolina, 48-47, on Feb. 23, 2006. The Bulldogs' only other sub-50 victories since 1985 both came against Mississippi State when the shot clock was set at 45 seconds – 49-35 on Feb. 20, 1988 and 48-41 on Jan. 17, 1987.
[su_spacer size="40″] Gaines Earns SEC Honor
Kenny Gaines was tabbed as the SEC's Co-Player of the Week on Monday, Nov. 23, three days after his career-high 35-point outburst against Murray State.
Gaines shared the weekly honor with Kentucky's Tyler Ulis.
Gaines' performance against the Racers was one of the top single-game efforts in Georgia Basketball history.
The 6-3, 205-pound senior from Atlanta accounted for 55.6 percent of the Bulldogs' points in their 63-52 victory, including 64.7 percent in the second half (22 of 34). That represents the highest percentage of team offense by a Bulldog as far back as complete records are available (beginning with the 1960-61 season).
He also equaled the No. 15 single-game scoring output by a Bulldog and posted the No. 6 and No. 5 marks for 3-pointers made (7) and attempted (14), respectively.
Individually, Gaines, who was a first-team preseason All-SEC selection of league coaches, established career-high numbers for points (35), field goals made (10), field goals attempted (18), 3-pointers made (7) and 3-pointers attempted (14).
More On Kenny Against The Racers
Kenny Gaines' performance against Murray State on Nov. 20 represented just the eighth time one Bulldog has scored half of Georgia's points going as far back as complete records for UGA Basketball exist as outlined below.
[su_spacer size="40″] 50 Percent Of UGA's Points
Player, points Game info
Kenny Gaines, 35 63-52, Murray St. (11/20/15)
J.J. Frazier, 37 72-66, Miss. St. (1/24/15)
K. Caldwell-Pope, 32 63-68, LSU (3/14/13)
Travis Leslie, 34 66-78, Vanderbilt (3/12/10)
Levi Stukes, 20 38-50, Florida (3/2/05)
Willie Anderson, 36 71-65, Florida (2/10/88)
Donald Hartry, 31 62-61, Miss. St. (2/8/86)
Dominique Wilkins, 33 64-58, Ole Miss (2/27/82)
[su_spacer size="40″] Georgia's first OT Opener
Georgia's overtime loss to Chattanooga on Nov. 13 represented the Bulldogs' first OT opener in UGA's 111 seasons of basketball. 
The previous earliest OT action was in the second game of three campaigns.
In 1905-06, Georgia's first-ever season of basketball, the Bulldogs lost to Georgia Tech, 12-11, in the second outing of a two-game schedule. In addition, Georgia defeated Tulane, 41-39, on Dec. 28, 1932 and TCU, 76-75, on Dec. 7, 1965.
[su_spacer size="40″] Career Highs From Chattanooga
Five Bulldogs notched career-high statistical performances against Chattanooga in the season opener.
Most notably, Yante Maten's 17 points, 13 rebounds and 40 minutes all were the highest tallies in his UGA career. Those topped last season's 13 points against both South Carolina and Kentucky, 10 boards versus South Carolina and 29 minutes against Kentucky.
Maten has since upped his career scoring high to 21 points at Seton Hall.
J.J. Frazier dished out a career-best eight assists, passes which resulted in 20 points. Coupled with his 22 points, Frazier had an immediate hand in 42 of the Bulldogs' 90 points on the night.
In addition, Charles Mann's four steals equaled his most-ever recorded versus Gonzaga last season; Houston Kessler and Kenny Paul Geno equaled their career highs with a single blocked shot; and Geno also logged a career-high 35 minutes, besting his previous most of 21 MP against Missouri last season.
[su_spacer size="40″] Return Of The Mask
J.J. Frazier is playing with a protective mask on his face after suffering a slight nasal fracture in practice on Nov. 5, the day before the Bulldogs' exhibition outing versus Armstrong State.
Frazier warmed up with the mask before the exhibition contest, but the decision ultimately was made to hold him out of action.
Last season, Frazier played six games with the protective mask after suffering a fractured orbital bone and concussion during a Feb. 14 matchup with Auburn. He missed Georgia's next game and then played the final five regular-season contests and an SEC Tournament date with South Carolina before discarding the protective gear for the last two games of the year.
[su_spacer size="40″] UGA's All-SEC Tandem…
Kenny Gaines and Charles Mann were both named preseason first-team All-SEC in balloting of league coaches, becoming just the second duo of Bulldogs to earn first-team preseason honors since the recognition began prior to the 2004-05 season. Travis Leslie and Trey Thompkins were also first-team selections prior to 2010-11.
Mann became Georgia's first-ever two-time first-team preseason All-SEC selection.
[su_spacer size="40″] …Has Very Strong Ties
The duo of Georgia natives Kenny Gaines and Charles Mann has played a significant role since they arrived on campus in 2012. Between them, Gaines and Mann have a combined 199 games played, 141 starts and 5,045 minutes played. 
Much of that has been compiled together.
Gaines and Mann both have been in the starting five for 62 of the Bulldogs' 70 contests since the start of 2013-14, and throughout their careers have played 1,548 minutes and 36 seconds together. 
[su_spacer size="40″] A Challenging Non-Conference
Georgia's 2015-16 non-conference slate is challenging and balanced.
The Bulldogs' 11 non-conference opponents averaged 19.3 wins last season and finished 2014-15 with an average NCAA rpi of 115.
"Our goal was a non-conference schedule that would put us in a proper position with the strength of schedule numbers at the end of the year," Mark Fox said. "You never know what kind of season a team you play will have, but with the numbers from last year I think we've been able to establish the strength of schedule we need. It's a little tougher numbers-wise than it was a year ago. That's important when you get to the month of March."
Five of Georgia's 11 non-conference opponents played into March last season: NCAA participants Baylor and Robert Morris, NIT quarterfinalist Murray State and CIT teams High Point and Oakland. Four of those teams will travel to Athens this season.
Last season's average rpi of 115 is the best by Georgia's non-conference foes since the Bulldogs' 2001-02 non-conference foes recorded an average rpi of 111 during 2000-01.
Nine of 11 the Bulldogs' non-conference foes ranked No. 153 or better in the final NCAA rpi for the 2014-15 season, and Georgia's 2015-16 slate includes only one team that finished with an rpi in the 200s. 
[su_spacer size="40″] UGA's Non-Conference Schedule
Day Opponent 14-15 RPI
11/13 vs. Chattanooga 113
11/20 vs. Murray State 46
11/25 vs. High Point 91
11/28 at Seton Hall 103
12/1 vs. Oakland 171
12/4 vs. Kansas State 108
12/8 vs. Winthrop 206
12/19 vs. Georgia Tech 147
12/22 vs. Clemson 106
12/29 vs. Robert Morris 153
1/30 at Baylor (SEC/Big 12 Challenge) 17
[su_spacer size="120″]